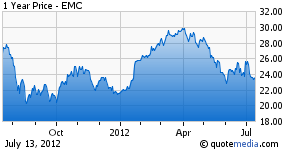 EMC Corporation (EMC) develops data storage systems and software. With a market capitalization of $50 billion EMC ranks before its competitors Hewlett-Packard (HPQ) with $37 billion and behind IBM (IBM) with $215 billion.
EMC is down about 20% this quarter and investors are discounting the fundamentally good positioning of the company and its performance. Specifically, investors should consider and re-value the following reasons for a long investment:
EMS is an undervalued tech company with an earnings yield of 8.3% and high profitability
EMC is strongly positioned in the cloud industry, which is growing fast
It is partnering with Verizon to develop private cloud computing platforms which will add growth to top and bottom line
EMC is accessing the fast growing (& innovative) Chinese market
Well capitalized with net cash position of $4.6 billion
Transparency in earnings
Despite these convincing items for the worlds largest data storage manufacturer, bears are keeping a lid on the stock price: The stock is down 12% over the year. The valuation and the underlying profitability metrics indicate much more potential for EMC:
EMC has a forward P/E of only 12 despite having a gross margin of 61% higher than HPQ's 23% and IBM's 47%. The return on equity stands at 14% and shows that the company can increase shareholder value and earn way more than its capital costs. Leverage ratios are practically not applicable as the company has about $6.34 billion in total cash and total debt of $1.72 billion leaving the company with a net cash position of $4.6 billion.
In addition, EMC is working with Verizon to develop private cloud computing platforms manifesting its strategy to penetrate this key segment more aggressively. I predict, that the majority of EPS growth will be attributable to this sector.
Valuation
Overall, a company that is on top of its industry with a fortress balance sheet, strong cash flow and EPS growth of 25% this year, should not be trading at a multiple of 12. I consider a multiple of 16 more appropriate given the key performance indicators above. Analysts estimate a 2013 average EPS of $1.98 which yields an intrinsic value estimate of $31.68. Correspondingly, I rate EMC a BUY and recommend the company for long-term oriented investors who bet on EMC being able to capitalize on the cloud computing trend.
Technical analysis
EMC is currently in the process of building out a downward trending canal with a lower bound hitting $21 a share. If the stock price rebounds at $21 this trend canal will be reaffirmed with the stock having an immediate upside potential to $24. The mark of $24 is crucial: Can EMC break this mark, the short-term down trend canal will be dominated by the longer-dated upward trending canal. In this case the stock could find good support at this level waiting for momentum to build to send the stock higher.
Disclosure: I have no positions in any stocks mentioned, and no plans to initiate any positions within the next 72 hours.