Research In Motion Ltd. (RIMM), the manufacturer of BlackBerry smartphones, hopes to launch a new BlackBerry model in China by the end of October this year, an official from RIM China said last Friday at a conference in Shenzhen.
"We will hopefully be able to secure a network access license from the Ministry of Industry and Informatization [MII] before the end of October this year for our second BlackBerry model for the Chinese market," Johnson Xu, RIM's south China sales director, told Interfax at the First China Mobile Phone Industry Research Conference.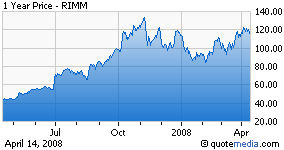 The new model will probably have a camera and multimedia functions, Xu said.
In October last year, RIM introduced its first BlackBerry for China, the 8700g, through a distribution deal with Alcatel-Lucent.
Alcatel-Lucent (ALU) achieved certification to sell the 8700g model in China through a partnership with TCL Communications, a Chinese mobile device manufacturer that holds the Alcatel brand for mobile handsets.
RIM will continue to work with Alcatel-Lucent to distribute the second BlackBerry model in China, Xu said.
When asked by an audience member at the conference if Apple's (NASDAQ:AAPL) launch of the iPhone has threatened the sales of BlackBerry smartphones worldwide, Xu said that there has not been a significant impact.
"The iPhone targets consumers while BlackBerry targets enterprise users. Apple has not, to date, launched an enterprise solution to counter RIM's. We have different markets," he said.
An official from Shanghai Mobile told Interfax earlier this week that the 8700g costs RMB 2,200 ($314.29) if the subscriber signs a one-year contract for the RMB 398 ($56.85) per month BlackBerry service package. The device is supplied free to those who sign a two-year contract for the RMB 598 ($85.43) per month package.
The RMB 398 ($56.85) monthly package has a monthly 50 Megabytes [MB] data cap within mainland China, while the RMB 598 ($85.43) package has a 398 MB monthly data cap within mainland China and 2 MB of data outside mainland China, according to the Shanghai Mobile official. Xu said RIM shares the monthly service fees with China Mobile.
Two Sony Ericsson mobile handset models that utilize the BlackBerry Connect software can also be used with China Mobile's BlackBerry push mail service.