As investors continue their search for yield in the Federal Reserves zero interest rate environment, high yield debt is one viable option to allocate capital to. Investors can gain exposure to high yield debt either through individual debt securities, or through a high yield bond ETF. The two most widely watched, and most liquid high yield bond ETFs are the iShares iBoxx $ High Yield Corporate Bond Fund (NYSEARCA:HYG) and the SPDR Barclays Capital High Yield Bond ETF (NYSEARCA:JNK). For the purpose of this article, I am going to focus on the iShares ETF, as it is the most liquid one of the two.
HYG Important Facts
The ETF's current total net asset value is roughly $15 billion and is spread across 624 high yield corporate bonds and cash (2%). The average maturity of the holdings are 4.77 years, and HYG yields roughly 7% a year. Corporate bond holdings are weighted quite equally among different sectors as shown by the graphic below.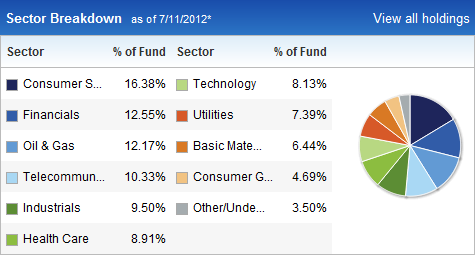 (Source: iShares website)
As for country asset allocation, HYG allocates roughly 88% of its capital into U.S. high yield bonds, and the remaining 12% into international high yielding debt securities.
High Yield Debt Environment
Junk bonds, and accordingly the HYG ETF, is prone to downside shocks during times of severe global financial instability. Justifiably, high yielding bonds tend to outperform during growth periods in the global economy, and will underperform during financial uncertainty. With current economic conditions around the world, (more specifically Europe's debt situation and Asia's slowdown) investors must be careful with what assets they allocate their capital to. When removing default risk, holding the HYG offers a 7% yield per year, no matter the movement in the underlying, and so the HYG definitely offers opportunity to the educated investor.
Even with current economic fears, HYG has been able to perform quite well over the last while, indicating that investors and yield seekers are still comfortable owning securities with higher default risk. HYG recently made new all-time highs (inception date: 4/4/2007) as capital continued to flow into debt.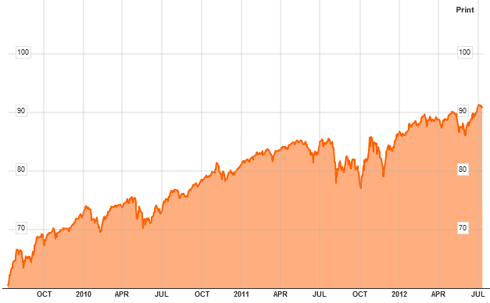 (Source: Bloomberg)
The Risks Associated With Investing In High Yield
The high yield debt ETF, HYG, has a high correlation with equities due to the riskier aspects of owning high yield debt (higher default risk). So by owning HYG, the main risks you are exposing yourself to are essentially the same risks that equities hold, albeit the risk is smaller in comparison (HYG is much less volatile than equity indices). Essentially when purchasing HYG, we want to see the global economy growing or supported. However even with the current global economic risks, you will notice that high yield continues to out-perform due to the added dynamic of historically low interest rates. Altogether, the main risk we are taking on is continued slowing in European and Asian economies, and potential spillover into the United States.
Why High Yield Debt Will Continue To Outperform
The simple answer is investors demand yield. With negative real rates and U.S. treasuries yielding the lowest in decades, investors need to allocate their capital somewhere. Country-specific, the United States offers the safest place to allocate capital in terms of debt and equity markets, as Europe and Asia are both going through tough times. HYG allocates 88% of its assets into U.S. corporate bonds, and so with a stronger American economy vs. Europe and Asia, money will continue to flow into the high yield debt market. The bottom line is, high yield will continue to out-perform as long as Europe and Asia spill over does not affect the U.S. economy drastically. In the eyes of the global investor, the only risky markets to allocate capital to in this environment are U.S. equity and corporate debt (which has been proven by the significant outperformance of U.S. asset versus their respective global counterparts).
Disclosure: I am long HYG.