By Murray Coleman
Ted Feight considers himself a sort of rebel asset allocator.
The Lansing, Mich.-based advisor and independent portfolio manager puts together portfolios using mainly exchange-traded funds.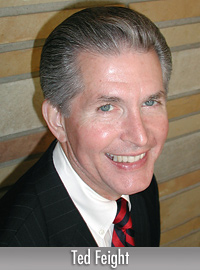 While he's a big advocate of asset allocation plans, "we don't stick to the same conventions normally used by most investors these days."
"A lot of people think that you come up with a plan and no matter what the market does, you stick with it forever," Feight said. "After 35 years in the business, I've seen that sort of strategy work. And I've also seen it work not as well as it could."
So while he believes in diversification, his client allocations can switch depending on what the market's signaling at any given time. The president of Creative Financial Design has three in particular he keeps a close eye on at all times.
One is to check bond yield curves. "I don't care about what they're saying about the relationship of stocks to bonds," Feight said. "What we're looking at is the overall economy."
He checks rates on three-month and two-year notes against 10-year Treasuries. Feight watches these trend lines daily and has records back to 1973. "Almost every time in the last 100 years when those short-term rates were higher than the 10-year interest rates for more than 30 days, we've had a recession," Feight said. "The lone exception was 1967. But we did have a lot of banks that went broke even though there wasn't a recession."
Starting in August 2006, short-term rates were higher than the long-term rates for 233 days. Feight responded by tightening his stops on ETFs. He uses stop-loss orders with all his funds. "So when we start seeing an inverted yield curve for more than 30 days, we warn our clients something's up and we need to set our stops a little tighter," Feight said.
Recurring Cycles
He also tracks presidential election cycles. Two problem periods keep cropping up. One is when elections are taking place. Turbulence in markets usually takes place in the primaries, he says. "Once you get down to two candidates, the market usually takes off or does very well," Feight said. "It doesn't work all of the time, but it definitely represents a strong tendency to impact markets."
He also watches oil prices closely. "A professor once brought me a book called, 'The Oil Factor.' It had a formula that predicted stock market prices based on correlations to oil trading," Feight said.
But he didn't think the numbers in the book looked entirely correct. So he double-checked the author's data with government records. "His numbers were off, but they were close enough," Feight said.
The book described a trend dating back to 1974. "If the price of oil goes up 80% on the first day of a month compared to a year earlier, sell everything you've got because you're in a bad time in the stock market," Feight said.
On the flip side, if oil prices go down 20% on the first day of a month, it's a strong buy signal. "These signals are few and far between," Feight said. "But the sell signals have been so perfect over the years that it's hard to ignore."
According to the yield curve, stock markets appear to be in great shape, he says. The presidential chart indicates stocks will drop once more before the end of June and then rally strongly. "Oil is the problem we have at the moment," Feight said. "Right now, if oil gets to $115.92 on May 1, then we're going to sell everything we've got."
He added: "Oil is one absolute indicator on the sell side. We're up 71% right now. It's getting very close."
About a month ago, Feight started buying back into the market. "I don't think oil prices are going to get to that 80% level," he said. "All the other indicators are very strong."
Feight has been adding to his position in iShares Russell 3000 Value Index (NYSE: IWW) and iShares Russell 2000 Value Index (NYSE: IWN). "Growth outperformed value last year, so most asset allocators are blindly investing at least some assets at this point into growth categories. But we're avoiding it all together."
More than 50% of his clients assets are going into foreign ETFs. About half of that is devoted to developed markets. The lion's share is invested in iShares MSCI EAFE Index (NYSE: EFA). A smaller portion is going into iShares MSCI Canada Index (NYSE: EWC) and iShares MSCI Germany Index (NYSE: EWG). (That's a recent change from tilting toward iShares MSCI Austria Index (NYSE: EWO), iShares MSCI Belgium Index (NYSE: EWK) and iShares MSCI Italy Index (NYSE: EWI).
"Canada and Germany appear poised for better growth in the next 12 months based on fundamentals," Feight said.
Allocation Strategies
Half of his clients' international stock exposure is invested in emerging markets. "Most people think that emerging markets are far too risky to allocate such a large amount of a portfolio to those countries," Feight said. "And they're correct under normal allocation strategies."
But he puts tight stops on his emerging markets purchases. That eases risks associated with volatility and smoothes returns, according to Feight.
His primary play in developing countries is iShares MSCI Emerging Markets Index (NYSE: EEM). "Last year, Peru was one of the best countries in the world to invest in, but there weren't any ETFs for it. So EEM provides broad exposure to many markets you normally can't get into," Feight said.
With the Olympics coming, he's also buying shares of iShares FTSE/Xinhua China 25 Index (NYSE: FXI). "It's going to be very volatile," Feight said. "But it has a relatively low PE ratio at 2.9. So you're not paying much for the earnings in this ETF."
He also favors Claymore/BNY BRIC (AMEX: EEB) as a long-term performer. But the fund Feight's made the most profits in is iShares MSCI Brazil Index (NYSE: EWZ). In both cases, he puts a very short lease on both funds at all times.
"It has stopped out on us a lot," Feight said with a laugh. "I don't even think we've held it long enough to make a long-term gain on this. But we've still made 40% in it over the past few years, including transaction fees, by using it to provide our portfolios with some strong, short little bursts."