The palladium market is expected to move into a current account deficit beginning this year and to remain in one for at least the next 10-year period (2013 to 2022). This means on an annual basis there will be more fabrication demand for the metal than there will be newly refined palladium entering the market to meet this demand. The deficit in this market is projected to range between 21,000 ounces and 396,000 ounces during the forecast period.
It is expected that this forecast current account deficit in the palladium market, which is projected to run for at least 11 consecutive years, will pique the interest of investors. Constrained mine supply from South Africa and increased use of the metal from the auto sector are expected to be the primary drivers of this long-term deficit in the palladium market. The high price of palladium or even platinum, which is the primary metal for the South African platinum group metal mines, is not expected to help alleviate the constrained mine supply issues of South Africa. Production outages in South Africa due to resource shortfalls (electricity and water), safety stoppages, politically based factors, technical difficulties such as floods and subsidence that are fairly unpredictable and ongoing problems are all likely to continue limiting South African supply in the future, regardless of metal's price levels. Furthermore, tightening emissions standard and advancements in autocatalyst manufacturing technology is expected to boost demand for palladium use from this industry. We also expect that investor demand for the metal will play an important role in driving palladium prices higher over the long term. Investors keenly watch current account surpluses and deficits of markets to make an investment decision about any particular metal.
Given the expected shortfall in newly refined palladium, investor appetite for the metal is expected to be met by previously produced metal, which was in excess of fabrication demand for many years over the past few decades. The cumulative market balance -- that is, the cumulative total of annual surpluses and deficits since 1976 -- suggests that there is enough metal available to meet investor interest. Based on these statistics there may be as much as 14.5 million ounces of the metal in existence at the end of 2011, mostly in unreported investor inventories, which was not used in industrial applications. This is a large amount of metal, with much of it built up in recent years. The palladium market has been in a surplus for 11 consecutive years between 2001 and 2011. This 14.5 million ounces of metal accounts for a little under two years of fabrication demand, basis 2011 fabrication demand.
Some of this metal inventory can be identified, but a majority of it cannot. It is estimated that around 601,924 ounces of the metal was made into palladium coins. Reported market inventories provide some further insights into the whereabouts of some of this metal. Reported market inventories were around 2.6 million ounces at the end of May 2012. Of this total, two million ounces were accounted for by physically backed palladium exchange traded funds such as PALL, GLTR, and WITE, which held 43% of the two million ounces held by ETFs at the end of May 2012. The remainder, or around 600,000 ounces, was held at Nymex and Tocom registered warehouses. That would still leave around 11 million ounces of the metal that cannot be accurately accounted for. Some of this metal is held by dealers, users, and producers, but not all of it. Total annual fabrication demand for palladium was only eight million ounces in 2011. Auto catalysts manufacturers and semiconductor companies are the largest users of palladium and tend to build strategic stocks of the metal. Such stocks are typically a percentage of the total metal required by the industry. In 2011, it is estimated that total demand for palladium from the auto sector was 4.9 million ounces and was 1.2 million ounces from the electronics sector.
The existence of this estimated inventory of metal somewhere in the market and the lack of clarity regarding where it is held are expected to weigh on the price of the metal in the future. This is because when the price of the metal rises, at least a portion of this metal is expected to re-enter the market. The small size of the palladium market is likely to magnify the negative impact of such metal re-entering the market, based on both the amount of metal re-entering the market but also the pace at which it enters the market. It is not clear how easily this metal can be brought into the market, given that it is not entirely clear where it is presently stored or used. Much of it is believed to be held in bullion form, with a good amount possibly stored in Swiss depositories.
In the absence of this metal, which has accumulated over the years, the forecast deficit in the palladium market would be expected to result in even higher palladium prices than is being forecast at present. This is because some investors would be skeptical regarding the potential impact of this metal re-entering the market. This could keep them at the sidelines reducing some of the upward pressure on prices. Other investors are expected to purchase the metal, remaining focused on the annual deficits in the market, which are expected to run for at least 11 consecutive years. These investors will absorb at least a portion of the surpluses accumulated over the past several years, which should provide support to prices and help them rise at a slower pace than they would in the absence of such metals stocks.
Click to enlarge image.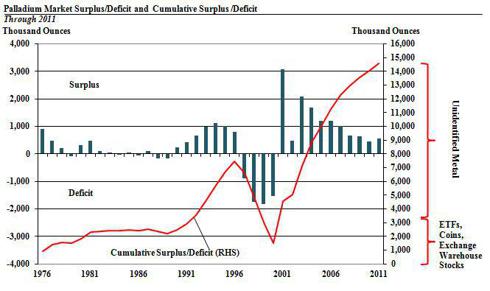 Excerpted from CPM Group LLC's monthly Precious Metals Advisory.
Disclosure: I have no positions in any stocks mentioned, and no plans to initiate any positions within the next 72 hours.