In a slow burn for the past few years, Boots and Coots International Well Control Inc. (AMEX:WEL) is ready for rapid oxidation. Give it air: the oilfield services company is set for a big 2008, looking to fire up profits in a volatile industry.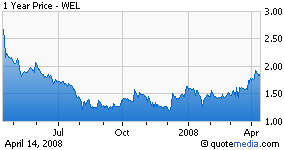 Boots and Coots traces its history to Red Adair, legendary oil well firefighter who tamed flames in Kuwait in 1991 at age 75. Before that, he was the inspiration for John Wayne in the 1968 movie "Hellfighters." From the Red Adair Company came his posse leaders Boots Hansen and Coots Matthews, who formed Boots and Coots in 1978.
With a reputation as a premier critical emergency responder, the company answered its loudest alarm in early 2003, when speculators bet Iraq would ignite its oil wells in response to the U.S. invasion. Boots & Coots handled some blowouts in the southern Iraqi oilfields, and shares spiked to $8 from less than $2 — ever so briefly — and fell back to flounce around near $2 ever since.
As the Iraq bell clanked, Boots and Coots listened. The company no longer handles only 911 calls, but is now the global number to dial for full-service help. It has built a well-intervention business to smooth the jagged revenues from its critical response operations. It provides pressure control and other services to onshore and offshore oil and gas companies in North America, South America, North Africa, West Africa and the Middle East.
By the end of 2007, the Houston, Texas-based company's well-intervention revenues were $92 million, and emergency response revenues $13.3 million, bringing the total to $105.3 million. What a reversal from 2005, when revenues for response were $15.7 million and intervention $13.9 million, for a total of $29.5 million. Revenues were $97 million in 2006.
"We were anticipating a dramatic rise in both the top line and bottom line for 2007 driven by higher activity/utilization and improved pricing, but WEL far surpassed our expectations," Neal Dingmann, an analyst at Dahlman Rose and Co., wrote in mid-March.
"Management's focus on growing the well-intervention segment has paid off," he said, adding that Boots and Coots' strong brand name should lend itself to its expanding services, such as the Safeguard business, which is its fastest growing business. The overall response business also should continue to boost the bottom line. Dingmann carries a "buy" rating with a target of $2.50 per share.
Safeguard provides maintenance, risk assessment, training and engineering services; in 2005, Safeguard services were introduced in India and last year the program entered Libya, Dubai and the Caspian Sea, and expanded in Algeria.
Like cowboys around a campfire, Boots and Coots is just warming up. For 2008, analysts expect earnings per share at $0.23, doubling the $0.11 of a year ago. Revenues are forecast at $147 million, up 40%. The company is getting its giddy-up going early: it sees first-quarter earnings at $0.06 to $0.07, compared with $0.01 in the same quarter last year. First-quarter results are expected May 5.
Shares closed Friday at $1.84 each, putting the company at a P/E ratio near 8, based on 2008 expectations. The stock has traded between $1.11 and $2.79 over the last 52 weeks.
Morgan Keegan analyst Michael Drickamer cited continued international expansion as a catalyst, including into North Africa, where a joint venture in Algeria may present opportunities in Libya. There also are well-intervention opportunities to enhance production, such as workover and snubbing operations in the Middle East.
Growth also will come as the rig-assist and rental-tool business expands into the Rockies and mid-continent, and redeployment of underutilized assets in the United States Gulf move into more profitable regions such as onshore U.S. areas and Algeria, according to Drickamer.
Drickamer carries an "outperform" rating on Boots and Coots, and also has a $2.50-per-share price target. He said that in "2007 growth initiatives positioned (the) company for significant 2008 expansion ... international exposure (is) a key benefit to investors."
Big fire-putter-outer, but still a little guy in a very intense environment. Boots and Coots has market capitalization of just $139 million, far smaller than its many competitors, including the likes of $36-billion Halliburton Co. (NYSE: HAL). Although near record highs, oil prices can be capricious. Boots and Coots also is susceptible to other risks of the range: 37% of its business comes from just two customers and it gets 76% of its revenue from outside of the United States.
International business, expected to expand in 2008, exposes the company to such risks as foreign exchange, political and economic stability, trade restrictions that may be imposed by the United States, and more. Venezuela accounted for 19% of revenue in 2007 and Algeria 20%.
Aside from the risks, balance sheet numbers are moving in the right direction. Boots and Coots had $6.5 million cash on hand at the end of 2007, up from $5 million the prior year. Working capital was $34.7 million, up from $25.5 million. And debt to total capitalization was 26.7%, well in line with the industry.
Get a match. The kindling is dry.
Disclosure: none