It's rare to find a company trading at just over 2x free cash flow. It's rarer still to find one levered to products from companies like Apple (NASDAQ:AAPL), Amazon (NASDAQ:AMZN), Google (NASDAQ:GOOG), and Microsoft (NASDAQ:MSFT). We've written multiple articles on ChipMOS (NASDAQ:IMOS) because we believe shares are dramatically undervalued and will be $30 by year-end, and we expect several near-term catalysts over the next month, to help drive shares materially higher.
ChipMOS assembles and tests semiconductors, primarily LCD driver-ICs, NOR flash, and Mobile/Specialty DRAM. It is levered to smartphones, tablets, and servers - huge secular growth markets. ChipMOS is essentially technology agnostic, meaning as long as mobile device or cloud storage markets grow, demand for its services will grow - you don't have to worry about market share changes between iOS, Android, and Windows. Even better, there are few competitors in ChipMOS' segments and it is prohibitively expensive for a new player to enter the industry. It would actually be far easier, and immediately accretive, even at a significant premium, for a large competitor such as Amkor (NASDAQ:AMKR), ASE Group (NYSE:ASX) or Siliconware (NASDAQ:SPIL) to buy ChipMOS.
Massively profitable company - missed by tech investors
ChipMOS is a massively profitable company on a cash flow basis - the company had free cash flow of $4.24 per share last year, but essentially no earnings because of huge depreciation expense. If ChipMOS were in the real estate, advertising, media, or casino sectors, which are measured on EBITDA, or FCF metrics, ChipMOS would be valued very differently, and probably would be north of $30. But since tech investors are almost tunnel-vision focused on EPS, ChipMOS has been widely ignored. Beginning in 2Q, EPS will go positive, and in ensuing quarters as depreciation declines, the EPS will begin to resemble the company's massive free cash flow.
Shares of ChipMOS are up 90% from $5.16 at the start of the year, but have been cut in half since their peak of $19.37 hit on March 20th. The decline was due to a 1Q miss, a botched share buyback (both discussed below), and macro fears.
We think this is an incredible entry point, with three major catalysts likely over the next month
1. Expect healthy 2Q beat
On Friday ChipMOS reported 2Q revenue of $162.1 million, a 10.2% increase from 1Q, and at the higher end of 7%-12% guidance. More importantly, when the company reports full results on August 17th, it should have a substantial EPS beat, and healthy 3Q guidance.
When ChipMOS reported 1Q, it reported an EPS loss of $(0.21), missing the lone analyst estimate of $0.04. In truth, the reported EPS should have been a loss of $(0.05) due to foreign exchange losses of $4.5 million, which caused a one-time hit of $(0.16) a share.
This quarter, EPS should be about $0.26 versus the $0.14 "Street" estimate, the first positive EPS on an operating basis since 1Q08. At it's most simple, we expect about $11 million more gross profit dollars in 2Q than in 1Q. We calculate this from a $4 million drop in depreciation, and $7 million of gross profits from $15 million in higher revenue (detailed model is below). This excludes foreign exchange gains, as the dollar has strengthened against the NT$ meaning ChipMOS, will likely report closer to $0.34.
We think a big EPS beat will raise a lot of eyebrows. We also think that as it becomes apparent that the beat was clean and on an operating basis, a lot more institutions will become interested in the story.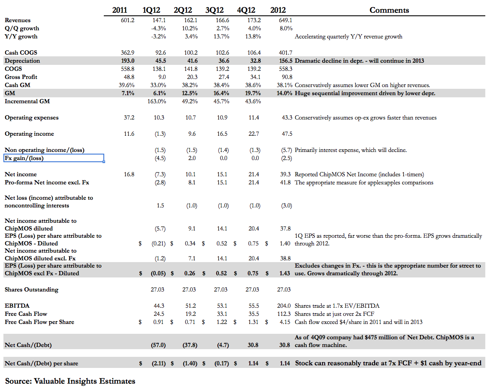 2. Expect quant funds to jump in massively
We expect virtually every positive metric that quant funds care about to be positive when ChipMOS reports.
For example we expect:
Positive EPS surprise, and EPS beat by multiple standard deviations.
EPS moving from negative to positive.
Gross, operating, net margin expansion sequentially and year over year.
Improvement in return on assets, equity, and capital.
Accelerating revenue growth on year/year basis, and guidance for 3Q to accelerate further on y/y basis.
Improvement in debt/equity ratio.
On May 28th thestreet.com downgraded ChipMOS to Sell because a number of the above metrics deteriorated when 1Q was reported. We don't think this research impacted the stock, but believe this serves as a good example of the type of technical screen often used in analyzing stocks by quants. We would expect thestreet.com to reverse its rating following ChipMOS' 2Q report, and more importantly, expect quant funds to get long the stock as numerous positive quantitative indicators will be firing on all cylinders in their quant-driven models.
3. Expect major modification to the current buyback
ChipMOS currently has a $10 million buyback in place, but the company has not been acting on it as shares are above the ceiling set in the 10b5-1 program it set up. When the buyback was established last fall, shares were trading at $5 and according to our calculations, a cap for the buyback was set at $8, a healthy 60% premium to then current prices. The buyback went into effect in January, and shares quickly rose above the $8 price. As a result, an anemic 47,100 shares were repurchased.
Management has been vilified for this "botched" buyback. We call it botched, because based on free cash generation and current interest rates, the company could repurchase shares into the $20s and still be buying back shares accretively - and massively accretively at current levels or in the teens.
We would be shocked if ChipMOS management does not amend or replace its current buyback when the company reports earnings. We are fierce advocates of accretive buybacks, even going so far as to recommend that Apple lever up and engage in the largest share repurchase program in history. That said, ChipMOS' non-buyback, buyback is incomprehensible since the interest it is paying on debt is about 2% and the free cash flow yield is over 40%.
We think management understands that it blew it, and will dramatically increase the ceiling on the 10b5-1, and potentially increase the size of its buyback from $10 million.
In fairness to management, we understand the conservatism given the company was on the brink of bankruptcy as recently as 2009. We also note, that most of the company's cash is in its Taiwan subsidiaries, limiting the size of the buyback to the ~$40 million held in Bermuda. Management has indicated that it is actively pursuing a consolidation into a single Taiwan-listed entity, which would allow it access to the $200+ million available on its balance sheet. Should the stock remain dramatically undervalued, we would expect a doozy of a buyback when such a listing is completed. We anticipate management will give additional information regarding such a listing when it reports.
We think the current buyback has created something of a crisis of confidence in management - with the thinking along the lines of: if the stock is this cheap and the company isn't active on its buyback something must not be right. We think that's fair, but we also believe this thinking can turn on a dime. Should management enact shareholder friendly policies (i.e. a buyback that it will act on and be in the market every day), this stock could rapidly move to fair value.
We continue to expect free cash flow of $4.15 for 2012, which at a 7x multiple and $1 of year-end net cash, results in a $30 stock. We also note that by 2014, depreciation should be approaching cap-ex - meaning that if we applied 2014 depreciation to 2012 results, EPS would exceed $4 - essentially "normalized" earnings. We don't think 2012 is a spectacular year for semiconductors in general, and don't consider this a peak year - let's call it an average year (some might say this is a challenging year). We're hard pressed to find a semiconductor company that is levered to mobile devices, has few competitors, is minting cash, and is trading at just over 2x normalized earnings. ChipMOS remains our favorite stock and we expect near-term catalysts to help move shares.
Disclosure: I am long IMOS.
Disclaimer: We conduct thorough research on our ideas, but our views are our own. Please do your own research.