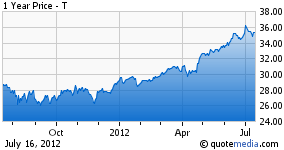 Communications heavyweight AT&T (T) is a safe stock to consider in this highly volatile market. While AT&T is fighting AMC Networks (AMCX) over its U-Verse contact, the company is also rolling out its enhanced Push to Talk Solution. In this article, I will show how AT&T is one of the best defense stocks available on the market today.
AT&T has proved that it can be profitable, as it's up 16.6% this year. With a dividend yield of 4.99% it has done investors very well. However, as it sits near the high end of its 52 week range I just don't see too much more space for AT&T to go up. It will keep its strong standing through the next quarters, but I don't see it breaking $38.
Perhaps the biggest development is the fight between AMC Networks and AT&T over the negotiations of the companies' U-verse contract. AMC Networks, most known for popular shows Mad Men and Breaking Bad, is seeking much higher prices from AT&T's Dish Network to continue to offer the channel. It is worth stating that both of these shows are highly regarded and have very high viewership, putting AMC Networks in a fantastic bargaining position.
The negotiations are beginning to turn ugly, with the spokesperson from each company bringing accusations into the public. It appears the main sticking point is that AMC Networks is charging Dish almost twice as much as it chargers other content providers. It is worth noting that with AT&T's U-verse contract, AMC's programming would be offered on internet, phone, and TV while many of the other content providers, such as Netflix (NFLX) and Amazon.com (AMZN) do not offer programming on television. Losing AMC would be a huge loss for Dish, and I imagine it would help the move to services such as Netflix. I don't anticipate AT&T will drop AMC as it has threatened; however, expect these clashes between content providers and distributors to become more common.
One the positive side, AT&T is rolling out two new communications features that will be very helpful for businesses. With these two offerings AT&T is hoping to better integrate into the enterprise world which for many companies is a much more stable, high-margin market.
The first of these two offerings is its Enhanced Push to Talk solution. Currently, Enhanced Push to Talk is only in customer trials, but it just announced that it would be expanding these customer trials in the lead up to the commercial launch later this year. Although Push to Talk solutions are not new, AT&T hopes to renew interest in these communications solutions by substantially increasing performance and features, while also allowing customers to choose from a wider range of solutions. One of the main benefits of this new solution is the possibility of integrating employees into the company via enhanced lines of communications.
Another solid communication solution is its Telepresence Solution. This solution allows cross border communications for large businesses, and global company Henkel just recently rolled out this solution. As such a large company, the adoption of Telepresence by Henkel is a strong endorsement for this solution. For Henkel, this solution will allow employees to communication real-time across eight difference countries. I still expect companies to adopt technology on a positive NPV basis, but if it works for Henkel it could easily work for other companies.
As mentioned, two threatening competitors in the content distribution space are Netflix and Amazon. Both of these companies have strong potential to render U-verse irrelevant. One of the main constraints on Netflix currently is data limits imposed by broadband providers. Netflix is in the process of lobbying to get the imposition of data limits thrown out. If these limits are lifted, broadband providers such as AT&T would be in a very perilous position. There would be nothing stopping content providers going straight to Netflix, much like Arrested Development is doing.
Data limits are also a main constraint on Amazon's streaming content player. The company is facing the same constraints as Netflix and both companies offer similar viewership. It is worth stating again that both companies will have AMC Networks offered, which is another in a growing list of one-ups it has on AT&T. I don't think the tide has turned on TV content distribution but it is certainly changing, and fast. Look to other players Microsoft (MSFT), Apple (AAPL), and Google (GOOG) to speed up the disruption of content distribution in the coming year.
On the other end, AT&T's business as a network provider is just as wrought with competition. Surprisingly enough, T-Mobile is gaining customers at a quick pace. It won't even come close to shaking up AT&T, but its offerings might prompt AT&T to more features. Specifically, T-Mobile if offering a new business data plan that allows the customer to choose whether or not they want their data throttled to avoid overage fees. If it is not throttled, they will have to pay more and be subject to overages. This is just one of many new schemes to monetize data, but it is noticeably cheaper than options offered by AT&T or Verizon (VZ). With its deal to purchase spectrum from Verizon, T-Mobile might have enough to actually make an impact with this decision. I can imagine small, cost-conscious businesses adopting this plan.
Again, AT&T is one of the best defensive stocks available today. With the economy the way it is, that is a great option to have. But I don't see AT&T as a strong long-term stock. There are many startups gunning for a piece of its profits, and being that telecom is expected to generate $2 trillion this year, one can imagine why. As for content distribution, it will be subject to competition from massive tech giants who have the innovation and the coffers to follow through on the investments. I see this stock as one to hold while the economy transitions. That is all.
Disclosure: I have no positions in any stocks mentioned, and no plans to initiate any positions within the next 72 hours.