Alcatel-Lucent, S.A. (ALU) is a leading communications solutions provider company, headquartered in Paris, France. It was officially formed in 2006 after a successful merger between Alcatel and Lucent. The company specializes in fixed, mobile, networking and communications technology, IP technologies and services. Alcatel-Lucent owns Bell Labs, one of the world's most distinguished innovation and research facilities in the whole industry. Bell Labs has made a great impact in the field of Research & Development and was awarded several times, including 7 Nobel Prizes.
Competition
Alcatel-Lucent stands out as one of the largest telecommunications providers, even though it faces a great deal of competition, especially from Cisco Systems (NASDAQ:CSCO), Ericsson (NASDAQ:ERIC), Nokia (NYSE:NOK), Motorola (NYSE:MSI), and Verizon (NYSE:VZ). It operates worldwide in more than 130 countries spread around several geographic regions such as Europe, Africa, Middle East, the Americas and Asia Pacific. The company, after lucrative investments on R&D, achieved a combined portfolio of more than 27.900 active patents.
For Q4 2011, Alcatel-Lucent is presented as the market leader for VDSL shipments. In the service provider VoIP and IMS revenue market share for Q1 2012, Alcatel-Lucent ranks at the top of the list, leaving Huawei and Genband behind. Furthermore, the company holds around 40% market share of wireless and internet access technologies for the past year, making a significant contribution to the networks business. Most intriguing is the development of "7950-XRS", a core internet router that can deliver 16 terabits of data per second. This innovation introduced by Alcatel-Lucent in May 22nd is considered to shake things up in the core router market, making Alcatel's competitors lose precedence. Analyst Stuart Jeffrey expects that a 10% share of the core router market could lead to an increase of 6% in operating income forecast for 2014.
Financials
2011 full-year results demonstrate a successful performance for Alcatel-Lucent. According to the company's financial statement, there was a significant improvement in free cash flow and a continuous increase of cost reduction actions, which resulted in annualized fixed costs savings of €300 million. Reported revenues for 2011 reached €15,696 million, showing an increase of 1.9% year-over-year at constant currency. Adjusted gross profit was €5,646 million or 36.0% of revenues, and adjusted operating income was €610 million or 3.9% of revenues. Published net profit amounted at €1,095 million or €0.42 per share. Operating cash-flow accounted a total of €979 million. Overall, since the merger in 2006, 2011 was the first positive year for Alcatel-Lucent, reflected in the full-year net results. Furthermore, according to the Dow Jones Sustainability Index list, Alcatel-Lucent was at the top of the CMT Communication Technology sector with a score of 86/100 in 2011.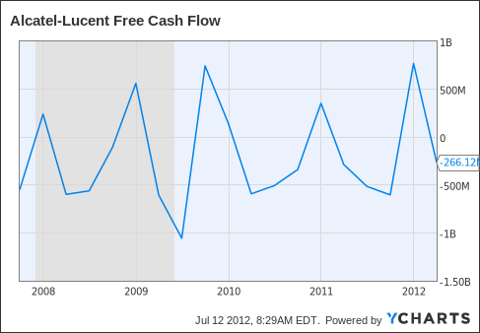 ALU Free Cash Flow data by YCharts
2012 appears to be quite a slow start for the company. Cash and costs control remains stable, but gross margin does not appear to reach the desired level. That is because of lower revenues particularly in Services. In general, Q1 2012 revenue decreased 12.3% year-over-year on a reported basis and decreased 22.7% sequentially to €3,206 million. The reported decrease was mainly a consequence of Networks, Optics, Wireless, and Services slow pace during this quarter. On the other hand, IP business remains strong as well as Wireline business.
The company for the first quarter of 2012 reported net income of €398 million or €0.14 per share, operating cash-flow of €168 million, and adjusted operating loss of €221 million or -6.9% of revenue. The latest decline in gross margin is considered to be the result of lower volumes and unfavourable mix in Services. However, gross margin is expected to improve for the rest of the year due to lower operating expenses.
Stock Valuation
Alcatel currently trades at $1.51 with a 52-week range of $1.39-$5.69. The stock has been traded at an average of $4.189 over the past five years. At this point, the stock price appears near its 52 - week low. P/E ratio stands at 6.9, P/S at 0.2, and P/B at 0.6. It seems investors have lost faith in Alcatel. However, it should be noted that despite the uncertainty that follows the European markets, Alcatel-Lucent also operates in emerging markets. Emerging markets are considered to be a whole new source that will trigger demand for the industry's products, and consequently boost revenues. Only 30% of total revenues originate from Europe. Based on these numbers, Alcatel-Lucent has a B Grade O-Metrix score of 6.08.
(For more information on O-Metrix calculations, please click here.)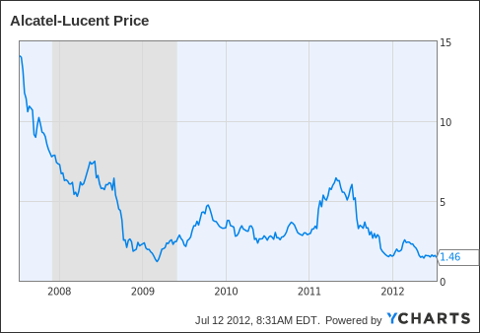 ALU data by YCharts
Furthermore, the company's most recent innovation in the core router market mentioned above, combined with the lower costs policy, and careful management is expected to alter the situation as we know it today. According to Deutsche Bank's analysts, Alcatel-Lucent is expected to carry about 5-10% of the router market's size. A 5% market share is supposed to generate approximately €200 million of revenues.
Summary
Alcatel-Lucent faces strong competition. In addition, the instability of European markets set a severe challenge to the telecommunications sector as a whole. However, key facts concerning the company's strategic plans show otherwise. The €2.4 billion investment in research & development and innovations technologies, combined with a strong commitment to lower operational costs certainly sent out positive signals for the company's future performance.
Alcatel-Lucent is climbing up the scales as a leading factor in the industry with the new management controlling its path. The company has sizeable investments in all over the world, and its current pricing can be a unique opportunity to make profits. Without any doubt, if the company follows its innovations strategy and commitments for 2012, increased profitability will be achieved in the medium term.
Disclosure: I have no positions in any stocks mentioned, and no plans to initiate any positions within the next 72 hours.