This is the final part of a 3-part series, which we are writing in order to give investors a guide on how to protect themselves, and at the same time profit, from the economic sanctions on Iran. We will discuss a retail portfolio in this article, thus wrapping up our detailed guide. To view Part 1, click here, while Part 2 can be viewed here.
Effect of Sanctions against Iran on Retail ETFs
The EU sanctions on Iran were imposed with full force on the 1st of July, which was followed by a boost in crude prices and increasing pressures on Iran to stop its uranium enrichment program. These sanctions will lead to a substantial reduction in Iranian exports and support high crude prices going forward. Iran is thought to have lost 600,000 to 800,000 barrels a day in sales. By July 1, the lost sales were expected to amount to over a million barrels a day.
Over the past two years, the price of Brent Crude has floated between $50 and $150 a barrel. At present, the Brent crude futures price is $103/barrel.
Fuel prices directly impact consumer expenditures. Because of this impact, the Retail Industry suffers as consumers are more discrete in their spending. In the short term, these changes appear to have differential impacts on individual retailers, depending on their market positioning (i.e. off price, mid-tier and premium brands). Generally, rising fuel prices mean more expensive goods (inflation) or less money to spend for consumers (less disposable income). While the overall inflation rate in North America has hovered between 2% and 3% in recent years, the price of certain products and materials has jumped considerably more, subsequently eating into the margins of retailers. While the long term effects of the oil price rise are mostly negative, some retailers may do well compared to others.
Below is a discussion of the effects of oil prices on retail ETFs, and how Wal-Mart (WMT) is the safest bet in times of rising oil prices.
Retail ETFs:
SPDR S&P Retail (XRT) and Market Vectors Retail (RTH) are two retail ETFs that will be affected by rising oil prices.
In addition to Retail ETFs, oil also affects the Consumer Staples Select Sector SPDR (XLP) and Consumer Discretionary Select Sector SPDR (NYSEARCA:XLY). XLP is safer during times when oil price increases due to supply issues. XLY, like XRT and RTH, is adversely affected if oil price rises.
The impact on these ETFs can be seen from their respective performances when oil prices spiked and plummeted in the past.
Earlier this year, when oil was 20% down, XRT was up 10%.
During the Arab Spring, oil prices appreciated approximately 18% from December 2010, to their highest at the start of May 2011, due to supply side disruptions. Prices jumped as a consequence of the loss of Libyan exports in the face of the Libyan civil war. Concerns about additional interruptions from unrest in other Middle East and North African producers like Bahrain, Yemen, Iran and Algeria (which between them supply a tenth of the world's oil), continued to support the high price. During this time, XRT, RTH and XLY underperformed the S&P 500 index by large margins, as seen by the graph below. XLP showed very little fluctuations in the same time period, showing that it is safer option in times of oil price increases.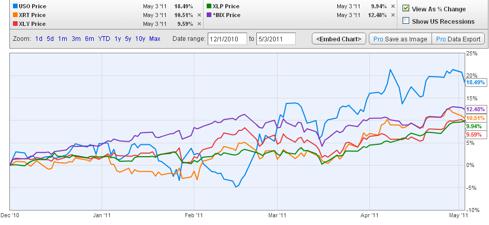 The recommended strategy in terms of ETFs is to long Consumer Staples Select Sector SPDR and short XRT, RTH and Consumer Discretionary Select Sector ETF.
Wal-Mart and Oil Prices:
Discounts and Out-Pricing
Wal-Mart has been building its supply base, wringing costs from its vendors, and accumulating buying power for 50 years. For a number of years now, Wal-Mart has successfully implemented an "Every Day Low Price Campaign", which has attracted a wide base of consumers to its outlets. WMT continues to promise its consumers a low price without the need to wait for sale price events. This strategy has helped the retailer save effort and expense needed to bring down prices during sale events. Moreover, this strategy has also been successful in generating shopper loyalty. In times of low disposable income coupled with tightening household budgets and rising oil prices, consumers are likely to be driving more to WMT, where they can be sure to get good deals all year long.
One Stop Shop
WMT provides shoppers with endless low-priced products through a one-stop shopping experience at one of its 10,231 stores (as of 30 April, 2012). Consumers can shop for groceries, computers, plumbing and fixtures and even pharmacy products, all under one roof. The retailer even has a number of clinics now actively functioning at its stores across a number of states. This bodes well for the retail giant in times of soaring oil prices, as more and more consumers, in an attempt to save on gas, drive to WMT for their needs.
Income and Capital Appreciation
If we look at the company's recent stock performance, it is evident that investors can benefit from owning the stock from both income and capital appreciation perspectives.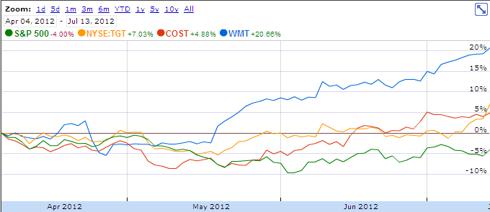 The stock has yielded almost 21% in the last three months, while Costco (COST) is up only 5% and Target (TGT) is up 7% in the same time period, which indicates the value in holding the stock long term. The stock has performed better than the S&P 500 index, as well as its peers, over a longer period. Currently, the stock is trading close to its year high range, largely due to improving same store sales, and its appeal as a defensive player in light of the current downturn. The company's defensive features make it a good bet for investors in terms of its dividend payouts, which have more than doubled in the last five years. The company is currently paying a quarterly dividend of $0.4, up 9% from the last year's quarter.
We believe that in light of the current economic turmoil surrounding the entire European region, and the oil supply disruption from Iran coupled with investors' current aversion to risk and losses, Wal-Mart will do as well, as it has done in the past. The company has a good track record, sustainable dividend payouts, healthy cash flows, and most importantly, a competitive edge over its peers in terms of size and its ability to offer discounts.
Disclosure: I have no positions in any stocks mentioned, and no plans to initiate any positions within the next 72 hours.