We have arrived at the midpoint of 2012, and it is an appropriate time to reevaluate the stocks that have been featured in our articles during the first six months. This article will focus on our precious metal investments, and we will determine if they deserve to stay in the portfolio. We will also reevaluate our projections for the metals market and if those should be modified.
This is the second installment in this series of three portfolio updates. The first update evaluated our High-dividend Portfoilio, and our next article in this series will update our Growth Stock Portfolio.
The general performance of the Precious Metals Portfolio mirrors the performance of the metals, although some stocks outshine others. We need to determine how many of the losses are the effect of the general market and how many are attributable to the stocks themselves. The table below lists the precious metal stocks we have featured on Seeking Alpha, their price performance and our current investment rating for each. Below we will elaborate in more detail about the prospects for each company.
| | | | | | |
| --- | --- | --- | --- | --- | --- |
| STOCK | TICKER | COST | JUL 14 | % CHNGE | RATING (shrt-long) |
| Revett Minerals | (NYSEMKT:RVM) | $ 4.40 | $ 3.42 | -22% | BUY - BUY |
| Hecla Mining | (NYSE:HL) | $ 4.95 | $ 4.35 | -12% | HOLD - BUY |
| Excellon Resources | (OTCPK:EXLLF) | $ 0.58 | $ 0.58 | 0% | BUY - BUY |
| Aurcana Corp. | (OTCPK:AUNFF) | $ 0.83 | $ 0.88 | 7% | BUY - BUY |
| Banro Corp. | (NYSEMKT:BAA) | $ 5.19 | $ 3.56 | -31% | HOLD - BUY |
| Central Fund of Canada | (NYSEARCA:CEF) | $ 22.84 | $ 19.48 | -15% | BUY - BUY |
| Sandstorm Gold | (SNDXF.PK) | $ 8.75 | $ 8.57 | -2% | HOLD - BUY |
| Freeport - McMoRan | (NYSE:FCX) | $ 39.11 | $ 33.23 | -15% | HOLD - BUY |
| Orvana Minerals | (OTCPK:ORVMF) | $ 0.89 | $ 0.81 | -9% | BUY - BUY |
The average change to these stocks since featured in our articles is an 11% loss. This is predominately due to the general decline in the price of the metals that these miners produce. Gold, silver and copper declined 7%, 18% and 10%, respectively, during the comparable periods. In the past six weeks, the Metals and Miners Sector in the Investors Business Daily ranked 193 out of 197. On average, our Precious Metal portfolio performed only slightly better than the metals themselves.
The gains and losses in individual stocks were primarily event-driven by developments within those particular companies. We will describe those events for both the silver and the gold stocks in the portfolio, and we will decide if changes warrant a modified short-term investment thesis. Over the long-term, we continue to consider all these stocks as BUY candidates.
Silver Stocks.
Our article on silver featured the first four stocks in the above table. Due to the success of the two Canadian junior miners, the silver portion of the portfolio was limited to a 6% average loss, although silver declined 18% since that article on February 14.
Revett Minerals was a big loser in the portfolio. We consider there are two reasons for this: production short of guidance and exposure to copper, which reacts to the slowing global economies. We were not particularly surprised or concerned about the guidance, as in our article I warned:
"Although I think it is an appropriate long-term investment, traders should be advised that RVM may take time to be recognized. Their latest guidance for 2012 is solid but also implies that they are more focused on investing in development than pumping their numbers."
The company management states that the 8% miss on production will be recouped during the year. The production was impacted by "retrofitting of equipment as we move towards higher bio-fuel usage and meeting revised DPM (diesel particulate matter) emission standards. Lower than planned copper grades were encountered as we advanced top slicing in the C Bed area and as a result of increased lower grade production from the South Ore Body."
Despite those challenges, RVM produced 50% revenue growth and record cash flow for the quarter. Processing the overburden seems like a reasonable way to avoid wasting reserves, even if that contributed to a short-term guidance miss. The near-term future for copper is less exciting than when we originally featured RVM, due to considerable slowing in global economies. We should mention that RVM does have 25% of the 2012 copper production hedged at $4.00 per pound. Copper is currently at $3.45. We think that the drop in RVM has created a short-term buying opportunity, despite the exposure to copper.
Our other U.S. silver miner, Hecla Mining Co. declined 12%, but less than the price of silver itself. The company announced that it is slightly ahead of schedule in its year-long cleanup project at the Lucky Friday mine. We think that HL is a solid value at the current price for the long-term, and certainly will continue to hold it in the portfolio. However, the potential for delays in the approval to reopen the Lucky Friday in an unpredictable regulatory environment prevents us from doubling-down at this time. We also see some other silver miners as better short-term bets.
One Canadian silver miner that we remain excited about it is Excellon Resources. Trading was halted earlier this week on an announcement that drill results indicated an extensive area of very high grade ore (10+ ounces/ton). Obviously this may allow the company to justify a higher reserve calculation, but more important is the possibility that the exploration is starting to zero-in on the "source." Although this is touted as the "highest grade silver mine in Mexico," the actual mother lode has been elusive.
While we are not ready to evaluate Excellon as if they had hit the bonanza vein, we are quite satisfied with the production, which is more than 50% higher than last year. This is a very consistent silver producer, and exploration results indicate a bright future. We consider Excellon a short-term and long-term BUY.
Our other intriguing Canadian silver miner, Aurcana Corporation , also announced outstanding results of exploration with 14 feet of 36 ounce/ton ore near the surface at its Shafter Mine in Texas, and 40 feet with 23 ounces/ton. The Shafter mine is in commissioning, and the company reports that it is two months ahead of schedule, with commercial production in Q3. In the meantime, its La Negra Mine in Mexico registered record production in Q1, providing cash flow to finance the start-up of the Texas mine, which will triple Aurcana's annual silver production.
The company issued 6MM stock options to management and directors, with a $1.02 exercise price, and S&P and Market Vectors have announced the addition of Aurcana to the GDXJ Index effective June 15, 2012. We are not crazy about the potential dilution, but also think the added $6MM may be useful given the production opportunities. At any rate, we expect management will see to it that the stock rises beyond the $1.02 price, and the added exposure may make that happen sooner than later. We consider Aurcana a BUY for both the short and long term.
Gold Stocks.
While we saw some shine on our silver stocks, the gold stocks in the portfolio were mostly dull in the first half of 2012.
Our biggest disappointment was Banro Corporation. We really liked that the Twangiza Mine was scheduled to begin producing 10,000 ounces per month at a very low cost, enabling BAA to finance the construction of the Namoya Mine in the Democratic Republic of Congo. The production has been delayed by equipment malfunctions, according to the company. BAA also has announced changes in the Twangiza mine operator agreement and a cost-cutting initiative. Finally, reports of unrest in the Congo have not helped. All these events may or may not be connected, but together they have delivered the one-two punch to the stock price.
The equipment malfunction is being addressed, and cost cutting and self-management of the mine could actually be improvements. The fact that these surfaced as surprises smells of crisis management. We do think that BAA will eventually become the lowest cost producer of gold in Africa, and we also respect its management experience. However, until the dust settles, we consider BAA a HOLD for the short-term. Of course, for patient long-term investors, this may be a great contrarian buying opportunity.
In our article about "Whats Wrong with Gold Stocks," we suggested that investors consider owning some physical gold through the Central Fund of Canada . The shares plunged with the price of gold and the strength of the US dollar versus the Canadian dollar. This was suggested as a safety measure, and CEF is the only investment where we think "dollar cost averaging" is a good thing, as long as this is in an appropriate proportion to other investments. As we mentioned in the article, we think that ultimately good mining stocks will exhibit better "paper appreciation" than physical gold, due to leverage. The BUY-BUY rating is consistent with the philosophy of gradually adding a little physical gold as your net worth grows.
Sandstorm Gold is a gold streaming company that purchases royalty interests in mines of mostly small miners that need capital. In our article, we mentioned that we are partial to producers, rather than purely exploratory propositions. Lately, Sandstorm has been investing in more exploration phase projects, which gives us pause for the short-term.
We agree that a royalty company needs to plan years ahead to maintain a production stream as older mines play out. We also think that the management has proven that it knows where the good deals are. Our concern for the short-term is that the earnings from these latest project investments will take years to hit the bottom line. In the meantime, the market is likely to evaluate the stock as fully-priced, on the basis of PE; hence, the HOLD-BUY rating.
Freeport-McMoRan is one of the largest Gold/Copper producers in the world and Orvana Minerals is one of the smallest. The operable word is "Copper." We featured these two in our article proposing that "Copper May Outshine Gold in 2012," and we considered the exposure to copper to be a good balance to the variability of gold, given the prospects for more global commerce. The China slowdown has turned into a larger concern than we expected, and the US economy is not exhibiting the strength it had in the spring. Freeport-McMoRan is cheap according to all value metrics, but it also has problems with its Indonesian Mine, which convinces us to wait and see how that plays out. We consider FCX a short-term HOLD and long-term BUY.
Orvana is on schedule with its initiatives: increasing production in its Gold/Copper mine in Spain and obtaining the permit for its Copperwood property from the state of Michigan. The problem mine in Bolivia seems to have stabilized, and it is adding some cash flow. The stock price, which is at book value, has held fairly well. We think this is partly due to the potential for good profit growth as they ramp up production and solid buy-out value of the Copperwood project. We think Orvana will turn profitable this year, encouraging us to provide a BUY-BUY rating for the stock.
Where Goes Gold and Silver?
Since we published our articles, the spot prices of both gold and silver have fallen through their 200-day moving averages. Although we are essentially fundamental analysts, we are not blind to the fact that this was a significant event technically. We have no crystal ball, and the prices of precious metals are affected by political events, fear and other factors that defy prediction. Nonetheless, we are fundamentally bullish on precious metals because we think inflation, the continued discomfort with US political direction and global economies on the brink will keep gold, and silver to some degree, a "safe haven" for some investors.
Additionally, it appears that currently there is an interest in central banks buying at this level and less interest from retail investors. In other words, the "smart money" is collecting gold. A recent article in Barron's stated:
"Big changes are afoot in the gold market. The short take: The new environment will favor long-term investors who buy and hold for years over speculators who try to trade day-to-day gyrations.

For one thing, central bankers are back buying gold. Think it's no big deal? The last time we saw the so-called official sector as such a consistent and major buyer was in 1965.

Central banks increased their gold hoards by 400 metric tons-each equal to almost 2,205 pounds-in the 12 months through March 31, up from 156 tons during the prior year, according to recent World Gold Council data.

The council "is now confident that central banks will continue to buy gold and has added official-sector purchases as a new element of gold demand."

But that's only one big change.

The second: Short-term speculators have fled the market. Open interest of managed futures funds, considered a good proxy for all speculators, has dropped a staggering 28% since the beginning of September, to approximately 203,224 contracts as of June 5."
Silver prices have fallen deeper than gold and the following chart reveals that the price has retraced 50% of its rise form the 5-year low spike to the 5-year high spike, to about $27.50 per ounce. Since spikes can be misleading, we also looked at the apparent support and resistance levels and there is also a 50% retracement at about the $27.50 level.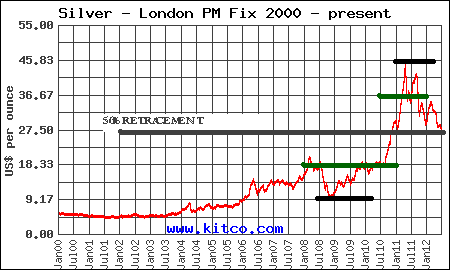 Technically, the spot price of silver seems to be at an inflection point. Technical theorists would expect a rebound at the 50% retracement level ($27.50), so if the fall extends further there is great concern. However, in our article, we mentioned that $25 per ounce is the danger level, partly due to the fact that most reserve appraisals for mining stocks use $20-$25 per ounce as the benchmark.
In that article, we also indicated that we expected an average of 15% annual appreciation in our silver stocks. If silver itself appreciates 15% in 2012, it will regain the resistance level of about $36 per share by year's end. We consider it about a 50/50 proposition that silver will drop to $23 or rise to $36. That favors a bullish view, with a potential 30% gain versus a 15% loss. Likely, silver will remain somewhere inside that range short-term.
The gold spot price has not retraced 50% of its rise in the past years, leading us to conclude that it is more susceptible to drop than silver. We took some heat from readers for stating in our article that " we are likely to see $1500 before $2000..." We saw a drop to the lower 1500's since, and we do not see technical reasons for a sharp rebound. However, recent spikes in food and other commodities seem to indicate inflation will return as an investment consideration. Short-term we are less excited about gold than silver, although they frequently travel in tandem.
We should also mention that the general stock market is also at an inflection point, and precious metals and the stocks in that sector tend to over-react to stock market downturns.
Conclusion.
The precious metal sector is volatile and unpredictable. There are no compelling reasons to think that it is urgent to get into this sector to catch the next upward spike. The short-term prices for silver and gold are likely to move about as fast as the U.S. Congress. Long-term prospects remain positive due to reasons mentioned here and in our other articles. In our opinion, neither presidential candidate will be able to greatly influence the prices of gold and silver, as precious metals are tied to global factors.
We like miners that have proven low cost production and positive cash flow. We are less bullish on those that are predominately in exploration. The smaller miners are more willing to invest in speculative ventures, and the under-the-radar ones that have already proven to be winners in that area are the best short-term bets. By nature, these are speculative stocks, so investors are advised to decide if they are willing to ride the roller coaster with these entrepreneurs.
Disclosure: I am long HL, RVM, OTCPK:AUNFF, SNDXF.PK, OTCPK:EXLLF, BAA.
Disclaimer: We do not know the particular circumstances of our readers, and we suggest that they do their own due diligence or consult with a financial professional to verify that any of the investments in this article are appropriate for their circumstances.