REITs have been tapping the preferred stock market at every opportunity lately, using the market to raise new perpetual capital or to refinance existing perpetual capital. With rates where they are (low) and demand for yield what it is (high), REITs have found themselves in an enviable position. Recent (within the last week) issuers have included:
Today, Kimco Realty (NYSE:KIM) has joined the party. Details of the proposed offering are:
| | |
| --- | --- |
| Issuer | Kimco Realty Corporation |
| Rating | Baa2/BBB-/BBB- |
| Series | Series J |
| Type | Cumulative Redeemable Preferred Stock |
| Size | 9MM shares - $225,000,000 |
| Coupon | 5.50% |
| Use of Proceeds | To redeem all of the outstanding Class F preferred stock, which redemption is expected to occur on or about August 15, 2012, |
Relative Value


Kimco J's being priced 20bps inside the Vornado Ks seems tight. It might be worthwhile to look at existing preferreds within Kimco before buying the new issue. Public Storage (NYSE:PSA) continues to march higher, and does not seem to present value.
Equity Snapshot: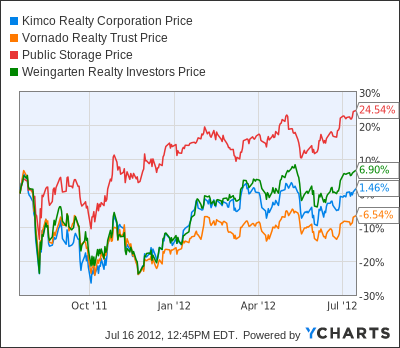 KIM data by YCharts.
Bottom Line: As I have been saying recently, the amount of issuance and the rate at which these preferreds are being issued is becoming a concern. With Vornado issuing at 5.70%, 5.50% on these Kimco's seems a little tight. Perpetual preferred stock below 6% for a traditional REIT is somewhat tight, but relative to ten year treasuries they are still appealing. This is a difficult balance - absolute rates versus relative rates. KIM's equity has a dividend yield of 3.94%, giving the preferred a yield advantage of approximately 150bps, which is decent, but seems tight. Within Kimco's preferred complex, I would be a buyer of the KIMPrH, which is a pick-up of current yield of 57bps. The cost to this is you are selling call protection and buying a lower yield-to-call - the trade is therefore premised on rates increasing in the next few years where the call option has less value.
Things are getting tight in REIT preferred space, again the balancing act between absolute rates and relative rates. The sector is losing its luster, but still has value left. A look at the performance of the PSAPrU is evidence of that.
Disclosure: I have no positions in any stocks mentioned, and no plans to initiate any positions within the next 72 hours.
Disclaimer: This article is for informational purposes only, it is not a recommendation to buy or sell any security and is strictly the opinion of Rubicon Associates LLC. Every investor is strongly encouraged to do their own research prior to investing.