Frontier Communications Company (NYSE:FTR) provides telecom services to rural areas and small communities. The company is currently operating in twenty-seven states. It caters to both business and domestic customers. The firm offers local and long distance telephone service, digital television services, satellite video, wireless internet data access, entertainment services and broadband internet.
Recently, the Federal Communications Commission [FCC] set up the Connect America Fund [CAF]. The primary goal of CAF is to increase broadband coverage in rural areas to bring 18 million Americans into the loop. Frontier Communications expects to receive $71.9 million under the CAF initiative. These funds will help Frontier expand its broadband network and bring in more customers. Frontier expects to add 92,876 new customers this year. The company already invested $1.5 billion to make broadband services available to 80% of its operating regions. The firm is also working on increasing data speed to 3 megabits per second. Frontier plans to increase the current speed to 4 megabits per second by 2015.
The current number of customers using broadband is at 1.8 million. The firm added 40,000 customers in the last year alone. Frontier is expected to start selling AT&T (NYSE:T) products in the next three years. The company plans to offer a range of smartphones, and tablets which will complement its existing portfolio of services.
Stock Performance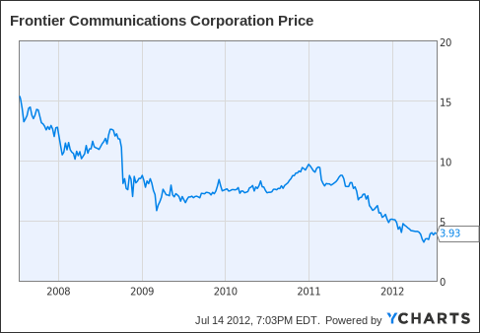 FTR data by YCharts
Frontier Communication stock closed at $3.93 on July 13, 2012. The 52-week range for the stock is $3.06-$7.87. The stock has been in a land slide since November, 2011. It started going up again in May, 2012, and since then it has been going up gradually. Even after the recent run, Frontier stock is trading near the lower end of the 52-week trading range.
Frontier suffered greatly from the recent financial downturn. At the current price, it is trading about 60% below the pre-recession valuation. However, the recent increase in the stock price suggests that the worst is over. The stock is ready to go back to its best.
Average volume for Frontier stock is a little above 13 million shares. Frontier has a market cap of $3.92 billion. It recently paid $0.10 in quarterly dividends, and the current dividend yield of 10% looks appetizing. A high dividend yield makes it an attractive investment for people who want periodic returns and need to generate cash. The stock has a low Beta of 0.65.
Ratio Analysis
Trailing twelve month P/E ratio is quite high for Frontier at 33.03. The firm had trailing twelve month EPS of $.12. However, forward P/E ratio of 17.86 suggests that earnings are expected to double next year. P/S ratio stands at .77. Company has an attractive PEG ratio of 90. Enterprise value/EBITDA for Frontier is 4.88. Price to book ratio is 0.89.
Competitor Analysis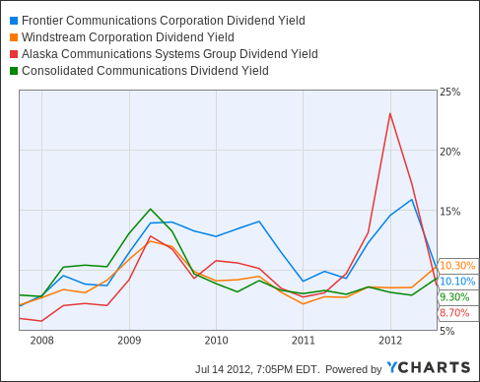 Dividend Yield data by YCharts
While Frontier is one of the most widely followed telecommunication stocks, it is hard to compare with telecom giants. I think it would be fair to state Windstream Corporation (NASDAQ:WIN), Alaska Communications (NASDAQ:ALSK), and Consolidated Communications Holdings (NASDAQ:CNSL) as related companies. There are also some regional competitors for Frontier, which are limited to smaller regions.
Out of these three, Windstream is the biggest competitor for Frontier. Windstream has over 3.2 million customers in sixteen states. Its stock is currently trading at $9.77. Windstream stock is also trading at the lower end of its 52 week range, which is 9.00 - 13.08. Windstream has a market cap of $5.75 billion. EPS for Windstream was $.38, and P/E ratio stands at 25.58. Windstream has a slightly higher Beta of .75. Frontier has better revenue growth and margin numbers than its largest competitor. Revenue growth for Frontier is 27% at the moment, more than Windstream (8%) and also the industry average (15%). EBITDA margin for Frontier is 49%, more than the industry average (39%). Cash flow margin for Frontier is 31%, again, better than the industry average of 18%.
Summary
Analysts and community are almost equally bullish about Frontier. This stock is currently trading almost at the floor price. There is a huge potential for gains. The resistance level for this stock is a lot higher than the price it is trading at right now. Mid-sized telecom stocks as a whole has been under the cosh for a while. At the moment, the stock prices are near historical lows. Frontier has already shown a steady improvement in price over the last two months. As the economy starts to improve, I expect the stock to climb higher.
The company's fundamentals are strong. Frontier is expanding the market and adding new customers in the broadband category. Revenues will also be improved by the sale of AT&T products, which complement the existing portfolio of the company. The only challenge for Frontier can be from a change in technology, which needs to be replaced on a continuous basis. All other signs point to a healthy profit in the future at current prices. I would suggest a buy/hold strategy for this stock. The current price offers a compelling entry point.
Disclosure: I have no positions in any stocks mentioned, and no plans to initiate any positions within the next 72 hours.