In light of the increasing divergence between oil and natural gas prices, intense government encouragement to switch to cheaper and environmentally friendly alternative sources of fuel, and a crunched financial economy where companies are trying to seek cost cuttings, Westport Innovations Inc (WPRT) holds a genuine chance to make profits after half a decade of having shown losses.
Possessing ample technical expertise in its field of natural gas engine manufacturing, WPRT has the right products to penetrate emerging markets of natural gas engines. It has made strategic alliances to prosper in this upcoming boom. However, it will have to face some tough competition from giants like Cummins Inc (CMI), financially distressed Navistar International Inc (NAV), and Paccar Inc (PCAR). The company will also have to wait for the fuel infrastructure to be built accordingly, which will ultimately motivate people to switch to natural gas. However, this is the U.S. election year, and a new President will decide the new laws that will ultimately govern the energy landscape of the country.
Westport Innovations Inc
WPRT has global operations in 7 countries and is run by 920 employees. WPRT designs and manufactures natural gas engines and fuel technologies, which allow vehicles to use alternative sources of fuel. WPRT has four operating segments:
Cummins-Westport (CWI): This segment caters to the heavy and medium truck engine markets. CWI engines are run on Compressed Natural Gas (CNG) or Liquefied Natural Gas (LNG).
Westport LD: These engines target light duty vehicles and industrial markets.
Westport HD: These engines are similar to CWI engines. However, this segment provides the proprietary platform to WPRT, and the firm has used this platform to launch its 15- liter LNG engine.
Corporate: This segment includes all R&D costs, and all other administrative costs that cannot be attributed to a single segment.
The following chart shows which vehicle comes under which segment: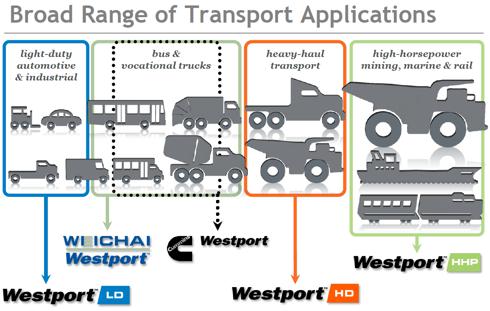 The following charts show the segment revenue made by the firm in its first quarter: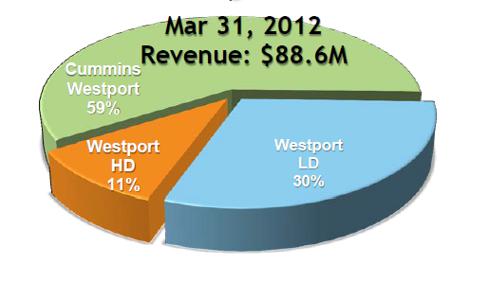 Savings to Truck Users
Before discussing the strategic partnerships that the firm has made in order to realize the maximum from the opportunity at hand, it is important to analyze the savings attached to switching to natural gas - a key factor that will decide the switching pattern. A recent study gave us the following numbers for cost savings attached to the switch made from diesel-driven trucks to gas-driven trucks: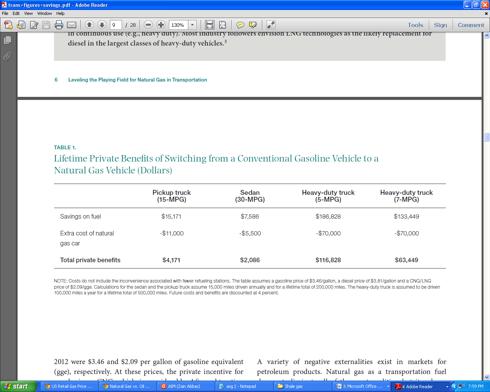 This clearly shows that given the difference between natural gas and oil remains the same, the switch saves a lot for truck users, and therefore, WPRT has a massive potential market.
Potential Demand
According to a JPMorgan (JPM) analyst, the current long-haul truck market is 50,000 units per year, and it is expected to grow to 70,000 by the end of 2015. WPRT currently sells only 700 15-L engines (the engines that are used in these trucks). However, by the end of 2015, this figure is expected to grow to over 10,000, as WPRT actively invests in R&D for engine technology.
Agreements and Alliances
WPRT Engine Types vs Competitors' Engines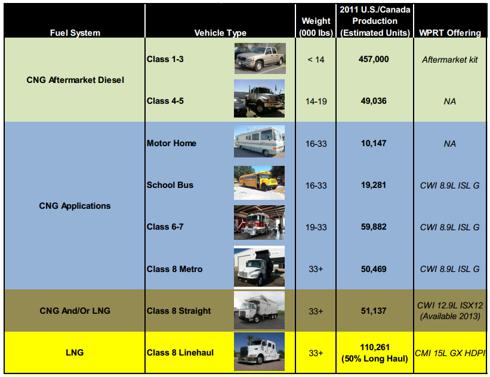 The most debated aspect of engines is the comparison between High Pressure Direct Injection (HPDI) and Spark ignition ((SI)) engines. HPDI is the recent technology that WPRT has developed to gain a competitive advantage over other competitors. Both are used for the heavy duty truck market. HPDI has equivalent fuel efficiency to diesel, has better braking power and emits lesser exhaust heat than the SI, which, however, is cheaper and has fewer EPA requirements to be fulfilled before it is approved. Another category is the dual-fuel engine. As the name suggests, this engine allows the driver to switch to diesel when the gas reserve ends. This is an important feature, as natural gas refueling remains an issue amidst the scarce infrastructural development of CNG stations in the U.S.
Entry into China
According to analysts at Piper Jaffray, China's truck market is shifting in large amounts towards natural gas. In this context, WPRT has already formed an alliance with Weichai Power, one of the leading suppliers of natural gas engines in China. This alliance, by the name of Weichai Westport (WWI), is expected to reap massive profits for WPRT.
Infrastructural Development & Clean Energy Fuels Corp (CLNE)
By far, the biggest hindrance in the smooth transition to natural gas trucks is the poor infrastructural development of gas fueling stations. Nobody knows why the U.S. government has not aided in the development of fuel stations. Some say that a whole gasoline-station owners' mafia is working at the backend. CLNE is playing a vital role to address this problem. It has collected $450 million from Chesapeake Energy Corporation (CHK), the nation's second largest gas producer, to fund 150 gas stations across the U.S. in two years (70 in 2012 and 80 in 2013). However, according to a JPMorgan analyst, the plan may not be that easily achieved, therefore, hindering the adoption of natural gas trucks. The following graph shows CLNE's plan: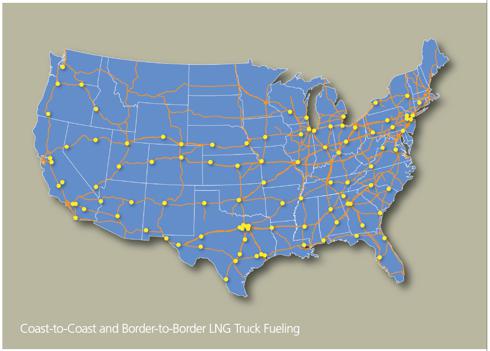 Election Year 2012
President Obama is likely to uphold the laws regarding the use of cleaner energy, in line with his rule in this term.
GOP candidate Mitt Romney is stated to be against all subsidies that go into encouraging the use of alternative sources of energy. Therefore, it is highly probable that if Romney wins the Presidential seat, it will be curtains for WPRT and all other firms that rely solely on alternative sources of fuel for their revenues.
Gary Johnson of the Libertarian Party holds the same views as Obama.
The following chart emphasizes how much difference there is between Obama's and Romney's views.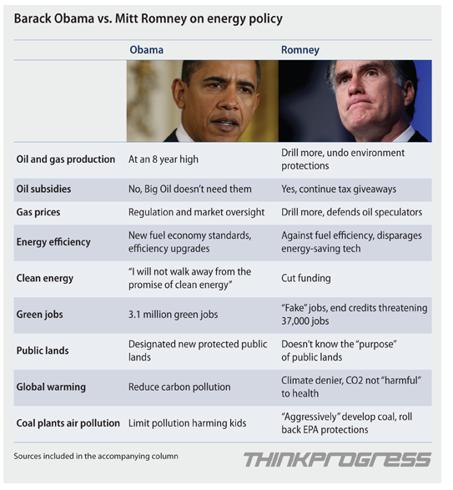 Divergence between Natural gas Prices and Oil/Diesel Prices
There is a potential risk that this gap between the price of gas and diesel diminishes over time. This can happen over the passage of time, as natural gas is exported by the U.S. (in the form of LNG) and the Shale gas boom comes to an end.
As natural gas usage rises, and the global GDP rises, the gap between both of them is likely to shrink. Also, there are many other costs that come with natural gas trucks in the form of maintenance and repairs, which are not accounted for in the calculation of cost savings.
Other important factors to consider are:
The market penetration of competitors like CMI and NAV.
Global truck demand is falling due to an economic slowdown. This can have an impact on WPRT's current and future sales.
Many of the models declared by WPRT are still in trial process. An important catalyst will be when their commercial production starts.
Valuation
A considerable potential is seen in WPRT's future earnings. However, a lot of uncertainty surrounds the market, as no proper infrastructure is present for truck users to realize cost savings attached to the usage of natural gas-driven trucks. According to sell-side analysts, the company will break even in 2014. Using 2017 average analyst estimates the stock is trading at a forward p/e of 9x.

*At current price
Disclosure: I have no positions in any stocks mentioned, and no plans to initiate any positions within the next 72 hours.