For all the hype about the proposed "fiscal cliff" involving widespread tax hikes, most notably on dividend taxes, I've never been a believer. I found the notion of a drastic tax increase highly unlikely. While Republicans are obviously averse to tax increases of any sort, I felt that in the current economic circumstances, Democrats would also be hesitant to throw the economy onto the bus that's about to drive over a fiscal cliff.
It turns out my suspicions were right. As reported earlier today by Reuters:
A plan by Senate Democrats to let income tax rates rise for wealthier Americans takes a softer line on taxing dividends than President Barack Obama's proposal, easing the tax load on the rich. [...] dividends would be taxed at half the rate proposed by the Democratic president.

Obama's 2013 budget proposed bringing tax rates for dividends up to those for ordinary income, which would result in a tax rate of about 40 percent for the highest-income groups.

Senate Democrats' plan would raise dividend taxes from the current 15 percent rate to 20 percent, according to a summary.
This is obviously great news for investors. Notwithstanding the fact that dividend stocks are safe with or without a fiscal cliff, the report suggests that Senate Democrats are willing to compromise. The fiscal cliff involves more than just dividend taxes, as demonstrated by this chart from the Washington Post.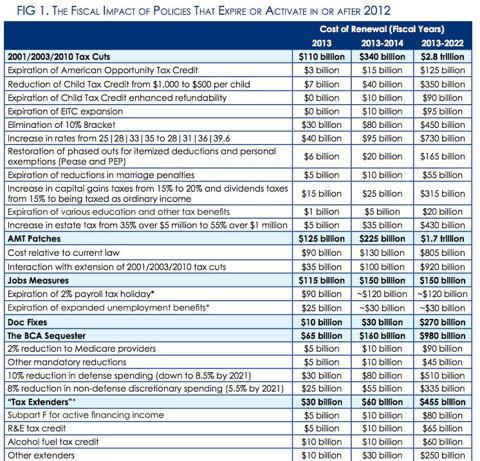 A Do-Nothing Congress poses great danger, but the draft plan circulating around the Senate suggests that Congress will make at least an attempt to solve the problem. Former Fed Chairman Alan Greenspan is on the record predicting that the fiscal cliff "can and will" be resolved, and today's developments are a step in the right direction.
With US equities undervalued, investors would be wise to take a wait-and-see approach to positions. Harvesting some capital gains and subsequently reinvesting by switching funds/ETFs or to different stocks in the same sector might be a smart idea, as the cap gains tax may still increase. Nonetheless, going all-cash right now is just as risky as being all-equities. The economy is currently in a self-perpetuating feedback loop, but as soon as good news spurs hiring, spending will go up, leading to more hiring. The rally could be explosive, especially since investors piling into Treasury bonds have sent bond yields to a record low. If and when good news sparks a rally in yields, falling bond prices will send investors flying to equities in the DIA, SPY, and QQQ as quickly as they've been flying to bonds.
The long-term outlook for the US stock market is still bullish, and 15 years down the road, investors might kick themselves for being underinvested at the relatively attractive current valuations -- just as Will Danoff made the mistake of not getting reinvested quickly enough after the financial crash.
With so much uncertainty in the current macro environment, investors should certainly be cautious of being either too short or too long. But the Senate's apparent willingness to compromise suggests the light at the end of the tunnel just might be getting closer.
Disclosure: I have no positions in any stocks mentioned, and no plans to initiate any positions within the next 72 hours.