Activision Blizzard (NASDAQ:ATVI) is currently the world's most dominant developer of online video games, predominantly known for its blockbuster titles "World of Warcraft," "Starcraft," "Diablo," and "Call of Duty." Activision's operating and net profit margins squash the competition.
Click to enlarge images.

In terms of fundamentals, the company is undervalued with respect to future growth prospects. (Click here for the Q1 investor summary.)

Activision has a modest beta of 0.6 and is in the middle of its 52-week range of $10.40 up to $14.40. The company started paying dividends in 2010 at 15 cents and now pays 18 cents a share with a yield of 1.5%. This may be a low yield, but the company has plenty of upside and does not want to limit growth with increased operating costs.
In comparison to the competition, it is also the only company paying dividends -- Electronic Arts (NASDAQ:EA), THQ, Inc. (NYSE:THQ), and Take-Two Interactive (NASDAQ:TTWO) do not. Activision's operating margins in Q1 of this year were an impressive 43.77%, along with a net profit margin of 32.76%. Activision has no debt to equity and boasts an average return of equity of 14.42%. Of the 24 MarketWatch analysts covering the stock, 16 of them rate it a buy, three rate it as overweight, and five rate it as a hold. The average price target is $15.75. Insiders have purchased 6.6 million shares over the last three months, with only one sale of 400,000 shares. ATVI has increased revenue for the last five years even through the recession, and has fared much better than its largest competitor.

Activision's most profitable venture has been "World of Warcraft," the largest MMORPG (massive multiplayer online role playing) game in the world. The game was released in 2004 and peaked at 12 million users in 2010. Currently the game has approximately 10 million subscribers and has started regaining users this year (as per the shareholder Q1 conference call).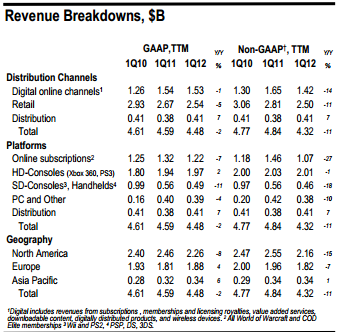 The bears argue that "World of Warcraft" is too old, and users are aging and quitting. The contrarian take is that the game has withstood subscriber loss fairly well since 2004, and constantly is releasing new content and expansions to meet demand as gamers progress through the end-game content. "World of Warcraft: Cataclysm," the most recent expansion, sold 3.3 million copies, making it the fastest selling PC game of all time until toppled by another game, "Diablo 3." The previous record was "World of Warcraft: Wrath of the Lich King" at 2.8 million games sold in 24 hours.
The main cash flow from "World of Warcraft" is from charging users a monthly subscription fee of $15. Activision has made tremendous strides since the game's release to monetize its users by adding extra content and charging money for special in-game items. In "World of Warcraft," users have the option to buy new mounts for their characters ($25), change their faction from horde-alliance ($25), transfer game servers ($25), and even change race ($10). Another excellent business strategy the company unleashed in 2012 was the ability to sign up for an annual "World of Warcraft" subscription and receive "Diablo 3" for free, as well as an exclusive "World of Warcraft" mount. This was an ingenious idea; users who quit "World of Warcraft" but were waiting for "Diablo 3" were baited back into the game. For only $90 more, they received annual passes and in-game mounts, which drive account values through the roof since the exclusive mount will never be available again.
In addition to dominating the MMORPG, first-person shooter, and strategy sectors of the video game industry, Activision's "Diablo 3" has become the new fastest-selling PC game of all time. "Diablo 3" sold 3.5 million copies in the first 24 hours, even after a hiccup with servers during the launch week. This number also doesn't include the 1.2 million users who received the game as part of the "World of Warcraft" annual pass deal. "Diablo 3" ended its first week release with 6.3 million games sold worldwide and has continued to sell rapidly.
Activision, being the most innovating gaming company in the world, has a new method of monetization that its brought to light in "Diablo 3." In "Diablo 3," users exchange items via an auction house using gold as their currency. Activision utilized the auction house in "World of Warcraft." In "Diablo 3," users will be able to sell any item they like for real money and will pay out 15% of the proceeds to Activision for the service. This item-selling dilemma has plagued Activision for years; it knew companies were selling items for cash and had to find a way to stop it. I am glad it has found a way to take control of this stolen market with the new virtual auction house. Below is an example of what the auction house looks like.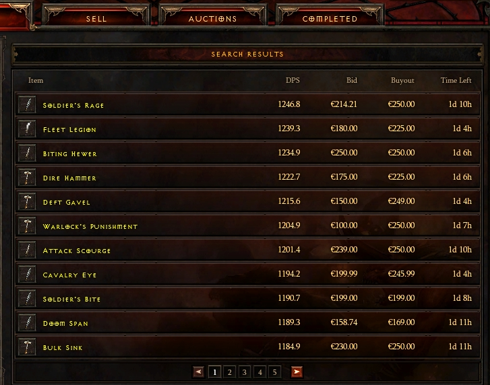 For the large majority of investors unaware of the price of virtual items, you can take a look at "Diablo 2" vendor websites that are still in business. "Diablo 2" came out in 1998 and items are still being purchased for real money. D2items.com, for example, still sells "Diablo 2" items ranging from $5 to $100. The owners of these companies are young adults who enjoyed the games and farmed items, selling rare "Diablo 2" items for cash. If you would like evidence of the volume these companies were doing, take a look at D2jsp.org. D2jsp is the largest online gaming forum with its own exchange platform "forum gold." The website was launched by Paul Taulborg, who is now a millionaire and will continue to profit from the "Diablo 3" launch. The top 100 donators (which means they bought forum gold to exchange for "Diablo 2" items) have bought over $5,000 worth of forum gold. It's safe to say "Diablo 3" gamers will do whatever it takes to have the edge on their peers; if that includes spending a bit of cash to save hours of farming, so be it.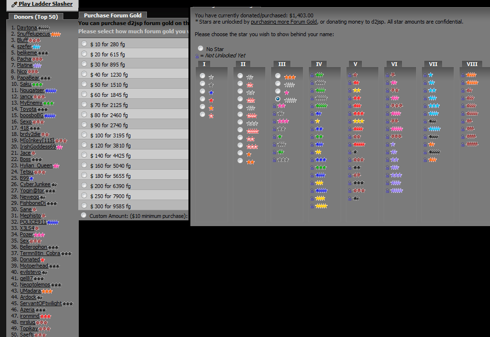 "Starcraft" and "Starcraft 2" have sold an accumulated 11 million copies, making it the largest online strategy game in the world with no formidable competition. One of the most fascinating attributes with the "StarCraft" franchise is the ability for game users to create their own maps. A map is a custom built game designed by "Starcraft" players to play publicly. "Starcraft's" hands-on map-making experience developed a loyal user base of seasoned gamers; many "Starcraft" gamers own the other Activision strategy game "Warcraft 3" as well. "DOTA," an abbreviation for a wildly popular custom "Warcraft 3" game ("Defense of the Ancients"), made gaming world headlines and even spun off into its own franchise. The link takes you to a video by a popular music group Basshunter,, which sings about the game "DOTA" on "Warcraft 3." I link this video to give older generations a glimpse of Activision's mass appeal. "DOTA" was so popular that the game maker created his own virtual game "League of Legends" with the income he generated from "DOTA" advertising on his website. What should matter most to investors is how this exemplifies the power of Activision's custom map-making technology and where it can lead to.
In addition, plenty of gamers are fixated with the strategy version of "Starcraft" as well; it has become a globally competitive game. Activision and other gaming companies hold sponsored tournaments in Europe, Asia, and the United States with huge prize pools and millions of people following the events. In Southern Korea, "Starcraft" is almost an official sport. National tournaments are televised in Korea; contestants even dress up in sci-fi attire and have fans supporting them on social networking sites during events.
On the Activision side of the company there is also a steady lineup of game releases for this year, including "Call of Duty: Black Ops 2," "Skylanders Giants," "Transformers: Fall of Cybertron," "Spider-man," "Family Guy," and a new "James Bond" game.
The most anticipated of these games is easily "Call of Duty: Black Ops 2," which is set to be released Nov. 13th. The "Call of Duty" franchise has been growing at a tremendous rate since its release; "CoD: Black Ops" has sold over 25 million copies, making it one of the top-selling video games of all time. The latest game released, "Modern Warfare 3," surpassed one billion in sales only 16 days after the release on Nov. 8th of last year. Every "Call of Duty" has surpassed the sales of its predecessor and I doubt that this next expansion will be any different. It is even starting to become socially acceptable for girls to play "Call of Duty," which is a new trend I hope continues. I say this out of personal experience in college -- the only game that I don't mind a girl watching me play is "Call of Duty." Oftentimes, girls would pick up a controller and play, or say they had played before, which is a phenomenon that I could have never predicted.
In addition to revamping the "Call of Duty" games to have superior content, Activision has also begun monetizing the game through a service called "Call of Duty Elite." This is a service offered through Xbox that allows users to buy additional maps, themes, or additional game content for real money. Some people see this as a hard revenue stream to capitalize on, but according to the investor summary for Q1 direct from Activision's report, elite membership is growing.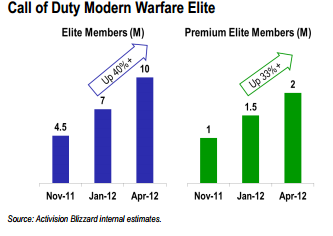 As Xbox grows to be more than a gaming console, it will benefit from the gamer base it has because of "Call of Duty." An example of this is my Dad who is not a gamer usually, but played "Call of Duty" with me on my Xbox and got hooked and bought his own. I personally prefer to game on a PC, but still play "Call of Duty" on the Xbox so I can play with my friends on Xbox Live.
Another more diverse way to own Activision is to buy Vivendi's stock (OTCPK:VIVHY). Vivendi is a French conglomerate that trades in the U.S. as an unsponsored ADR. This means you can trade the stock normally in the United States without the accompanying risks and costs of trading foreign stocks. Vivendi is the majority shareholder of Activision, with over 58% of the company. Vivendi owns several other businesses including Universal Music Group, and a prosperous French telecom SFR, Canal + and many more. Vivendi is an attractive stock also with its 7.82% yield. I will go in depth in my next article on Vivendi.
Consequently, I find no reason for Activision to have a bearish year; the company is only poised to go up. In the computer video game market it reigns supreme. Activision's "Call of Duty" continues to dominate the competition on console systems and has continued to attract new users. Activision recently announced plans to bring "Call of Duty" online to the Chinese market and monetize the game by charging real money for in-game items; similar to the strategy it has been using for "World of Warcraft." If you are short this stock, you probably have a sour outlook on the video game market this year as a whole. The positive fundamentals, "buy" analyst reviews, and a strong resilient game lineup make Activision Blizzard a company to be reckoned with.
Disclosure: I am long ATVI, OTCPK:VIVHY.