The interest rates most banks now offer for cash and CDs are next to nothing, as are short-term U.S. Treasury rates. Intermediate T-bills aren't much better and even a 10-year Treasury now yields about 1.5 percent. In light of these low yields, investors may want to consider dividend aristocrats as an income building supplement. These equities may allow investors to obtain immediate income, income growth and potential equity appreciation.
There are literally thousands of dividend-paying equities and equity-based funds of the mutual, closed-end and exchange traded varietals. The S&P 500 (NYSEARCA:SPY) average dividend is currently approximately 1.93 percent, while the Dow Jones Industrial Average (NYSEARCA:DIA) is yielding about 2.44 percent, with the majority of each benchmark's constituents now paying dividends. The dividend aristocrats include members of the S&P 500 that have followed a policy of increasing dividends every year for at least 25 consecutive years.
While not all aristocrats provide above-average yields, some do, and they all have a track records of growing them over time. There are currently 51 dividend aristocrats, which means about 10 percent of the S&P 500 meets the criteria. Many dividend aristocrats are considered safer than average equities, largely based upon their lengthy history of being able to increase payouts to shareholders. This is not always the case, as some aristocrats continue to increase their dividends, even though they may be in a state of decline. Nonetheless, several of the dividend aristocrats are productive and growing companies, including some of the best known companies in the United States.
Below are five dividend aristocrats that are headed into this earnings season at or near a 52-week high. Each of these companies is within one quarter of one percent of its 52-week high. I have also included their year-to-date equity performance and last dividend increase.
Target Corp (NYSE:TGT)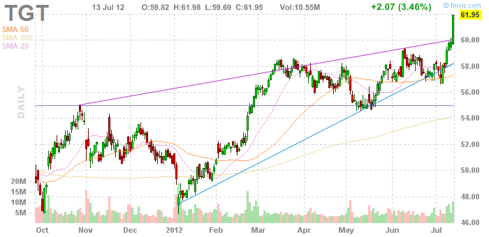 Yield: 2.32%
YTD: +20.94%
Target shares have performed exceedingly well so far in the second half of 2012, largely after the company announced a dividend increase that will take effect in the third quarter. Target's 3Q dividend will be $0.36, a 20 percent increase from the prior $0.30 quarterly dividend. Target shares have appreciated 36.82 percent from their 52-week low to their 52-week high, where they now sit.
Wal-Mart (NYSE:WMT)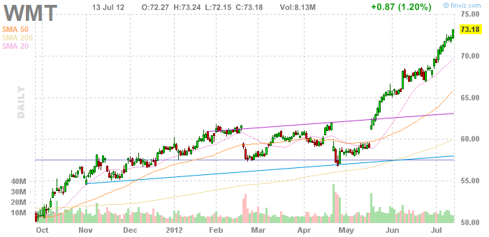 Yield: 2.17%
YTD: +22.46%
Wal-Mart shares appreciated considerably during the second quarter, and so far into the third quarter of 2012. The company increased its dividend at the start of the year, raising the quarterly payout from $0.365 to $0.3975 (about an 8.9 percent increase). Wal-Mart shares have appreciated 51.48 percent from their 52-week low to their 52-week high, where they now sit.
Kimberly-Clark (NYSE:KMB)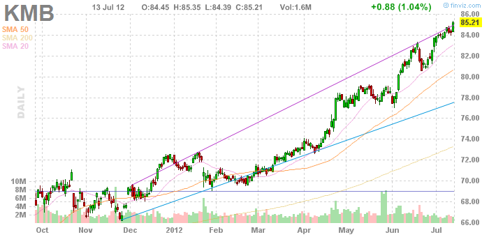 Yield: 3.47%
YTD: +15.84%
Paper and personal products maker Kimberly-Clark has performed exceedingly well during 2012. Kimberly-Clark increased its quarterly dividend at the start of the year, from $0.70 to $0.74. Shares of Kimberly-Clark have appreciated 39.69 percent from their 52-week low to their 52-week high, where they now sit.
Johnson & Johnson (NYSE:JNJ)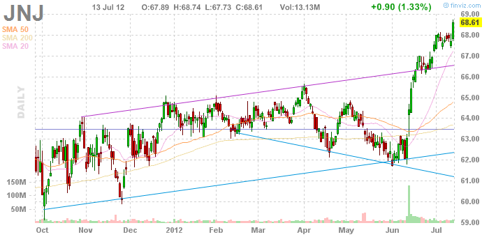 Yield: 3.56%
YTD: +4.62%
The consumer products and drug/healthcare manufacturer has found its stock stuck in a trading range for several years, but recent rumors of a potential splitting-up of the business has recently perked up shares. Last quarter, Johnson & Johnson increased its quarterly dividend from $0.57 to $0.61 (a seven percent increase). The company generally announces a dividend increase in late April of each year. Shares of Johnson & Johnson have appreciated 16.13 percent from their 52-week low to their 52-week high, where they now sit.
HCP (NYSE:HCP)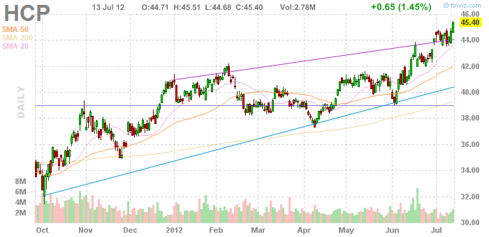 Yield: 4.41%
YTD: 9.58%
HCP is a real estate investment trust, or REIT, that is primarily engaged in the management of healthcare facility properties, including senior housing, life science, medical office, hospital and skilled nursing facilities. HCP generally raises its dividend at the beginning of each year. At the start of 2012, HCP increased its quarterly payout from $0.48 to $0.50 (or about 4.1 percent). HCP shares have appreciated 57.86 percent from their 52-week low to their 52-week high, where they now sit.
Most dividend aristocrats are standard corporations. Corporate dividends are currently taxed at a reduced tax rate, while a Treasury's payout is taxed as income. This means that even if a Treasury bond and a corporate equity have the same yield, the retained income to the investor is superior from that equity if held in a taxable account. This difference is moot in most tax-exempt accounts.
Further, several nontraditional equities such as MLPs and most types of REITs, including HCP, do not qualify for the special lower dividend tax rate. The payouts from such non-qualified business types are generally taxed as income, like the yield from a bond. These differences could change, depending upon whether the Bush tax cuts expire, are extended, or are replaced with some other system.
These companies have performed exceedingly well going into this earnings season, and some may be due for a correction or cooling off period, even if they do report positive earnings. Of these five companies, only Johnson & Johnson has underperformed the S&P 500 so far this year. The retailers, Target and Wal-Mart, have both appreciated by about three times as much as the benchmark index did through the first half of the year. As such, these companies have room to give back some gains and yet still outperform the broader market.
Disclosure: I have no positions in any stocks mentioned, and no plans to initiate any positions within the next 72 hours.