American Capital Agency Corporation (AGNC) has delivered over 300% since their 2008 initial public offering. The company currently offers a 14.40% dividend yield! Shareholders appreciate the specific actions which separate American Capital Agency from its mortgage real estate investment trust (mREIT) peers. I will highlight why American Capital Agency is a must own equity in a high dividend portfolio.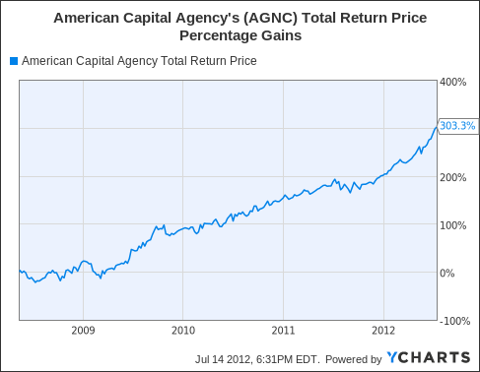 AGNC Total Return Price data by YCharts
Constant Prepayment Rate
The constant prepayment rate (CPR) is America Capital Agency's shining light. The CPR reflects each mREIT's government sponsored entity (GSE) mortgage backed security (MBS) portfolio's prepayment level. American Capital Agency's March 31st CPR percentage was 9%. This varies in comparison to the largest mREIT competitor Annaly (NLY). Annaly's first quarter CPR was 19%.
Per page 5 of a June 12th American Capital Agency presentation, the following data highlights the importance of reducing CPR. This data is for a "Hypothetical Yield Sensitivity Analysis for a 30 Year, 4.0% Agency MBS":

American Capital Agency continues to outperform peers in performance due to its GSE MBS asset selection. The returns support this conclusion.
Net Interest Margin
The net interest margin increases with a lower CPR. For the 1st quarter, American Capital Agency produced a net interest margin of 2.31%. This aligns with the above table and the mREIT's 9% CPR. Annaly's net interest margin was 1.71%. This reflects upon the mREIT's 19% CPR.
Cause and Effect
Gary Kain, American Capital Agency's CEO, highlights the focus upon MBS asset selection. The mREIT has actively chosen the agency MBS with the lowest CPR. The net interest margin drops down to the dividend available for quarterly payouts.
AG Mortgage Investment Trust, Inc. (MITT) has the lowest mREIT CPR. This is based upon the mREITs that I own or follow. AG Mortgage Investment is a hybrid mREIT. AG Mortgage Investment was positioned with 88.5% agency residential MBS and 11.5% non agency securities. The agency residential MBS CPR was 4.4%. The mREIT is new to the publicly traded space, but is producing solid returns.
Leverage
As the Treasury Bond yields continue to decline, mREITs' net interest margins decline. On the other hand, Annaly employed a 5.8x leverage when Euros were seeking safe haven in the GSE MBS and Treasury Bond market. If yields are decreasing, American Capital Agency's book values per share will increase to the extent of leverage. In either case, mREITs with a low CPR will profit.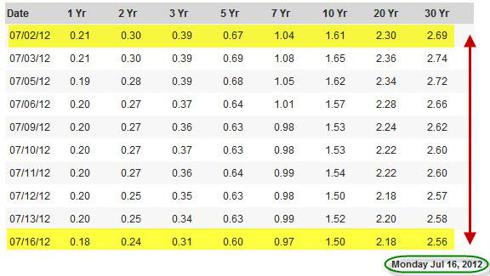 The degree of leverage will enhance the net profits to be paid as dividends. American Capital Agency employed an 8.4x leverage rate. In contrast, The chart below highlights American Capital Agency's success since their initial trading.

Two Harbors Investment Corp. (TWO) is a hybrid mREIT. The company also owns physical real estate. The company recently completed a secondary which was successful. CYS Investments (CYS) also completed a secondary to raise additional funds. Both offerings were done with projected June 30th book value per share provided to investors. They are both accretive to current shareholders.
This is how mREITs increase their book value per share. An accretive secondary, issued above book value per share, increases assets under management but also increases the new book value per share.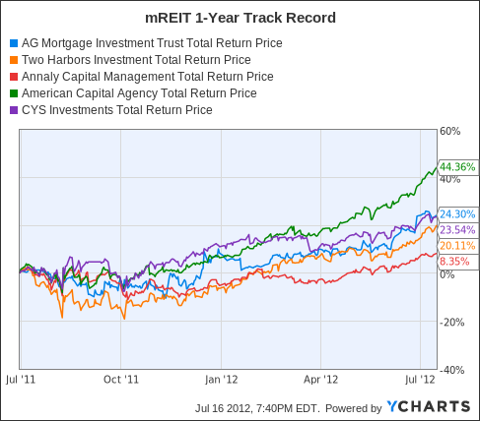 MITT Total Return Price data by YCharts
Action
As a dividend investor, this is the top performing sector in my portfolio. The GSE MBS are 100% implicitly backed by the U.S. Federal Government. The flight of capital out of Europe to the U.S. has decreased the GSE MBS bond yields. This has caused the mREITs' book value per share to increase. Investors are earning high income dividends and capital share appreciation.
The one mREIT outperformer continues to be Gary Kain and American Capital Agency. The facts support his role as leading the number one performing agency mREIT.