Las Vegas Sands Corp. (NYSE:LVS) is currently my top pick in the US casino sector. The shares have dropped 37% from their 52-week high of $62.09 in April, primarily owing to the stock's own volatility and the overall equity market weakness.
At $39.17 per share, the stock is attractively priced at 8.6x the NTM EBITDA and 14.2x the NTM EPS. The recent plunge has pushed the stock down into an undervalued territory and I believe investors should take this opportunity to establish a long position. My bullish view is based on the following five reasons:
1. Las Vegas Sands is substantially undervalued relative to its peers. Comparing with other major casino operators based in the US (see table below), Las Vegas Sands is the fastest growing company in the group as measured by the estimated 2-year CAGRs.
The company's profitability metrics are also superior relative to its peers. Although the FCF margin is at a mediocre level, Las Vegas Sands has the lowest debt level. The robust profit margins have helped in maintaining a relatively high interest coverage ratio.
In addition, its highest current and quick ratios suggest the company's balance sheet is also the most liquid among the group. As such, the stock should trade at a sizable premium. Nevertheless, the current stock price of $39.15 actually implies a 19.1% valuation discount on both the peer average P/E and EV/EBITDA multiples, making me firmly believe the stock is significantly undervalued.
Click to enlarge

2. Both the company's NTM P/E and EV/EBITDA multiples are at their 52-week lows (see chart below).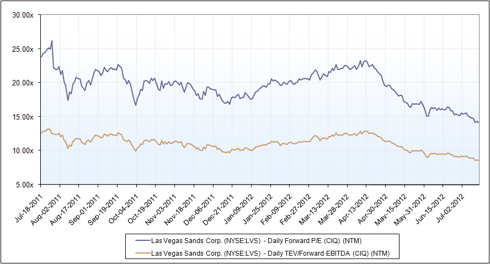 3. Las Vegas Sands has the largest exposure to the casino market in Asia with 82% of the FY2011 revenues derived from the region (see graph below). The Asian markets only contribute 72% and 21% of the FY2011 revenues for Wynn Resorts (NASDAQ:WYNN) and MGM Resorts (NYSE:MGM), respectively, suggesting Las Vegas Sands is likely better poised for ridding on the exploding casino-spending growth in the emerging markets.

4. FCF has been improved significantly from negative territory to a solid positive level over the past few years primarily driven by continued growth of operating cash flow and reduced capital expenditure (see graph below). This allows the company to issue dividends in 2012 and achieve a decent dividend yield of 2.6%.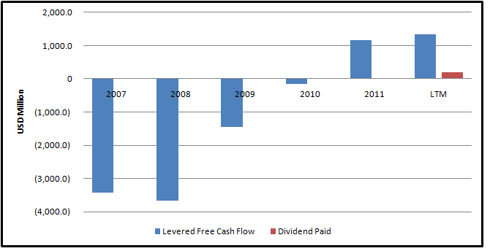 5. It appears there has been a technical price support at around $35 since 2011 (see chart below). The current stock price is just slightly above that.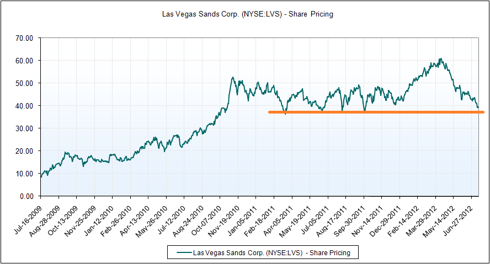 In conclusion, the plunge has created a great opportunity to buy into this fast-growing company at a bargain price. Considering the future growth of the casino industry in Asia, as well as Las Vegas Sands' solid presence in the market, investors should long the stock now.
Table and graphs are created by author, and all financial data is sourced from Capital IQ and Morningstar.
Disclosure: I am long LVS.