As Beer 100 (yes, there is a website for everything) points out:
As almost any substance containing certain sugars can undergo spontaneous fermentation due to wild yeasts in the air, it is probable that beer-like beverages were independently invented among various cultures throughout the world. Chemical tests of ancient pottery jars reveal that beer was (like wine) produced about 7,000 years ago in what is today Iran, and was one of the first-known biological engineering tasks where the biological process of fermentation is used in a process.

In Mesopotamia, the oldest evidence of beer is believed to be a 6,000-year-old Sumerian tablet depicting people drinking a beverage through reed straws from a communal bowl.

The addition of hops to beer for bittering, preservation, and aroma is a relatively recent innovation: in the Middle Ages, many other mixtures of herbs were often employed in beer prior to hops. These mixtures are often referred to as gruit. Hops were cultivated in France as early as the 800s; the oldest surviving written record of the use of hops in beer is in 1067 by well-known writer Abbess Hildegard of Bingen: "If one intends to make beer from oats, it is prepared with hops."
The process may not have changed much, but those involved in the production of this ancient beverage have changed significantly in terms of quantity produced, distribution and the transition from barrel to branding. One of the finest examples of this transition and the global branding of beer is brewing powerhouse Anheuser-Busch Inbev SA/NV (NYSE:BUD).
Anheuser-Busch InBev SA/NV, a brewing company, engages in the production, marketing, and distribution of beer in Latin America, North America, Europe, and the Asia Pacific. The company offers a portfolio of approximately 200 beer brands. Its global brands include Budweiser, Stella Artois, and Beck's; multi-country brands consist of Leffe and Hoegaarden; and local brands comprise Bud Light, Michelob, Skol, Brahma, Antarctica, Quilmes, Jupiler, Hasseroder, Klinskoye, Sibirskaya Korona, Chernigivske, Harbin, and Sedrin. The company also produces and distributes soft drinks. Anheuser-Busch InBev SA/NV was founded in 1366 and is headquartered in Leuven, Belgium.
Anheuser-Busch InBev currently derives the majority of its EBITDA (nearly 90%) within the Western hemisphere, but has set its sights on increasing its presence in other high-growth markets such as China and continuing its transition of Western markets to a more premium beer.
Click to enlarge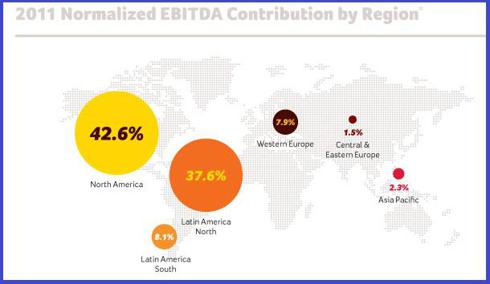 The continued global march:
On May 11, 2012, Anheuser-Busch InBev announced the closing of the transaction between Companhia de Bebidas das Americas-Ambev and E. León Jimenes S.A. to form a strategic alliance creating the leading beverage company in the Caribbean. As a result, Ambev Brasil Bebidas S.A., a closely held subsidiary of Ambev, owns an indirect 41.76% interest in Cervecería Nacional Dominicana S.A. (CND), and Ambev will consolidate CND's results going forward.
On June 29, 2012, the company and Grupo Modelo announced that they had entered into a Transaction under which Inbev will acquire the remaining stake in Grupo Modelo that it does not already own for $9.15 per share in cash in a transaction valued at $20.1 billion.
As a result of these acquisitions, Anheuser-Busch InBev will be the leader in the global beer industry and become a consumer product powerhouse. The company will generate over $46 billion in revenues and $18 billion in EBITDA. It will have $17 billion brands and the control of the majority of the top 10 beer brands: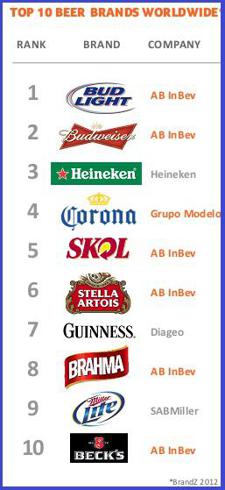 In order to finance the acquisition of Groupo Modelo, Anheuser-Busch InBev issued $7.5 billion in debt across four maturities. Specifically, the issues were:
| | | | | |
| --- | --- | --- | --- | --- |
| Maturity | Size | Coupon | Spread | CUSIP |
| July 15, 2015 | $1.5B | 0.800% | +50 | 03523TBM9 |
| July 15, 2017 | $2.0B | 1.375% | +80 | 03523TBN7 |
| July 15, 2022 | $3.0B | 2.500% | +105 | 03523TBP2 |
| July 15, 2042 | $1.0B | 3.750% | +120 | 03523TBQ0 |
Details of the offering are as follows:
| | |
| --- | --- |
| Issuer | Anheuser-Busch InBev Worldwide Inc. |
| Ticker | Bloomberg ticker: ABIBB |
| Guarantors | Anheuser-Busch InBev SA/NV, Brandbrew S.A., Cobrew NV/SA and Anheuser-Busch Companies, LLC will jointly and severally guarantee the Notes on an unconditional, full and irrevocable basis. |
| Ranking | Senior unsecured |
| Rating | A3/A/A |
| Redemption | The notes may be redeemed at any time at treasuries plus 10 basis points in the case of the 2015 Fixed Rate Notes, 12.5 basis points in the case of the 2017 Fixed Rate Notes, 15 basis points in the case of the 2022 Fixed Rate Notes and 20 basis points in the case of the 2042 Fixed Rate Notes |
With this debt issuance, the capital structure of Anheuser-Busch InBev looks like this: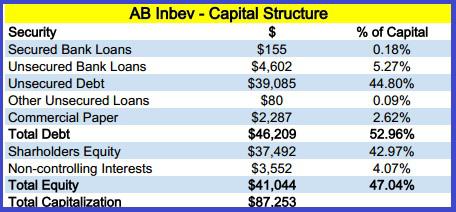 Debt will be 52% of its capitalization and approximately 2.5x combined EBITDA. The company has stated that its optimal debt level is net debt/EBITDA of 2x. Given the cash flow and EBITDA generating ability of the company, this structure can be accomplished in the short term.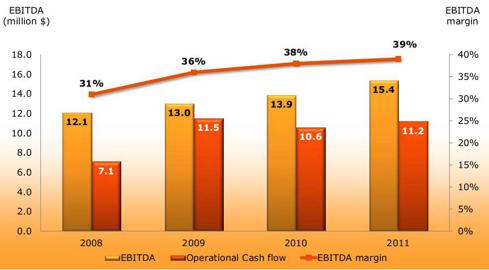 Source: Company presentation
Anheuser-Busch InBev brought this offering cheap to comparable consumer goods peers and has room to tighten further.

The new bonds are attractive stand-alone, as well as on swap from Diageo plc (NYSE:DEO) and The Coca-Cola Company (NYSE:KO).
Equity Snapshot:
Equity comparisons have been made with the following consumer goods companies:
Molson Coors Brewing Company (NYSE:TAP),
Sabmiller Plc Sp Adr (OTCPK:SBMRY),
Diageo, and
Coca-Cola

The last three years have seen the following price action among these consumer goods companies.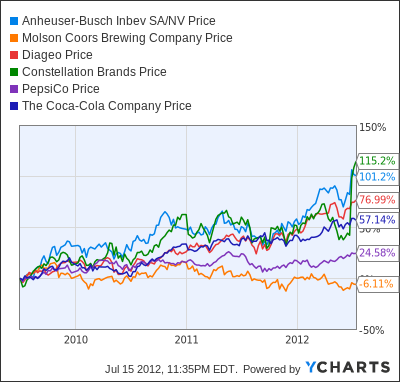 Bottom Line:
The debt is attractive for fixed income mandates with the 10-year at +105bps to treasuries. The company is a strong A-rated company that will continue to grow its brands and increase its penetration and share of growing global markets. With its portfolio of brands, it should continue to generate strong cash flow/EBITDA and stay firmly within their rating category.
While the debt was not priced extremely cheap, there is some upside in the spread and limited credit downside. This allows an investor to focus on the systemic risks of credit and rates without having significant idiosyncratic risk. For investors that can invest across the capital structure, the equity might be more attractive with a 1.7% dividend yield and both dividend growth and capital appreciation on the plate.
Disclosure: I have no positions in any stocks mentioned, and no plans to initiate any positions within the next 72 hours.
Additional disclosure: This article is for informational purposes only, it is not a recommendation to buy or sell any security and is strictly the opinion of Rubicon Associates LLC. Every investor is strongly encouraged to do their own research prior to investing.