It's simple really, they don't return your money. Case closed, thanks for coming out!
What? You want more?
OK, here is why leveraged exchange-traded notes (ETNs) trade like the devil and generally never return your money. ETNs track an underlying index fund, futures, or similar. Leveraged ETNS do so at multiples of the underlying item. For a moment you can even forget fun items like futures contract roll, contango and backwardation (this is not a band name), and those rather fantastic moments when your friends at Credit Suisse Group AG (NYSE:CS) stop issuing shares in your favorite VIX derivative.
Insomuch as the underlying index doesn't get to its destination in a straight line, but rather by fluctuating up and down potentially a great deal over the course of establishing a trend—9 times out of 10, a leveraged ETN will not return your capital even if you were right about the long-term trend. The reason is decay. Like many things on this planet, your favorite leveraged ETN is in a constant state of decay. It's simply math, let me show you.
A simplified (rounded) fictitious (yet true!) example: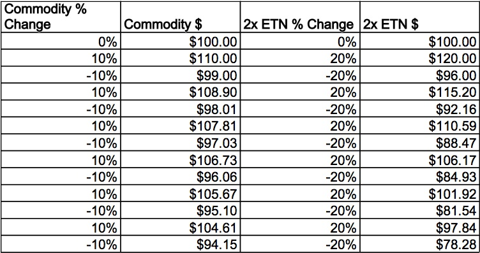 Feeling grumpy yet?
There are many simple and complicated factors in leveraged ETN pricing such as fees; if the underlying is futures which contracts are held (short, medium or longer term) and when they roll if there is backwardation (when the price in the months ahead is dipping) or contango (when the price in the months ahead is rising). First and foremost one really should understand decay as illustrated above.
But there must be a way to beat this!
The only time this decay is not in play is when the price moves overwhelmingly in one direction over the period of time the ETN is being held. There, I said it: you can invest in a leveraged ETN over a short period of time, like say UCO from the start of Iran rhetoric cycle to three articles on Reuters homepage daily (give or take a week). To illustrate this and to provide something that will hopefully come back and remind you in the future, I will now attach several charts across several market segments displaying for the world to see ETN and 2x ETN (and for fun a 3x ETF) performance versus the underlying instrument.
Oil: (The United Stated Oil ETF, LP: USO), (ProShares Ultra DJ-AIG Crude Oil ETF: UCO)
5 years
Click to enlarge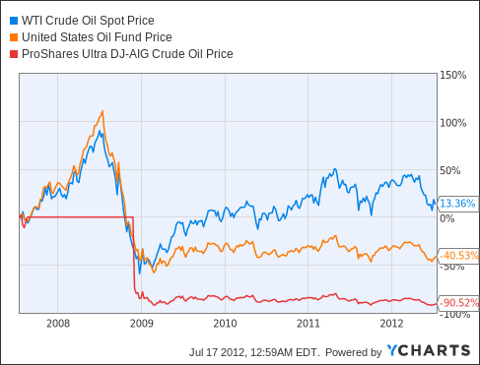 WTI Crude Oil Spot Price data by YCharts
1 year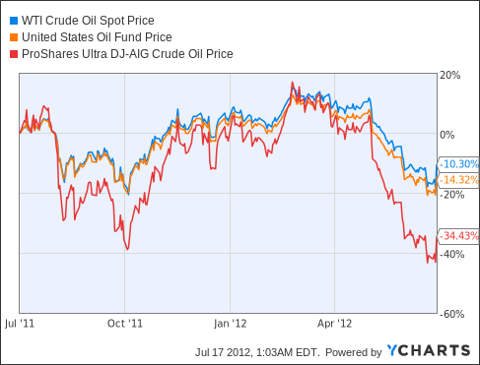 WTI Crude Oil Spot Price data by YCharts
6 months
VIX
(iPath S&P 500 VIX Short-Term Futures ETN: VXX), (ProShares Ultra VIX Short-Term Futures ETF: UVXY)
1 Year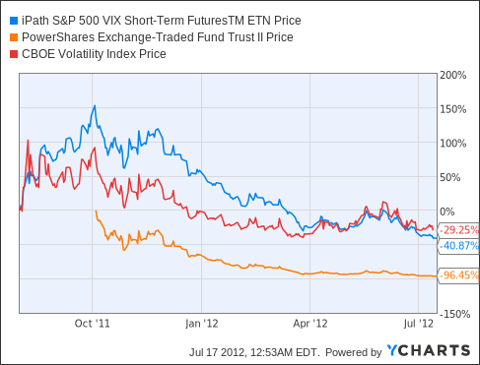 6 Months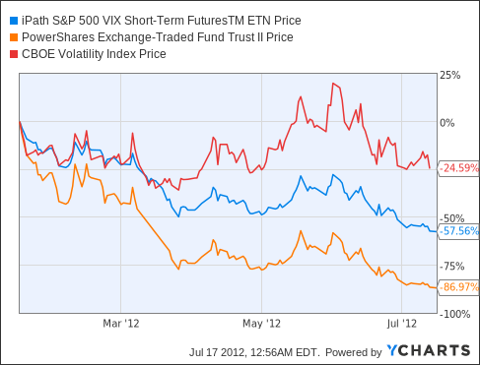 You may now draw startling conclusions about leveraged index tracking ETFs as well.
Russell
(Direxion Russell 1000 Financials Bullish 3X ETF: FAS)
5 Years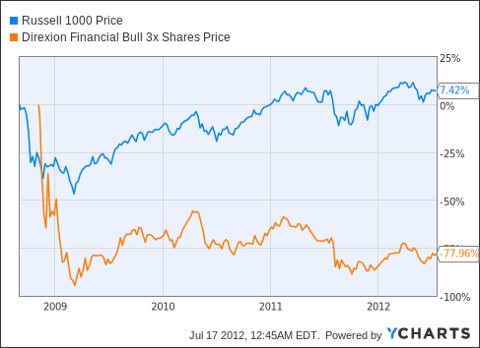 1 Year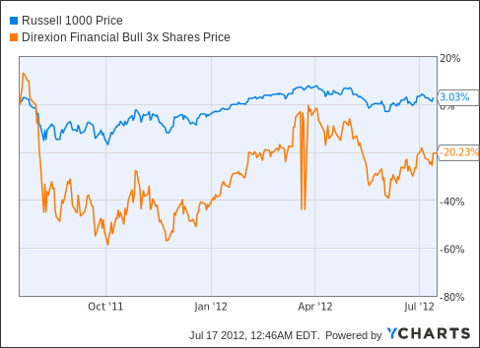 Conclusion
You have been warned, go forth and invest, but hopefully not in a leveraged ETN and certainly not for very long.
Disclosure: I have no positions in any stocks mentioned, but may initiate a long position in VXX, UVXY, USO, DTO, UCO over the next 72 hours.