When insiders buy shares on the open market, their companies are usually undervalued. Corporate insiders often have the inside track on their companies' prospects. Insiders probably wouldn't risk investing too much of their own money into their own companies unless they thought the stock might rise.
I screened for companies where at least one insider made an insider buy during last 5 trading days. Here are three healthcare stocks that I found:
1. Synageva (GEVA) is a clinical stage biopharmaceutical company focused on the discovery, development, and commercialization of therapeutic products for patients with life-threatening rare diseases and unmet medical need. SBC-102, an enzyme replacement therapy for Lysosomal Acid Lipase Deficiency, a lysosomal storage disorder (LSD), has been granted orphan designations by the U.S. Food and Drug Administration (FDA) and the European Medicines Agency, and fast track designation by the FDA. Synageva has several protein therapeutics in its pipeline, including two enzyme replacement therapies for lysosomal storage disorders and two programs for other life-threatening genetic conditions for which there are currently no approved treatments. The company has assembled a team with a proven record of bringing orphan therapies to patients.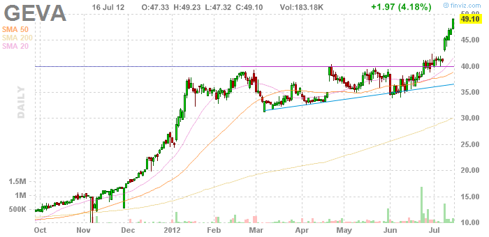 Insider buys
Felix Baker purchased 886,000 shares on July 13th through Baker Brothers Investments which as of April 23rd controlled 36.1% of Synageva. The shares were purchased through a public offering. Felix Baker, Ph.D. has served as a director of Synageva since October 2000 and Chairman of the Board of Synageva since 2003. Dr. Baker is a Managing Member of Baker Bros. Advisors, which he and his brother, Mr. Julian Baker, founded in 2000. Dr. Baker's firm manages Baker Brothers Investments, a family of long-term investment funds for major university endowments and foundations, which are focused on publicly traded life sciences companies.
2. OPKO Health (OPK) is a publicly traded healthcare company involved in the discovery, development, and commercialization of pharmaceutical products, vaccines and diagnostic products.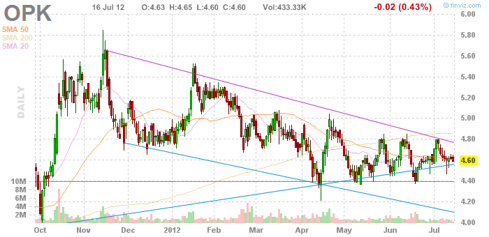 Insider buys
Phillip Frost has purchased 347,500 shares during the last five trading days and currently controls 129,175,400 shares of the company. The company has 297,543,066 shares outstanding which makes Mr. Frost a 43% owner of the company. Mr. Frost is the CEO and Chairman of the company. He has been buying the shares for months already.
3. MEI Pharma (MEIP) is a San Diego-based oncology company focused on the clinical development of novel therapeutics targeting cancer metabolism. The company's lead drug candidates, ME-143 and ME-344, have been shown in laboratory studies to interact with specific enzyme targets resulting in inhibition of tumor cell metabolism, a function critical for cancer cell survival. The company presented safety and pharmacokinetic data from a Phase I clinical trial of intravenous ME-143 in patients with solid refractory tumors at the American Society of Clinical Oncology Annual Meeting in June 2012. The company received approval of its IND application for ME-344 in April 2012 and a Phase I clinical trial of intravenous ME-344 in patients with solid refractory tumors is ongoing.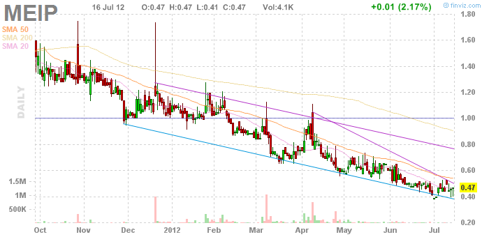 Insider buys
Charles Baltic purchased 15,000 shares on July 5th. Mr. Baltic was appointed as a director in October 2011. He has more than 19 years of experience working with life science and healthcare companies in a significant variety of transactional contexts. During that time he has been involved in raising more than $7 billion in life science financings.
Conclusion
Shares of Synageva closed at a new 52 -week high on Monday. Shares of OPKO Health are currently in a bullish looking consolidation pattern. Shares of MEI Pharma are trading at new 52 -week lows.
Disclosure: I have no positions in any stocks mentioned, but may initiate a long position in OPK over the next 72 hours.