In FedEx's Q4 2012 earnings call, the company indicated it believes it can continue to improve earnings, margins, return on invested capital and cash flows in 2013. The company projects 2012 U.S. growth at 2% and at 2.4% for 2013. The company believes U.S. domestic and global economic conditions will be negatively impacted due to the European debt crisis. The company indicated FedEx's business is performing well in spite of the European debt crisis. Additionally, the company expects Asia's growth to slow as well. The company noted headwinds in pension expenses will hamper earnings growth in 2013.
As evidence of FedEx's commitment to improving margins, the company is installing GPS devices on all its trailers and dollies in order to improve fleet management. A company moving as much stuff from A to B as FedEx, can improve overall efficiency significantly, via small improvements here-and-there.
Further evidence of the company's focus on margins can be seen by FedEx's replacing older aircraft with new aircraft in order to increase efficiency and reduce costs. The company recently purchased an additional 19 B767-300 aircraft from Boeing (BA) in order to replace current MD-10 and A310-200 aircraft.
In order to improve earnings, FedEx has acquired several companies of late including Polish company OPEC, French company TATEX and Brazilian company Rapidao Cometa. Rapidao Cometa is one of the largest transportation and logistics companies in Brazil, with revenues of more than $500 mill in 2011. Via these acquisitions, FedEX can increase revenues and expand the company's international exposure.
FedEx's stock price took a dive late last year, and has recovered as shown below: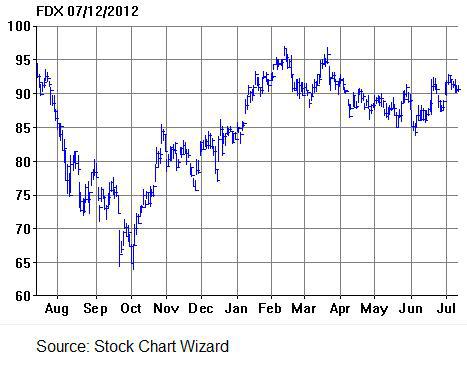 With FedEx's earnings results in the rear-view mirror, and the company's insistence it can continue to grow in 2013, a bull-put credit spread is considered for the company. With the company's bullish comments, the stock should continue to perform well, at least until the next earnings are released. A bull-put credit can be entered for a net credit by selling one put option and purchasing a second put option further out-of-the-money. The goal is for the options to expire worthless, with the investor retaining the initial net credit as profit.
Using PowerOptions tools, a bull-put credit spread was found with a potential return of 4.8% (94.9% annualized) as shown below: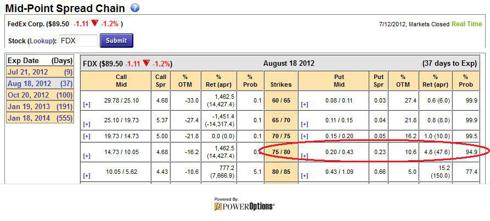 The specific put option to sell is the 2012 Aug 80 at $0.43 and the put option to purchase is the 2012 Aug 75 at $0.20.
Trade
Sell FDX 2012 Aug 80 Put at $0.43
Buy FDX 2012 Aug 75 Put at $0.20
A profit/loss graph for one contract of the position is shown below: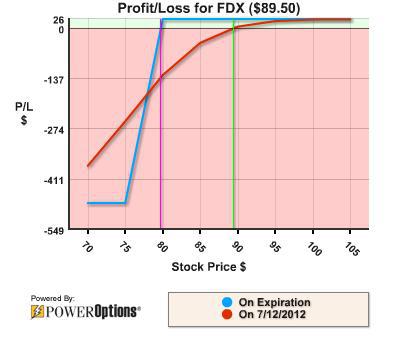 A management point of $83.50 is set for the position. If the price of the stock drops below $83.50, then the position should be managed for an exit or a roll.
Disclosure: I have no positions in any stocks mentioned, and no plans to initiate any positions within the next 72 hours.