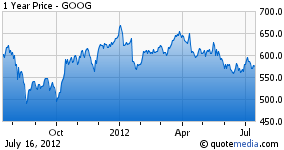 The annual American Customer Satisfaction Index E-Business Report, which scores companies on a 100-point scale, had some bad news for Facebook (FB): its rating reached an all-time low of 61 while Google+ ranked on the top alongside Wikipedia with a rating of 78. Google+ is the social networking appendage of Google (GOOG), and it has grown dramatically over the past few months. According to one analyst, is trending towards a user base of 400M by the end of the year - slightly less than half of Facebook's.
There are reasons to be optimistic about Google+. The company is a great branding vehicle, since it is integrated on the world's largest search engine. Needless to say, Facebook does not have this advantage. What is more important to note - and a corollary to the preceding statement - is that Facebook exists in a world of its own world and has desperately tried to create something meaningful through, well, a series of seemingly arbitrary acquisitions. Facebook has even used its entire bottom line to buy out one company that we no longer hear much about just to improve photo quality. By contrast, Google is treating social networking as what it should be: a supplement to our lives and not a craze.
Google+ has been unfairly likened to a "ghost town". Rome wasn't built in a day, and social media trends are notorious for snowballing out of nowhere. Google has the most popular mobile offering (Android), the most popular search engine (Google), and the most popular personal email system (Gmail) - all of which can be leveraged to grow the media business at large.
Google is also rich in cash for acquisitions while trading cheaply at a respective 17.4x and 11.6x past and forward earnings. Investors have failed to factor in growth given that the company is also valued at a PEG ratio below 1. Analysts, furthermore, are very bullish on the stock and rate it a 1.8 out of a 1-5 scale according to FINVIZ.com. The price target on the firm is $733.44, but my estimates show a limited margin of safety.
Analysts expect the search engine gain to grow EPS by 18.4% annually over the next 5 years, which means a 2016 EPS of $82.68. At a 13x multiple, the company will be worth $1074.84. Discounting backwards by 10% yields a present value of $667.39. That means Google has less than a 20% margin of safety with no dividend yield. Moreover, I, like the market, find the high double-digit growth expectations risky. With that said, the firm is building a coherent business model that has executed time and time again - there is little reason to doubt it couldn't do it again.
After recovering less than half of the lost value from the early-June low, Facebook slipped 8.1% on Monday after speculation that earnings forecasts were too bullish. What amazes me about the company is that its stock chart provides a record of hype that historians can refer to. That the market would wait until the final few days before an earnings report of a hot IPO to realize that growth expectations were simply not likely after net income fell from $233M in 1Q11 to $205M 1Q12 is a testament to behavioral anomalies in the marketplace.
Facebook would, after all, have to require a tremendous amount of growth to justify its current valuation. Forecasted 2013 EPS of $0.65 is more than double EPS over the 12 trailing months. If the company can grow 25% annually for the next decade thereafter, it would be worth $84.70 per share. Discounting backwards by 12% (because this is highly uncertain) would yield a price target of around $7 per share. Instead of being worth $60.4B, Facebook should be presently worth more like $15B - closer to where Yahoo (YHOO) currently is. And unless the market feels as though a 9% discount rate should be applied to 25% annual EPS growth over a decade-long period, Facebook is overvalued.
Thus, while Yahoo has been the clown of social media for some time, it may have some competition. Yahoo is also overvalued, by my estimates, and when it depreciates alongside Facebook, Google is likely to close its value discount. Yahoo was recently targeted by activist investor Dan Loeb of Third Point for corporate governance mismanagement. After Loeb pointed out that then-CEO Scott Thompson lied on his resume, the board quickly dismissed him and agreed to a settlement with Loeb. Marissa Mayer, a former executive from Google, took the helm as CEO and appears to be a perfect choice for the job. She serves on the board of Wal-Mart (NYSE:WMT) and comes equipped with a strong record of building top product on Google in the Search, Geography, and Local offerings.
Mayer's insider experience at Google, however, is most enviable and can be leveraged in a way that Yahoo exposes its competitor's vulnerabilities. The market, of course, knows this, hence the 2.6% after-market rise on the announcement of the appointment. And, frankly, I expect Yahoo to fail to achieve the growth that its PE multiple of 17.7 - a premium to Google's - suggests. Like Facebook, Yahoo is growing dependent on "image" and "brand" over the more important operating fundamentals. Google has been stretching its domain throughout the cloud and, though there may have been some misses (Chromebook, Orkut, Knol), growth ahead looks bright. In becoming dependent on the past, Facebook and Yahoo have taken poor measures thus far to prepare for the future. Accordingly, I strongly encourage investors to take a long position in Google.
Disclosure: I have no positions in any stocks mentioned, and no plans to initiate any positions within the next 72 hours.