HP (HPQ) has become unwieldy after gobbling up $43 billion of acquisitions over a 6-year period (not counting its gigantic $25 billion Compaq 2001 splurge). Profligate HP has paid a terrible price, losing 60% of its share value the last 5 years. As a result of its binging, HP is now composed of quite disparate divisions - a low-margin personal computer business (NYSE:PSG) and the sexier higher-margin services, server, and software components. HP has become a "smörgåsbord" of tech - computers, printing, Cloud, software, services, servers - it even sells calculators. HP can't execute well, in large part, because it is too vast.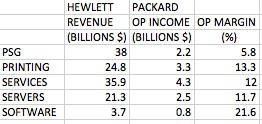 For almost a year, I've been clamoring for HP to spin-off some of its divisions, unlocking shareholder value:
For all Leo Apotheker's miscalculations, he was headed in the right direction on this one. In fact, think even bigger. Spin off your PC and imaging/printing business all rolled into one. PCs and printers go together like peanut butter and jelly. Wait six months, and then, break the remaining company into three pieces: services, enterprise, and software. You'll unlock value for shareholders.
And more recently, banging the drum for that much needed spin-off:
The parts are worth more than the whole. HP has valuable divisions hidden in the mishmash...HP may just be the most undervalued company in the Dow Jones Industrials. Now it's up to Whitman & Company to bring out that value. My suggestion: Package 'em up and spin 'em off.
It's been lonely out there. One voice in the HP wasteland.
Not anymore. J.P. Morgan analyst Mark Moskowitz is climbing on my band wagon, counseling HP to spin off its personal systems/printing division. He figures HP to be potentially worth $30 a share (enterprise value of $44.77 a share) - amazingly the exact number I placed on HP's break-up value a week ago here. His warning (same as mine): Break HP up or destroy the remaining shareholder value. It's good to have Moskowitz on board. Per Moskowitz:
We believe that the divergence in the valuations of the current stock price and our sum-of-the parts analysis' implied stock price suggests that investors would be interested in a break-up of the company, as the current portfolio is not extracting value on par with the respective segment comp groups.
HP is at a cross-road. The stock has the potential to more than double or continue its inexorable downhill slide to $10. Quite a fork in the road!
With the right move, HP may give investors something to cheer about. Unfortunately, if HP decides to hold onto all of HP's extravagant indulgences, down the stock will go.
Disclosure: I have no positions in any stocks mentioned, and no plans to initiate any positions within the next 72 hours.