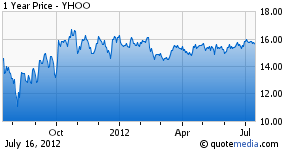 In a surprising move yesterday, Yahoo (YHOO) announced that it is hiring Marissa Mayer, VP Google (GOOG) for the post of CEO. Many analysts and investors on the Wall Street as well as Tech World were expecting the post to go to Ross Levinsohn, the current interim CEO of Yahoo. Here are some of pros and cons which Yahoo's current and prospective shareholders should know about this transition.
The Pros
Ms Mayer is widely regarded for her organizational skills, Consumer Internet industry knowledge and her ability to run companies at scale. Mayer has played a major role in the development of Google's core search product and a host of additional products and services such as maps, Gmail, and local services. Clearly her shift from Google to Yahoo is a positive for Yahoo and a negative for Google. In fact some industry veterans like Netscape founder Marc Andreessen are surprised that Yahoo was able to convince Marissa Mayer to take up the post given the dire straits Yahoo is in. We believe Mayer will be a significant contributor to user product development, where her experience is diversified and marked with many successes.
The Cons
Yahoo!'s core business currently is more like that of a media company rather than a technology one. Most of Yahoo's revenue is sourced from marketing budgets and its properties like Yahoo Finance and Sports are #1 in their respective categories. Yahoo has seen a consistent shift in its revenues from Search to Media Properties in the recent past. It has also entered deals to get original content as well as better distribution for its content. We have discussed some of these key trends in a previous article (see: Yahoo: Media Properties are Likely the Key). Although Marissa Mayer is a well regarded engineer, Yahoo's dependence on premium display, brand advertising, and agency relationships could present challenges to her. Ross Levinsohn with his past experience at Fox could have better handled relationships with CMOs and ad agency executives.
Also bringing in an outsider as opposed to making the former interim CEO Ross Levinsohn permanent could result in turnover in the next layer of management below Mayer. Levinsohn helped bring in several executives like Jim Heckman and Michael Barrett, with whom he had worked previously, to Yahoo. Any departure of these employees will push out recovery in Yahoo!'s core business which will be negative.
My Take
I like Yahoo!'s current valuation and upcoming monetization of its Asian assets. However, the turnaround in its core business holds the key for further upside in Yahoo's share price. I would be keeping a close watch on Yahoo!'s post earning conference call today to get a sense on Mayer's strategy for Yahoo going forward. In an ideal scenario, I would love to hear that Yahoo is moving toward a Facebook (FB)-like model where Mayer (like Mark Zuckerberg) focuses on product development and Levinsohn (like Sheryl Sandberg) takes care of the operational aspects.
It is important for Yahoo to continue its focus on content/media strategy and turning around its core business. Any marked departure from it and a move towards aggressive product strategy would make me nervous. I would also be worried if there is a significant turnover among the key employees who were executing Yahoo's content/media strategy so far.
Disclosure: I have no positions in any stocks mentioned, and no plans to initiate any positions within the next 72 hours. The article was sent to the paid subscribers of TheAnalystHub.com before it was published on Seekingalpha. They may or may not have a position on any of the stock mentioned in the article.