Ok, bit of a misleading title since Buffett recently stated that he was not directly responsible for the purchase of General Motors (GM) stock, but you get the point. One (or both) of Buffett's new portfolio managers, Ted Weschler and Todd Combs, purchased GM stock at an average of $24.35, or 20% higher than Monday's closing price of $19.38.
David Einhorn, head of Greenlight Capital and one of my favorite investors, initiated his position at $25.78.
I am not one to judge investment success after only a few months of initiating a position. However, Einhorn himself notes that averaging losers can be a dangerous game, since it increases the odds that you're concentrating more of your portfolio in ideas you were wrong about.
Of course, the other side to averaging losers is that if you are still totally confident in your original thesis, and nothing about that thesis has changed, then it certainly makes sense to buy more at a bargain price.
I only note these perspectives on averaging down and judging investment success because the fact that both of these prolific investment firms are down 20% on their holdings isn't mere noise.
Let's take a look at the likely reasons these investors got invested with GM:
David Einhorn has been quoted as saying that while it's common for cyclicals to be valued at low multiples of peak earnings, GM's earnings are actually below mid-cycle, and therefore the valuation is unjustifiably low.
We can make an educated guess that the brains at Berkshire (BRK-B) likely came to a similar conclusion. Perhaps they feel that despite a lackluster global economy, the fact that cars on the road are at an unprecedented average of 11 years of age has resulted in exceptional pent-up demand, and the potential earnings power of GM extends well-beyond what the market is expecting.
Analysis Of SAAR
If car sales return to the 17 million SAAR that was prevalent before the housing bubble burst, Both Ford (F) and GM have a ton of North American revenue growth ahead of them, all else equal.
While SAAR came in a little above 15 million in February, it pulled back to a rate of 14.05 million in June. Let's take a look at a multi-year chart of SAAR (commentary is not mine):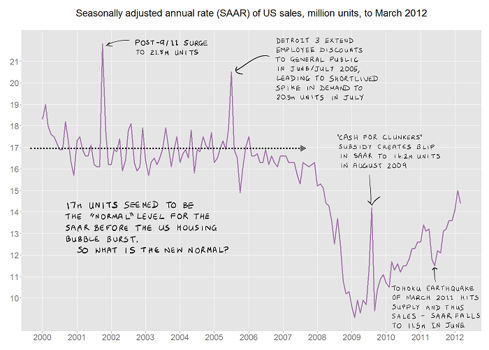 As you can see, SAAR has been on a steady upward march since bottoming out in the depths of the financial crisis. With so few cars bought in the midst of the recession, the theory goes that SAAR will have to move up significantly in the next few years, and GM will benefit heavily from overall automobile demand.
My contrarian response to that is why hasn't this already happened? If consumers genuinely needed to buy new, American cars during the recession, how come SAAR hasn't yet returned to pre-recession levels?
After all, consumers have deleveraged significantly, trillions in incremental liquidity have led to record low financing costs, and American car makers have revamped their lineups with fuel-efficient and trendy models.
If this hasn't catalyzed a return to pre-recession sales levels, I'm not sure what will. Is there miraculous economic growth on the horizon? It doesn't appear likely, as the US seems to be recoupling with the global economy and will likely grow only slightly more than 1% for the rest of 2012.
My belief is that pre-recession levels will not be reached anytime within the next several years. As was the case with most pre-recession spending, the constant refinancing and cheap credit led to profligate consumers who bought three cars for a family of four.
A 2008 study showed that the average American household owned 2.28 cars, and the US ranks second in the world in terms of motor vehicles per 1000 people.
Despite constant prodding from unprecedented monetary policy, consumers simply haven't been as willing to make the high-dollar purchases they made prior to the bust. If automotive spending was artificially high in the boom years, which I believe to be true, there is no reason for SAAR to return back consistently to the 17 million trend of the mid 2000s.
Granted, I don't believe car sales are topping out quite yet. US Sales, even in the midst of this recent economic downturn, have remained strong. The evidence does however lead me to believe car sales are in fact past-mid cycle, and approaching a cyclical top within the next couple of years.
More To The Picture
GM has operations outside of the US however. Management just announced that losses in the EU are mounting and are going to be sustained for the rest of the year. Ford preannounced that its losses from its EU operations are going to in well above previously anticipated figures.
Even with strong North American sales growth, the EU operation is sucking profit from GM, and will lead to lower EPS (est. $3.25) in 2012 relative to 2011's $3.88. GM is planning on restructuring its Opel/Vauxhall, rather than closing or selling it.
Therein lies the main reason for GM's poor valuation. The bottom line is simply unlikely to reflect strong US growth, as international operations are cutting into the company. With China, Brazil, and India slowing meaningfully, Europe imploding, and the US recoupling, even the bright spots of GM's business are dimming.
Even with $3.25 in EPS, GM trades at only 5.85 times trailing earnings - a steep discount to the broader market multiple. However, I believe this valuation discount to be reasonable considering US sales are likely past mid-cycle, and international operations are significantly and continuously deteriorating.
And of course, there's the issue of the Treasury's 25% ownership and Canadian government's stake of 11%. That's an awful lot of stock that's eventually going to be dumped on the market, and further harms the bull case.
Finally, here's something almost no one talks about. With $28 billion of goodwill on the balance sheet still, nearly the entire market cap of GM consists of it. Based on the way the goodwill was calculated, as the credit worthiness or long-term earnings forecasts of GM increase, the goodwill will have to be increasingly written-off, biting into reported earnings along the way.
Conclusions
GM really isn't that misunderstood. The US sales cycle is not in its infancy, but also probably not very close to the top. The valuation implies peak-earnings (which normally coincide with peak SAAR), sure, but it is also taking into account its deteriorating international prospects, treasury and governmental overhang, and exceptionally odd goodwill conundrum.
Berkshire, Einhorn, and other holders of GM expecting to outperform the broader equity market are likely to be disappointed over the next several years.
Disclosure: I have no positions in any stocks mentioned, and no plans to initiate any positions within the next 72 hours.