Our continuing efforts to tweak our retirement portfolio, for those of us already retired, is obviously an ongoing effort. While we have our core portfolio of mega cap blue chip dividend winners, we can also expand into a basket of REIT holdings that could spice up our income flow.
I have been looking for a few good ones that can be added now. My basic criteria, aside from a sweet dividend of course, is that they be positioned to take advantage of a recovering economy, in sectors that can gain significantly, have a low BETA, and have been flying under the radar recently.
REITs To Consider Buying Now
Preferred Apartment Communities (NYSEMKT:APTS): Price: $7.19/share, Dividend Yield: 7.24%, BETA: .40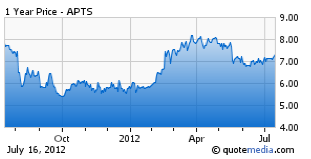 Business summary from the company via MSN Money:
Preferred Apartment Communities, Inc., incorporated on September 18, 2009, is formed to acquire multifamily properties in select targeted markets throughout the United States. It also may acquire senior mortgage loans, subordinate loans or mezzanine debt secured by interests in multifamily properties, membership or partnership interests in multifamily properties and other multifamily assets as determined by Preferred Apartment Advisors, LLC (manager) as appropriate for the Company. The Company is externally managed and advised by its manager. The Company focuses on branding all apartment communities owned by it as a A Preferred Apartment Community.
This new REIT offers a diverse portfolio of assets ranging from actual properties as well as mortgages so it makes money from the mortgages it loans as well as the rentals. I like this business model because of the way it can profit (eventually) from its various businesses. As the economy improves, they will have pricing power.
For now, the company is snapping up property at bargain prices and at some point they could appreciate in value as well. Sounds like a pretty sweet plan for now and the future. Their market cap is at about 1/2 the enterprise value. We might even have some capital appreciation as well.
Omega Healthcare Investors (NYSE:OHI): Price: $23.74/share, Dividend Yield: 7.10%, BETA: .90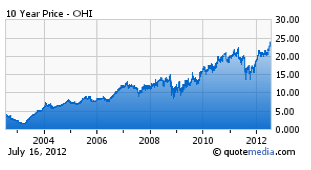 Business summary from the company via MSN Money:
Omega Healthcare Investors, Inc. (Omega) is a self-administered real estate investment trust (REIT), investing in income-producing healthcare facilities, such as long-term care facilities located throughout the United States. The Company provides lease or mortgage financing to operators of skilled nursing facilities (SNFs) and, to assisted living facilities (ALFs), independent living facilities and rehabilitation and acute care facilities. It finances investments through borrowings under its revolving credit facilities, private placements or public offerings of debt or equity securities, the assumption of secured indebtedness, or a combination of these methods. As of December 31, 2011, its portfolio of investments consisted of 438 healthcare facilities located in 35 states and operated by 51 third-party operators. It uses the term operator to refer to its tenants and mortgagees and their affiliates who manage and/or operate its properties.
Well, this sweet REIT has all bases covered. They lend money (due diligence is better than the banks), they rent out the facilities at rising rates, they even own some properties. Not only that, they stand to gain from the millions of newly insured folks via the Affordable Care Act. PLUS, take another peek at what they do within their business model: independent living facilities. They also fill needs of the growing baby boomer population, which is always profitable.
I really like this one for our REIT basket.
STAG Industrial (NYSE:STAG): Price: $14.76/share, Dividend Yield: 7.35%, BETA: .75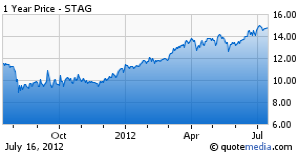 Business summary from the company via MSN Money:
STAG Industrial, Inc. is a real estate company focused on the acquisition, ownership and management of single-tenant industrial properties throughout the United States. The Company owns its interests in all of its properties and conducts substantially all of its business through the Company's operating partnership, STAG Industrial Operating Partnership, L.P. As of December 31, 2011, the Company owned 105 properties in 27 states with approximately 17.3 million rentable square feet, which consisted of 57 warehouse/distribution properties, 28 manufacturing properties and 20 flex/office properties. STAG Industrial GP, LLC is the general partner of the Operating Partnership. In May 2012, the Company acquired approximately 394,289 square foot, warehouse and distribution facility located in Reading, PA. In June 2012, the Company acquired a portfolio of six single tenant industrial buildings located in Connecticut, Florida, North Carolina, New York, South Carolina and Texas.
The commercial and industrial sectors have been beaten down significantly and this new REIT has been buying up properties all over the nation at bargain basement prices. Obviously, owning and managing the properties they own enable them to run a tight ship.
Eventually, as the economy recovers, STAG stands to gain significantly and can be owned right now with a forward P/E of 12 and a bullish outlook by the ESS Rating System. I would consider STAG as a buy right now. Did I mention they raised their dividend in May also? Sweet.
Sun Communities (NYSE:SUI): Price $45.84/share, Dividend Yield: 5.65%, BETA: 1.50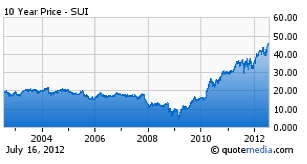 Business summary from the company via MSN Money:
Sun Communities, Inc. is a self-administered and self-managed real estate investment trust (REIT). The Company leases individual parcels of land (sites) with utility access for placement of manufactured homes and recreational vehicles (RV) to its customers. It operates in two segments: Real Property Operations, and Home Sales and Rentals. The Real Property Operations segment owns, operates, and develops manufactured housing communities concentrated in the Midwestern, southern, and south-eastern United States and is in the business of acquiring, operating, and expanding manufactured housing communities. The Home Sales and Rentals segment offers manufactured home sales and leasing services to tenants and prospective tenants of its communities. In May 2011, it acquired Orange City RV Resort, a Florida RV community comprised of 525 developed sites. In February 2012, it acquired three additional Florida RV communities, Three Lakes RV resort, Blueberry Hill RV resort and Grand Lake Estates.
As the working class gets squeezed, there will be a growing demand for affordable housing. Manufactured homes, especially in more rural areas of the nation, have become more popular than ever before and are popping up in areas that can also be considered prime retirement locations.
This bodes well for this new REIT's future. It also leases out parcels to the growing number of recreational vehicle living quarters and vacation sites. The owner operated model obviously has been working quite well thus far for Sun Communities as their profits rose by over 65% last quarter and revenues by roughly 9%.
SUI is another REIT to add to this diversified REIT basket.
My Opinion
In developing a REIT basket right now, we can add to our income flow. If we choose wisely we can also invest in companies that stand to gain from an improving economy as well as government programs like the Affordable care Act.
Obviously, you should do your own research into the companies suggested before making any decisions based on my opinion, however, I personally like all of these for my own REIT basket.
Disclosure: I have no positions in any stocks mentioned, but may initiate a long position in APTS, OHI, STAG, SUI over the next 72 hours.