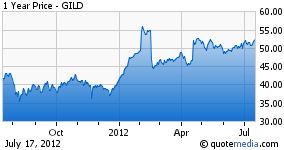 Gilead (GILD) has a big winner in Truvada. It's already generating $2.4 billion in annual sales as a partial treatment for HIV, combining two existing anti-virals, tenofovir disoproxil and emtricitabine, and has been on the market since 2004.
The big news today is that the FDA has approved Truvada for use as an AIDS preventative, based on New England Journal of Medicine studies from Africa showing it can prevent the heterosexual transmission of AIDS, the most common infection vector there.
The U.S. target market is the roughly 415,000 people at highest risk, and the hope is it will reduce the annual U.S. infection rate from its present 50,000/year.
But investors wisely did not pop champagne corks at the news. The stock was up only marginally in early trading. Here's why:
Failure to take the pill every day could result in AIDS infections that are resistant to the drugs used in Truvada. That would be very bad news for everyone.
There are side effects, some involving liver or kidney trouble. They generally clear up after a few months, but not always.
The estimated U.S. cost of taking Truvada every day is estimated at $10,000 per year. In South Africa, where it can cost as little as $480/year, that cost barrier is still real for those most at-risk.
As noted, the current Truvada trials were held in Africa, and that's where the danger lies. News of the FDA's action is going to spread like wildfire there, starting with the elites and filtering down into the professional classes. Non-compliance with daily dosing could spread quickly. Truvada is not a cure -- it's a treatment. People who take the drug have to continue taking the drug to prevent progressive symptoms and death.
In the U.S., Truvada will be offered as part of a strict regimen including regular blood tests, and candidates must show they are HIV-negative before going on it. But the cost is bound to be highly controversial, as many health insurers will ask hard questions before approving something that is going to cost them $10,000/year, every year, into the indefinite future.
So in addition to a potential gold mine, Gilead has bought itself a political minefield. News of its approval as a "vaccine" is going to lead to "wealthy" Africans taking it regardless of local cost, skipping days, and becoming infected. Its cost is going to accelerate the debate in the U.S. and Europe about health care costs in general, and this medicine in particular.
The place to look at now is the Centers for Medicaid and Medicare Services, which will be under political pressure to approve the drug for use among high-risk groups. The danger is that once it's approved by Medicare, it's approved for everyone, for all insurance plans, and that opens up another political can of worms.
If there are 415,000 in the target market, and all are given the drug, at $10,000/year, that's $4.1 billion, per year, just in the U.S.. Mass production to make Truvada profitable at something like the $480/year cost in Africa would create a $200 million U.S. market, not a huge bump on the $2.4 billion currently coming in.
The folks at Gilead have some work ahead of them. I would be cautious before jumping in.
Disclosure: I have no positions in any stocks mentioned, and no plans to initiate any positions within the next 72 hours.