As the price of gold stagnates, gold miners have under-performed both the broad market and the yellow metal significantly. Is now the right time to buy into this divergence? Or will miners continue to sell-off? In my opinion, this divergence is a fantastic buying opportunity for a multitude of reasons. For the purpose of this article I am going to use (GDX), Market Vectors Gold Miners ETF, as a proxy for gold miners.
(Chart courtesy of stockcharts.com)
The chart above displays the spread of gold miners, expressed by GDX, against the Gold ETF, GLD, from early 2008 to present. You will notice that gold miners are reaching October 2008 prices, when the price of gold and gold miners fell with the broad market. From a technical perspective, this shows a significant under-valued conditions, thus pushing the reward to risk for purchasing gold miners in our favor.
Due to the sector gold miners are in, their share prices obviously have a high correlation with the price of gold and thus purchasing gold miners is an inherent long position on the metal itself. Gold has recently been in a roughly 1 year slump, yet with current global economic conditions, gold has much potential to push higher. After the absolutely monstrous rally gold has seen in the past decade, it is understandable that the price finds value in some area, and it appears it has done so. Markets constantly are moving from value to searching for value on all time frames, and it is only time until gold will be searching fro new value. With negative real interest rates, a slowing global economy, inflationary fears, and more, the bullish case for gold far outweighs the bearish case. Thus it is of my opinion that the next large move in the price of the metal will be higher, further supporting our case for gold miners.
Gold miners are also offering potential from a valuation perspective. The top 3 holdings of the GDX ETF are Barrick Gold Corporation (ABX), Goldcorp (GG), and Newmont Mining (NEM). Let us compare these 3 miners with their respective industry.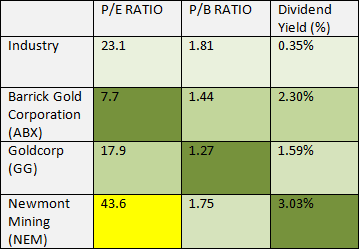 (Data courtesy of MSN Money)
Another added advantage in owning miners, is that they issue a dividend. As per the chart above, Barrick Gold appears attractive with a low P/E of 7.7x earnings and a dividend yield of 2.3%, which obviously beats gold's 0% yield. Last on the list, Newmont Mining , offers a huge 3% yield, yet you would have to take on a high P/E of 43.6 (although their price to book is relatively under-valued).
Risks Associated With Gold Miners
Other than a decline in the price of gold, gold mining stocks obviously have company-specific risks associated with them. Since miners are companies, they are exposed to the business environment, political and global economic risks, and poor internal management.
Bottom Line
The underlying trend in gold is higher and I think the recent extension lower in gold miners offers great opportunity to enter an inherent long gold trade and under-valued prices. By purchasing gold miners, you are also able to capture a nice dividend, specifically through Barrick Gold and Newmont Mining, which sure beats gold's yield of nothing. With underlying global economic fears, inflationary pressures and more, gold remains a long-term buy investment, thus supporting gold miners. Some miners are also under-valued compared to their peers and industry, (specifically Barrick Gold and Goldcorp) which further provides more reason to purchase these declines. Personally, my strategy of entering this theme would be to scale into the position as gold and gold miners potentially extend lower in the short-term.
Disclosure: I have no positions in any stocks mentioned, but may initiate a long position in ABX over the next 72 hours.