Well, not exactly ... In his famous 1980s investing book, Beating The Street, famed portfolio manager Peter Lynch described following his teenage daughter into the mall and seeing what stores and products her and her friends patronized. He described using these insights to get into the "hot" clothing/apparel/brand-type trends before stodgy Wall Street analysts recognized them.
While this axiom/method has some validity and getting in on "trends" early is often effective, you must remember that today's "trendy" is tomorrow's "out-of-style." The pre-teens and teenagers who drive many of our fashion trends and spending are extremely fickle in their spending patterns. This also applies to other sectors, not just clothing/apparel.
With this in mind, take a look at Crocs (NASDAQ:CROX) stock.
CROX MONTHLY WITH KKD AND HOTT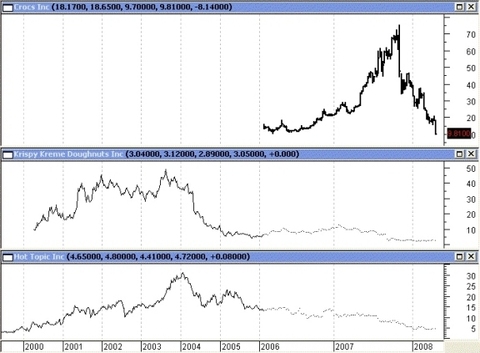 (click to enlarge)
CROX is down from an October 2007 high of 75.21 to Wednesday's current low of 9.70. The bottom two charts show some other examples of previously "hot" brands/products that had huge stock runups, then have since never recovered their peaks, Krispy Kreme Doughnuts (
KKD
) and Hot Topic (NASDAQ:
HOTT
). There are countless other examples of this, especially in the fashion/consumer product world. The kind of stocks I'm thinking of are the ones that even the casual investor is probably aware, such as a TASER International (TASR).
When you are considering buying the stock of an extremely hot sector or product, you must remember that there is a good likelihood of the trend slowing significantly sometime in the future. This is especially true of a company that relies on a single product or a limited product line. Iomega (IOM) was an example of this in the technology sector. Be ready to take profits on the way up, and bail out or go short on the way down.
I am not specifically a retail sector analyst or an analyst of hot trends - the comments in this article are just my perceptions and thoughts on previous examples of well-known brands and products and stocks that had big runups.
In my opinion, companies that have a super-hot product or line are often smart if they sell out to a larger company near the top of their run. Previous examples of this are products like Snapple and Vitamin Water, which sold out to much larger competitors. I would guess that Under Armour (NYSE:UA) could possibly in the future be bought out by a Nike (NYSE:NKE) or Adidas, but this is pure speculation on my part.
Of course, there are "trendy" or "hot" products/services/businesses that continue to grow and expand, despite skepticism. Examples of this are Google (NASDAQ:GOOG), Starbucks (NASDAQ:SBUX) and Blackberry devices (RIMM), at least up until the present time.
There are also brands that become "timeless" and are strong enough to weather the fickle changes of the fashion world. Ralph Lauren (NYSE:RL) and Tiffany's (NYSE:TIF) are examples of brands that should stand the test of time, in my opinion. This is not to say that these stocks and companies may not have poor quarters or even years, or could suffer a downfall due to poor management. Also, companies with diversified brands and product lines should be able to sustain longer-term growth and value. European company LVMH is an example of this (Louis Vuitton, Moet, Hennessy among its brands).
In short, there are profits to be made on the upside to a super-hot consumer product or trend or stock, but be ready to hit the exits or even be short if the trend turns sour.
Disclosure: None.