After a big run up, it is not uncommon for a stock to surrender some of its gains. However, to surrender all of the gains racked up in the past 17 years is a little more dramatic. This has been the story of National City Corporation (NYSE: NCC). The 163 year old bank that employs 32,000 is the latest of big name victims in the well publicized financial/credit/subprime mortgage crisis.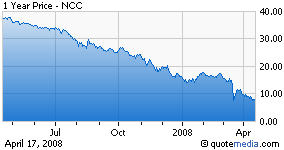 While the financial community is digesting the future of NCC, the stock is trading around prices it has not seen since the early 1990s. A 50% reduction in the company's dividend rate back to 1997 levels was not enough to preserve NCC's market value and now outside financing is required to keep things going.
As a resident of Ft. Pierce, Florida, I was a long time (relatively speaking) shareholder of Harbor Federal. Harbor Federal was acquired by NCC in an all stock deal that seemed to make a lot of sense at the time. I have been a first hand viewer of the NCC fall out in a very dramatic and personal way. Financially, I was lucky enough to avert the losses on the past years events, but there were many that were not.
We are talking major changes for people – retirement plans and college funding plans significantly altered. Of course, ups and downs are part of the stock market and sometimes, a dip represents an opportunity to build a position, but unfortunately, for those in NCC via Harbor Federal, it is not going to head back to $38 anytime soon.
First, it is very likely that NCC will secure the necessary funding it is seeking. It seems to be widely known/accepted that NCC is looking for about $4B. We saw Bear Stearns (NYSE:BSC) get saved by JP Morgan Chase (NYSE:JPM). We saw Wachovia (NASDAQ:WB), Citigroup (NYSE:C), Washington Mutual (NYSE:WM), and E*TRADE Bank (NASDAQ:ETFC) all get infusions. We even saw grotesquely beaten up Thornburg Mortgage (TMA) get rescued and find access to the necessary liquidity to prevent an even larger fall out. The money is there – now we wait to see what deal comes to the table.
Rumors on the street have abounded that banks like KeyCorp (NYSE:KEY) or Bank Nova Scotia (NYSE:BNS) have been vying to fund NCC or outright offer a buyout. I hear many locals talk about NCC getting offered $12-$15 for its franchise. I would certainly like to see people get $15 rather than $8, but I think a deal will be closer in the $5-$8 range. Here is why and here is how I see it unfolding.
NCC may be worth $12-$15 or even more, but in their desperate situation and lack of time, they do not have many bargaining chips on the table. Imagine the negotiations:

NCC: We want $12!
Suitor: We'll give you $6
NCC: We are worth $12
Suitor: If we don't give you this $4B now, you are in real trouble – we hold the cards – how about $5.50?
NCC: $12
Suitor: $5.
NCC: Ok, we don't have a choice. Can we at least keep the roofs green?

Of all of the banks that have received emergency financing and deals – Bear Stearns, Countrywide (CFC), Washington Mutual, etc., the deal brought and ultimately recommended by the board has always brought more dilution and a lower price per share to the table. Certainly, this down side may already be getting priced into NCC's stock price as the market may be expecting a cheap bid. Today's (April 16) activity is very interesting and perhaps indicative of that. The Dow is up 2%, banks are on fire thanks to financial results and positive sentiment from JPM, and NCC is down 3%. This may be a downward overreaction, but all of the precedents show a deal down below the current market value and it would be foolish to bet against that trend. At the very most, perhaps NCC gets what it is trading for or a small premium.

Do you really think a board is going to approve an 80%-100% premium for a distressed bank in these market conditions?
I do not think anyone foresaw the magnitude of this collapse. Perhaps NCC outsmarted themselves with their deal making. From a Harbor Federal perspective, NCC got a steal on a very successful South Florida banking franchise. The $1B deal is worth $230M today – or what Harbor Federal was roughly worth in 2001. For those that have been hit hard by these events, I do hope for a deal with a big premium. Sound logic, however, suggests otherwise.
When the deal is announced (which is not a guarantee), I think there is a 75% chance of a minority interest stake for the $4B and a 25% chance of a full takeover. A full takeover might be preferred by some, but if the deal is done in stock (likely the case), expect those NCC shares that become XYZ (or whatever) to pay out less dividend per share and expect job cuts.
Short and simple, no matter how you slice it, even if NCC is offered $12, this story does not have a happy ending.
Disclosure: None