By: Brendan Gilmartin
IBM Corp. (IBM) is slated to report 2Q 2012 earnings after the close of trading Wednesday, July 18. Results are typically released at approximately 4:05 p.m. EST and will be followed with a conference call at 4:30 p.m. EST. IBM is a member of the Dow Jones Industrial Average, with broad market influence, and could have direct impact on the index futures when it delivers quarterly results.

Outliers & Strategy
IBM typically produces an adjusted value for EPS that is comparable to the Street consensus estimate. Adjusted EPS is forecast to come in at $3.42 per share (Source: Yahoo! Finance) with a range of $3.31 - $3.51.
The revenue estimate is $26.31 billionn (range is: $25.99 billion to $26.70 billion).
Gross Margin: This is a key measure for IBM. A miss could be a catalyst to sell the shares. Forecasts are for 44.7%.
Adjusted EPS Guidance (FY2012): Back in April, IBM raised its outlook for operating (non-GAAP) diluted earnings per share to at least $15.00 from at least $14.85. Any changes to this upwardly revised guidance are likely to have direct consequences for the share price.
Keep an eye on Accenture (NYSE:ACN) as a potential sympathy play off the IBM numbers.
After dropping more than 12% from the 52-week high of $209.82 in early April, IBM shares are now trading at just 11.1x forward earnings, a discount to the S&P 500 (13.5x) with a dividend yield of 1.84%.
Recent News
07/17: Sterne Agee reiterated a Buy rating and a $230 price target on IBM, according to a post on StreetInsider.com. The firm expects IBM to report in-line 2Q revenue, slightly better than expected EPS, and reiterate its FY2012 guidance.
07/11: UBS initiated coverage on IBM with a Neutral rating and a price target of $205, according to StreetInsider.com. The firm pointed out IBM's strong strategy and leadership position, but suggested the shares may be fairly priced at these levels.
07/11: Stifel Nicolaus cut its price target on IBM from $230 to $221, according to Benzinga.com. The report cited Forex headwinds and the weaker macroeconomic backdrop.
06/08: Patricia Murphy, IBM Vice President, Investor Relations, reiterated the 2015 roadmap, calling for operating EPS of >$20/share and the return of more than $50 billion to shareholders through its repurchase plan.
Technical Review
IBM shares are off more than 12% from the 52-week high near $210, en route to the lowest level YTD. The waning momentum is also evidenced by the faster 20-Day SMA crossing below the 200-Day. Should earnings and guidance disappoint, look for support near the $180-level. But the recent sell-off may be limited with the Relative Strength Index (RSI) bouncing off the oversold 30-level. On a reversal, look for initial resistance at $187.50, coinciding with the 50-Week SMA.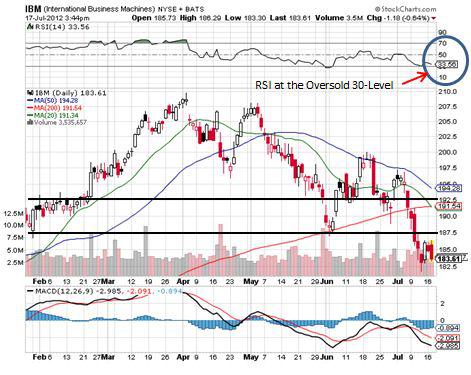 (Chart courtesy of StockCharts.com)
Summary
IBM shares came under heavy pressure during the 2Q period amid concerns over the macroeconomic backdrop and currency headwinds, contributing to the recently cautious sell-side sentiment. But with the shares registering technically oversold readings and trading at just 11.1x forward earnings, along with a strong management team and solid strategy, a buyback plan, and reiteration of an upbeat longer-term view just last month, IBM could be due for a bounce on flat to slightly higher earnings.
Disclaimer: By using this report, you acknowledge that Selerity, Inc. is in no way liable for losses or gains arising out of commentary, analysis, and or data in this report. Your investment decisions and recommendations are made entirely at your discretion. Selerity does not own securities in companies that they write about, is not an investment adviser, and the content contained herein is not an endorsement to buy or sell any securities. No content published as part of this report constitutes a recommendation that any particular investment, security, portfolio of securities, transaction or investment strategy is suitable for any specific person.
Disclosure: I have no positions in any stocks mentioned, and no plans to initiate any positions within the next 72 hours.