The Environmental Protection Agency (EPA) is charged under Section 111 of the 1977 Clean Air Act to regulate emissions from major stationary sources. Earlier this year, the EPA proposed a New Source Performance Standard designed to regulate pollution from stationary power facilities.
Based on the 2012 American Energy Outlook, the Standard is designed to ensure that newly installed fossil fuel facilities don't surpass a harmful level of carbon intensity. It allows no more than 1,000 pounds of CO2 per megawatt hour of output for newly constructed plants, but has no impact on current facilities.
New coal powered generators must either install carbon capture and sequestration technology to reduce emissions by approximately one half, or utilize a thirty year averaging option that requires plants to have an average rate of emissions consistent with the Standard over this period. The latter option allows flexibility and ultimately makes coal facilities more efficient than originally mandated. These efforts reflect what the EPA regards as its "common-sense approach to reducing CO2 and other greenhouse gas emissions, which by causing climate change, pose a serious threat to public health and welfare."
In addition to protecting the public health, the New Source Performance Standard is a form of industrial policy designed to stimulate the natural gas industry. Conventional theory holds that industrial policy should be implemented in accordance with a nation's preexisting competitive advantage, and ought to align public interests with market forces. Based on this criterion, the EPA's regulation of carbon emissions from stationary plants embraces the proven potential of natural gas and America's leadership in the industry.
Rather than aggressively manipulating the energy market to promote inefficient competitors, the EPA is facilitating a free market energy transformation by implementing standards consistent with market preferences. While coal remains an integral part of the American energy infrastructure, natural gas has proven to be a more cost effective and environmentally responsible means of electricity generation. As of April, coal and natural gas each provided thirty two percent of the Nation's total electricity.
Click to enlarge.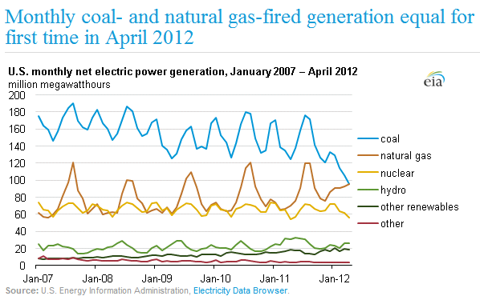 Data collected by the US Energy Information Administration (EIA) reflects this trend, and indicates that even without government infringement, market forces are demanding natural gas at the expense of coal. Energy trends suggest that given natural gas' price and accessibility, it stands to lead newly installed power capacity in the United States. The EPA recognizes this and predicts "that natural gas combined cycle will be the predominant choice for new fossil fuel-fired generation". Further it "does not project any new coal-fired electricity generating units without carbon capture and sequestration to be built in the absence of this proposal [2012 New Source Performance Standard] through 2030." Given that the EPA expects a pure market transition away from coal, their actions beg the question, why bother regulating?
Want a Responsible Transition:
As a form of industrial policy, the Standard indicates that the federal government has come to regard natural gas as a strategic industry. The EPA specifically regulates emissions only in excess of what natural gas combined cycle emits, and reinforces the industry's competitive advantage by facilitating growth in electricity generation. In its policy proposal, the EPA admits freely to deriving the new standard "based on the demonstrated performance of natural gas combined cycle units."
This positions natural gas to become a national leader in electricity generation, and reflects Washington's growing support for the industry. Yet while the EPA views natural gas as a preferable alternative to coal, it wants to ensure that power generating facilities minimize CO2 emissions. By making the new standard 1,000 pounds of CO2 per MWH, the Agency requires the use of combined cycle technology (currently the average natural gas CO2 emissions rate in the United States 1,135 pounds per MWH). Natural gas combined cycle is economically and environmentally more efficient than traditional means of power generation, and burns the fuel in a combustion turbine while using the exhaust to drive a steam turbine. Ultimately, the EPA hopes to promote natural gas' future electricity dominance without neglecting its environmental impact.
Strategic Timing
The EPA hopes that by implementing industrial policy that is consistent with market preferences it will provoke less private sector and political opposition. With natural gas prices expected to rise from historic lows, the Agency recognizes that using policy to expand natural gas electricity generation will only become more difficult. According to the EIA, prices are expected to reach between six and eight dollars per million BTUs by 2035 depending on varying economic projections [8]. Its abundance and accessibility have kept natural gas around two dollars per million BTUs, but growing domestic and international demand are expected to drive prices in the coming decade. The new Standard ensures that natural gas remains price competitive, and is being strategically implemented during a period when political preferences coincide with economic interests.
Don't Forget Renewables:
Another reason the EPA is willing to tolerate carbon emissions from natural gas is because of its compatibility with renewable electricity generation. Natural gas facilities can more quickly adjust to changes in energy demand, and would effectively complement wind and solar irregularity. Its flexibility allows incremental changes in electricity generation based on the inconsistency of cloud cover or wind speed. Unlike coal and nuclear energy, natural gas facilities can be switched on and off depending on consumer demand. Given its ability to supplement the growth of renewables, natural gas is favored by the EPA as a means to make the electrical grid more sustainable. The EIA projects that a fifty percent increase in electricity generated from renewable sources by 2035 will coincide with more electricity being generated from natural gas.
Implications:
The Standard positions natural gas to expand its market share at the expense of coal-fired facilities. Already utilities are beginning to make this transition, and just last month the Columbus Dispatch reported that American Electric Power (NYSE:AEP) has planned to shut down coal-fired generating units at twelve sites nationwide. The same article noted that Alpha Natural Resources (ANR) is planning not only to cut over 350 jobs, but also to produce eleven percent less coal this year than in 2011. Patriot Coal (PCX), a mining company based out of Missouri, has cut 1,000 workers and currently trades near its fifty two week low of eighteen cents, down from near twenty five dollars in September of last year.
While ANR and PCX may be undervalued, it is important to recognize that EPA action will limit their recovery. The Standard ensures that the balance between coal and natural gas has permanently shifted, and that coal will never again account for over forty percent of domestic power. While simultaneously shutting down coal facilities, AEP is expanding its natural gas operations and has developed 4,800 MW of natural gas fired capacity over the past decade. Upon bringing a 580 MW facility on line earlier this year, Nicholas K. Akins, AEP's president and CEO, declared that "Natural gas will become an increasing part of AEP's generating portfolio in the coming decades." While current coal facilities will remain competitive as natural gas prices approach three dollars per million BTUs, the Standard ensures that natural gas will lead the nation in newly installed electricity capacity.
The EPA's efforts to reduce American dependence on coal by promoting natural gas generated electricity create an opportunity for long term investors to capitalize on the changing energy infrastructure. Utilities that are taking steps to transition away from coal, such as AEP, are best positioned to survive an increasingly regulated electricity market. Xcel Energy Inc (NYSE:XEL), an electricity and natural gas company based in Minneapolis, is also taking the initiative. Frank Prager, Vice President for environmental policy and services at XEL argues that under the EPA Standard, "The reality is no utility is going to invest now in a billion-dollar coal plant."
While coal still accounts for over half of XEL's electricity generation, since at least 2002 the holding company has started converting aging facilities to natural gas. The company announced this year a plan to close three Colorado coal fired units at its Cherokee generating station, and to build a natural gas pipeline to supply the replacement facilities. XEL has also made plans to complete its conversion of its Black Dog generating plant in Minnesota to natural gas. Investors should recognize the reality of this transition and avoid investment in an unfavored commodity. Ultimately, when market forces and industrial policy are aligned, economic transformation becomes inevitable. Natural gas, strengthened by the EPA Standard, is positioned to lead this transformation, and utilities that are embracing change stand to benefit most.
Disclosure: I have no positions in any stocks mentioned, and no plans to initiate any positions within the next 72 hours.