This weekend I finally had the time to look into one of the leading casual dining restaurants in the U.S.: Chipotle Mexican Grill (NYSE:CMG). Of course, there's nothing really Mexican about it, unless you count some of the folks who work there.
First, we will review some important aspects of Chipotle's business for the valuation, such as current and expected revenue growth, anticipated restaurant openings, operating and net margins, ratios, and pretty much everything I have covered in my past valuation articles before actually getting to the DCF scenarios and my target price for December.
Getting To Know Chipotle
This information was taken from Chipotle's 2011 Annual Report:
Chipotle operated 1,230 restaurants at the start of 2011.
Last year, Chipotle opened 150 restaurants and its revenue grew 23.6% to $2.27 billion and comparable restaurant sales grew 11.2% for the full year.
Chipotle expects to open between 155 and 165 additional restaurants in 2012, so it will have a similar year in terms of growth in both its top and bottom line.
Its restaurant-level margins were among the highest in the industry at 26.0%.
Regarding future growth, Chipotle continued to seed opportunities, opening its second restaurant in London, and opening its first ShopHouse Southeast Asian Kitchen in Washington DC. It also includes two restaurants in Toronto, Canada.
This expansion strategy is on its first phase, Chipotle is testing the waters, opening one restaurant at a time, investing as little as possible to see if it can replicate the success of its U.S. restaurants in London. If the experiment is a success, look out Europe, because Chipotle is coming to a location near you.
Restaurant Openings Expectations
Half of the year is already gone, but Chipotle states in its 10-Q that it now operates 1,262 restaurants -- 32 new restaurants for the first three months of 2012.
Chipotle expects its 2012 restaurant openings to pick up the second half of the year, and this may adversely affect its revenue growth during the first half, along with its profitability in the second half. Take note of this if you are long this stock.
On a more positive note, Chipotle states in its 10-K:
We also have lowered the average development cost of our new restaurants significantly in recent years, from about $916,000 in 2008 to about $800,000 in 2011, and expect development costs in 2012 to be similar to 2011.
Sales Growth
Chipotle's comparable restaurant sales increased 11.2% in 2011 , driven primarily by an increase in customer visits, as well as the menu price increases. These factors benefited comparable restaurant sales by 2.9%. The company expects 2012 comparable restaurant sales increases to be in the mid-single digits.
Chipotle has grown its revenues by almost 20% for the past 4 years, and this trend has to continue in order for share prices to be this high.
In the next table, you can see a summary of the growth Chipotle has had for the past 5 years:
Annual Summary Data (Millions)
| | | | |
| --- | --- | --- | --- |
| Year | Sales | Net Income | EPS |
| 12/2007 | 1,085.78 | 70.56 | 2.13 |
| 12/2008 | 1,331.97 | 78.20 | 2.36 |
| 12/2009 | 1,518.42 | 126.84 | 3.95 |
| 12/2010 | 1,835.92 | 178.98 | 5.64 |
| 12/2011 | 2,269.55 | 214.94 | 6.76 |
| Growth Rates | 20.24% | 32.11% | 33.47% |
Chipotle's need for continued 20% revenue growth, along with maintaining or raising its margins, is the reason why the company, having saturated the U.S. with its restaurants, needs international growth. That explains why it is now trying out other markets like England.
Its top line has been growing faster than its bottom line, so don't expect Chipotle to be rolling in cash just yet. The company needed almost $400 million more in sales to add around $37 million to its bottom line.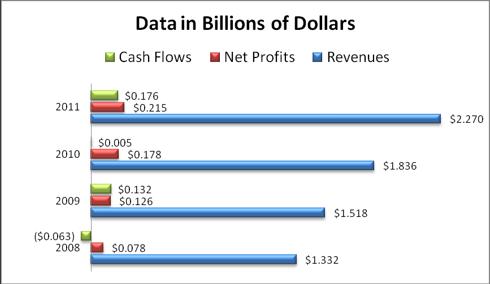 Chipotle's new restaurants could also cannibalize sales from its existing locations, as it has opened stores in nearly all major metropolitan areas across the U.S.
Chipotle's Costs
The chart below shows the breakdown of Chipotle's costs, including tax provisions: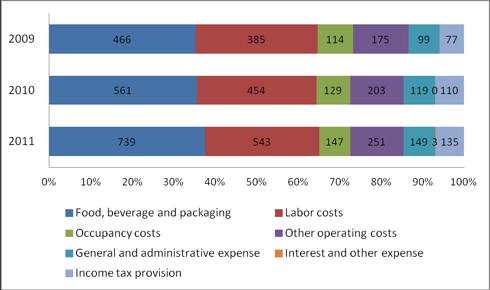 As you can see from this graph, which was constructed using information from Chipotle's 10-K, its costs have been pretty stable. Labor and food, beverages and packaging make up more than 60% of its operating costs, so the company still has a bit of margin to maneuver if some inflation crept in, which Chipotle does not expect this year.
The McDonald's Shackle
McDonald's Corporation (NYSE:MCD) was Chipotle's majority owner from 2000 to 2006. In 2009, Chipotle completed a share conversion, eliminating the existence of its class B common stock, and with it, the superior voting rights of the class B common shareholders.
As Chipotle states in its 2011 10-K:
In the event the share conversion is deemed to result in the McDonald's exchange offer failing to qualify as a tax-free transaction, we may have an indemnification obligation under the provision described above. We currently estimate that the indemnification obligation to McDonald's could exceed $450 million, and this estimate does not take into account related losses and depends upon several factors that are beyond our control. As a consequence, the indemnity to McDonald's could vary substantially from the estimate and may be much greater.
Keep this in mind if you plan on buying this stock.
Share Repurchases And Dividends
Chipotle seems to be driven to drive up the value of its shares by engaging in repurchase programs.
Through December 31, 2011, the Company's Board of Directors approved three separate plans to repurchase shares of common stock, which combined, add up to $300 million.
Chipotle has completed previously announced share repurchase programs for $200 million.
On July 22, 2010, Chipotle announced a share repurchase program limited to $100 million in total repurchase price, of which $63.5 million was completed in 2011, with $6.6 million available to repurchase shares in 2012.
The company does not pay a dividend, and does not anticipate paying any cash dividend in the foreseeable future.
Now it's time to look at some important figures.
Return On Equity, Assets, Capital Structure And Liquidity
| | | | | | |
| --- | --- | --- | --- | --- | --- |
| Company | ROE (last 3 year average) | ROA (last 3 year average) | Liquidity: Current Ratio and Acid-Test | Capital Structure: Debt/Assets | Long-Term Debt/Assets |
| CMG | 20.1% | 14.7% | 3.18 (3.13 for the Acid-Test) | 26.7% | 0% |
Chipotle has a stable return on both equity and assets, excels at liquidity, as any restaurant business should. Its Capital Structure is very healthy, and the company should not be in need of extra resources for its expansion plans.
Margins (4 year average)
| | | | | |
| --- | --- | --- | --- | --- |
| Company | Gross Margin | Cost of Sales/Sales | Operating Costs | Net Margin |
| CMG | 33.2% | 66.8% | 19.7% | 8.3% |
Chipotle's margins have been improving since 2008, but appear to have hit a brick wall, having found stability in margins, as the margins are neither improving nor declining by more than a percentage point per year.
Piotroski's F_Score & Economic Profit
| | | | | |
| --- | --- | --- | --- | --- |
| Piotroski's F_Score | Price/Book | EV/Sales Ratio | ROIC | WACC |
| 4 | 10.15 | 5.43 | 33.20% | 10% |
Economic Profit
Score: 4 out of 9
Chipotle failed the Piotroski score terribly, getting worse at return on assets, liquidity, margin, asset turnover and equity offering. Check out my article on Piotroski's F_Score if you want further explanation on these metrics and its back-tested results.
Investors are currently paying $5.43 per every dollar Chipotle sells -- this is even more than investors pay for every $1 of Apple (NASDAQ:AAPL) sales. Crazy if you ask me.
Its ROIC is good, and having a spread of 23.2% is healthy. That is why I think the company will do just fine, as it generated $145 million of economic profit in 2011.
The problem is that the stock seems way too overvalued, anyway you slice it.
Way Too Much Optimism For Chipotle
To give you an idea of how optimism is baked into this stock, look at its comparison with McDonald's. McDonald's had EPS of $5.36, compared to $7.27 for Chipotle, and their shares are worth $91.97 and $394.92, respectively.
This gives us a P/E ratio of 17.16 vs. a 54.32 ratio for Chipotle. The Industry's P/E is 20.9. Chipotle should return to those levels on the long-term -- it always happens.
Using the Graham Formula, I noticed that the company is expected to sustain a growth rate of 17.5% for the next 7-10 years. We have seen this happen in past years, but as their market matures and begins to saturate, growth rates above 17.5% will probably be unsustainable. That is, unless they become the new McDonald's, replicating or surpassing the success they have had in the U.S.
Using EBITDAx7, we can see how, in order for Chipotle's shares to be worth $394, it would need to have around $1.8 billion in EBITDA. It currently has $0.35 billion.
In the most optimistic scenario, Chipotle reached only $1.2 billion in EBITDA by 2017.
Let's take a look at how Chipotle has delivered earnings relative to analyst's expectations, which is the most important value driver for shares in the short-term: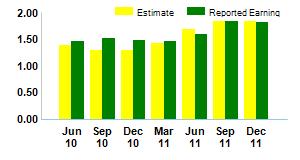 Notice how Chipotle's reported earnings are getting weaker and analysts' estimates are getting higher.
The restaurant business is expected to grow by 10.39% Analysts who follow the stock expect 24% sales growth and over 40% earnings growth.
Chipotle is expected to report EPS of $2.30 on July 19th, the same as last quarter. A big surprise to the downside would lead to a (NYSE:CRM) or (NASDAQ:NFLX) type of bust.
Analysts from Standard & Poor's expect EPS of $8.86 for 2012.
The analyst consensus 12-month price target range from $362 to $500.
Standard & Poor's has a $450 12-month target price for this stock based on a P/E of 42 and a $10.77 EPS forecast.
The DCF Valuation
As you might know from my previous articles, I include 3 basic scenarios to base my valuation on:
The "business as usual" scenario: In this scenario, Chipotle continues with its 20% revenue growth every year and keep similar gross and net margins to 2011.
Operating cash flows: These cash flows receive a big boost from its operations, as Chipotle continues to expand and maintain a healthy operation.
Financing cash flows: Continue to be insignificant.
Investing cash flows: Chipotle continues to invest with a moderate increase each year relative to revenues, reflecting the restaurant opening growth it needs to achieve the sales it aims for.
The "positive outlook" scenario: Chipotle grows revenues at a 25% rate from 2012 to 2014; its revenues grow at 20% and 15% to perpetuity. Its margins improve to 39% (from 37% in 2011), and its SG&A expenses drop from 22% in 2011 to 19% to perpetuity.
Operating cash flows: These cash flows receive an even greater boost from the continued aggressive expansion of the company.
Financing cash flows: These cash flows continue to be insignificant.
Investing cash flows: These cash flows will be highly negative, but offset by the operating cash flow; as the company increases both Capital Expenditures to keep up its existing restaurants and even more to open new locations.
The "negative outlook" scenario: There are several events that could trigger the negative outlook, such as a financial crisis, a failure in Chipotle's expansion attempts, price inflation above the company's predictions, suppressed margins, more aggressive competition, a "price war", a decrease in purchasing power from consumers, investors taking this company as a "fad" and Chipotle missing earning expectations.
Operating cash flows: Revenues continue to increase, but from 20% in 2012 they drop to 15% to perpetuity, not out of the question by any means. Margins remain at the 4-year average.
Financing cash flows: These cash flows continue to be irrelevant.
Investing cash flows: These cash flows decrease as the company requires less capital expenditures, since it will open fewer restaurants yearly and to perpetuity, keeping the pace and returning to about 75-90 restaurant openings a year to perpetuity.
These appear to be all very positive scenarios for Chipotle, especially given an assigned 15% growth rate to perpetuity for all scenarios. You would think I was bullish on the stock (the company's doing fine), but the results speak for themselves: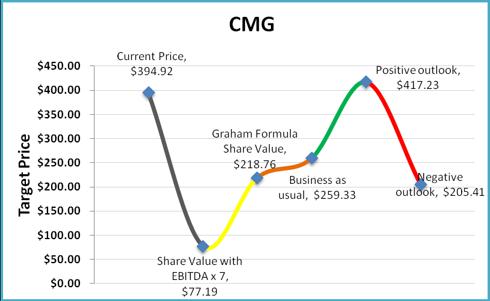 Price Targets
The average price with the DCF valuation is $285.30. This represents a downside potential of 27.8% from today until the end of the year.
That is my price target for December, $285.30.
So Should I Buy Chipotle?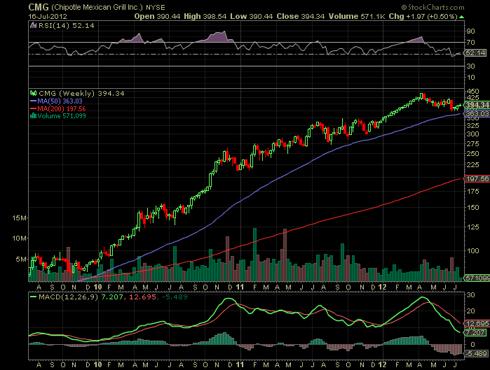 If you are looking to invest in this stock, I am sorry to tell you, you are late to the party, my friend. The 400% run-up in its share value reflects it very clearly.
Who wants to pay $394 for a company that needs to exceed expectations for 5-10 straight years and go toe-to-toe with McDonald's, after considering how much purchasing power, brand domination and stability it has?
Not me. I am not willing to bet Chipotle will be the next McDonald's, as current holders of the stock seem to be doing.
Fully 93.02% of its shares are held by institutional investors and 1.79% by insiders -- this means individual investors are in possession of only 5.14% of its shares.
As a side note, 2.3 million of its shares are currently sold short, or 7% of the outstanding shares, needing 3.13 days to cover.
Remember to tune into Chipotle's earnings release on Thursday, July 19. In my next article, I will provide trade ideas for this stock.
Disclosure: I am long TEF, and I am short SPY call spreads.