Oslo-based Oslo Asset Management is a part of Norwegian investment management company Aker ASA that has over $3.5 billion in total assets, including $369 million in 13-F assets (in U.S.-exchange traded equity securities). Overall, the fund has returned 72.3% since start-up in 2005 to year-end in 2010, at a respectable long-term compounded annual return rate of 10.4% compared to returns on the S&P in the range of 2.5% over the same period. The fund holds a very concentrated portfolio deployed in only twelve companies at the time of its Q2 2012 filing. Also, within the oil & gas group, about 28% of its assets are deployed in oil & gas operations companies, another 29% is deployed in integrated oil & gas companies, and the remaining 43% is deployed in the oil well services & equipment group.
We analyzed Oslo Asset Management's Q2 2012 13-F filing to determine its highest conviction bets, selecting the largest buys and sells in size, where the buy/sell is also a significant proportion of its prior quarter position in that company. Based on that analysis, the following were its highest conviction bullish bets in Q2 2012 (see Table):
Baker Hughes Inc. (BHI): BHI provides wellbore products and technology services and systems for drilling, formation evaluation, completion and production, and reservoir technology and consulting to the global oil and natural gas industry. Oslo Asset Management added 0.52 million shares to its 0.73 million share prior quarter position, buying $21.3 million worth of shares, its largest purchase in Q2.
Other major institutional investors with large bullish bets on BHI in the prior Q1 (the latest quarter for which all institutional filings are available) include mega fund Franklin Templeton Investments, with over $152 billion in 13-F assets, that added 16.95 million shares to its 8.57 million share prior quarter position; mega fund Los Angeles-based Capital Research Global Investors, with over $240 billion in 13-F assets, that added 12.98 million shares to its 6.89 million share prior quarter position, and mutual fund company Snow Capital Management, headed by guru Richard Snow, with $2.1 billion in assets under management, that added a new 1.13 million share position.
In its latest Q1 (March), BHI beat analyst revenue and earnings estimates (86c v/s 80c). Its shares trade at 9-10 forward P/E and 1.1 P/B compared to averages of 10.8 and 3.2 for its peers in the oil field services group, while earnings are projected to be almost flat, rising from $4.20 in 2011 to $4.25 in 2013. In concert with the decline in many oil service stocks, BHI shares also have taken a sharp dip over the past year, currently trading at just over half the price of its recent $80 high in July of last year.
While there is justifiable concern over declining rig counts in the U.S. and rising margin pressures, at current prices the shares are trading at the bottom of their historic P/E trading range. Also, technically, shares have been forming a bottom after the steep decline, trading in the $40 range for over three months. Also, of the 30 analysts that cover the company, 15 rate it at buy/strong buy, another 13 rate it at hold, and the remaining two rate it at underperform, putting a mean price target of $52-$53, well above current prices in the $40 range.
Besides BHI, Oslo Asset Management also made bullish bets on the following companies, accumulating shares in them in Q2 2012 (see Table):
The following are Oslo Asset Management's bearish picks, based on its Q2 2012 selling activity (see Table):
Transocean (NYSE:RIG), that provides offshore contract drilling for oil and gas wells worldwide, in which it dropped its 0.36 million share prior quarter position in the company;
Devon Energy Corp. (NYSE:DVN), that is engaged in the exploration and production of oil, gas and natural gas liquids in the U.S. and Canada, in which it dropped its 61,300 share prior quarter position in the company; and
Seadrill Ltd. (NYSE:SDRL), an offshore drilling contractor, providing offshore drilling services to the oil & gas industries worldwide, in which it dropped its 95,000 share prior quarter position in the company.
In addition to the above, the following are among Oslo Asset Management's largest holdings at the end of Q2 2012 (see Table):
Denbury Resources (NYSE:DNR), that is engaged in the acquisition, exploration, development and operation of oil and gas properties in the Gulf Coast region, in which it holds 3.91 million shares or $58.0 million;
BP Plc (NYSE:BP), that is a Britain-based leading international integrated oil & gas company engaged in the exploration, production, refining, marketing and transportation of oil and gas globally, in which it holds 1.22 million shares or $50.9 million; and
Newfield Exploration Co. (NYSE:NFX), that is an independent oil & gas company engaged in the exploration and development of crude oil and natural gas properties in the U.S., Malaysia and China, in which it holds 1.57 million shares or $49.1 million.
Table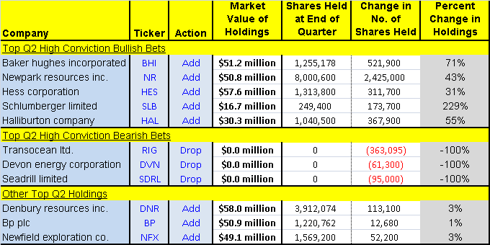 Credit: Fundamental data in this article and company descriptions are based on SEC filings, Zacks Investment Research, Yahoo, Thomson Reuters and Briefing.com. The information and data is believed to be accurate, but no guarantees or representations are made.
Disclosure: I have no positions in any stocks mentioned, and no plans to initiate any positions within the next 72 hours.
Disclaimer: Material presented here is for informational purposes only. Nothing in this article should be taken as a solicitation to purchase or sell securities. Before buying or selling any stock you should do your own research and reach your own conclusion. Further, these are our 'opinions' and we may be wrong. We may have positions in securities mentioned in this article. You should take this into consideration before acting on any advice given in this article. If this makes you uncomfortable, then do not listen to our thoughts and opinions. The contents of this article do not take into consideration your individual investment objectives so consult with your own financial adviser before making an investment decision. Investing includes certain risks including loss of principal.