Banking powerhouse Wells Fargo (WFC) reported another solid quarter recently. The firm earned $0.82 per share, one cent more than the Street expected and up 17% year-over-year. Revenue remained flat at $21.3 billion, which was expected. CEO John Stumpf mentioned that the firm is seeing an uneven recovery, but he did note that Wells is witnessing stabilization in the housing market.
Unlike JP Morgan (JPM), whose net interest rate margin (NIM) continues to get squeezed (view our earnings report on JP Morgan here), Wells Fargo has managed to prevent rapid NIM deterioration. Year-over-year, the firm's NIM only fell 10 basis points, from 4.01% to 3.91%. Management noted that the bank hasn't had to take on much duration risk to achieve these better yields, but rather it has stuck to high quality municipal bonds and MBS (mortgage-backed securities). We also suspect the firm does a better job of keeping deposit acquisition costs lower than other firms.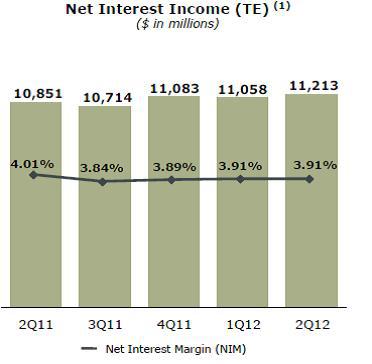 Image Source: Wells Fargo
Wells Fargo has also seen a nice increase in average deposits while shrinking deposit costs. Average deposits grew $9 billion quarter-over-quarter to $924 billion, and the firm's cost of deposits fell to 0.19%, which is down 1 basis point quarter-over-quarter and 9 basis points year-over-year. Additionally, revenue for the community segment as a whole grew almost 4%, aiding in earnings that grew 20% year-over-year.
Improved credit quality continues to drive improved loan delinquency rates and thus earnings. Net charge-offs as a percentage of the loan portfolio have fallen from 1.52% in the second quarter of 2011, to 1.15% in the second quarter this year.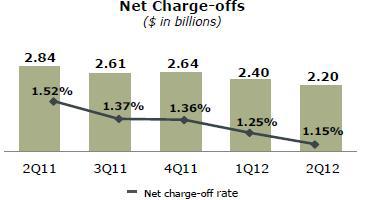 Image Source: Wells Fargo
One of the key drivers of Wells Fargo's improving credit quality is its mortgage servicing portfolio. The firm continues to maintain delinquency and foreclosure rates lower than its competitors, allowing it to expand its loan portfolio. Wells Fargo earned mortgage banking non-interest income of $2.3 billion on $131 billion worth of mortgage originations. Originations were up about $2 billion sequentially, but have doubled compared to the same period a year ago. The firm has also doubled its backlog, and management mentioned on the conference call that it is very optimistic about the mortgage business going forward.
Although the investment banking business is struggling, Wells Fargo has managed to make small strides in market share gains. Wells Fargo's share of the US investment banking business grew to 4.9% from 4.7% a year ago. However, investment banking remains a relatively small part of the company's profitable wholesale banking business, which earned $1.9 billion in the quarter, down only 2% year-over-year in spite of tougher industry conditions.
Overall, we liked Wells Fargo's second quarter and think its optimistic commentary about housing is generally positive for the economy. In an interview in Sun Valley, Idaho, Warren Buffett reiterated his affection for the firm and specifically mentioned that he prefers it to JP Morgan. Though Wells Fargo trades at a tangible book premium compared to its peers, the firm's stable loan portfolio and continued willingness to return cash to shareholders via buybacks and dividends justifies its current valuation (it is trading within our fair value estimate range, as determined by our forward-looking residual income model).
As we've stated before, we prefer the Financial Select Sector SPDR ETF (XLF) to any individual bank. The risks associated with owning one specific financial are just too large, in our view. We prefer diversified exposure to the financial sector.
Disclosure: I have no positions in any stocks mentioned, and no plans to initiate any positions within the next 72 hours.
Additional disclosure: XLF is included in the portfolio of our Best Ideas Newsletter.