Apple Inc. (NASDAQ:AAPL) will report 3Q12 results on July 24.
The Street expects:
Revenue: $37.38 billion
EPS: $10.32 per share
4Q12 revenue guide: $38.55 billion
In 2Q12, Apple delivered a strong beat on overseas sales—Asia Pacific sales grew at 114% year-on-year, Japan at 91% and Europe at 46%, which offset the 41% growth in the U.S. iPhone shipments of 35.1 million units also beat consensus of 30.5 million.
Heading into the earnings, investors can expect an inline result, but the upcoming release of iPhone 5 and competitive handsets will likely keep investors on the sideline in the near-term.
According to comScore, Apple's market share among U.S. smartphone platforms continued to climb in April to 31.4% from 29.5% in January. The 2% increase came at the expense of Research In Motion Limited (RIMM) (-3.6%), Microsoft Corporation (NASDAQ:MSFT) (-0.4%) and Symbian (NYSE:NOK) (-0.2%). Android (NASDAQ:GOOG) experienced similar growth at 2.2%.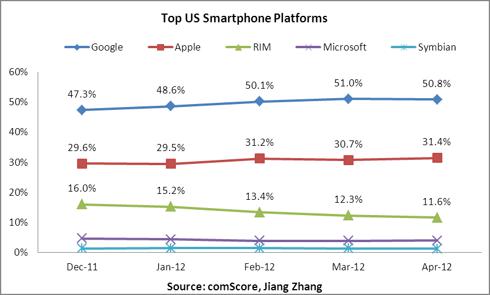 However, with the anticipated release of iPhone 5, investors should expect a slight pause in iPhone 4S sales as consumers wait for the iPhone 5 or purchase the iPhone 4S at a discount.
Aside from the concern on consumer purchasing behavior, I noticed that sales reps at the carrier stores have been actively promoting competing brand handsets, namely the HTC One, Nokia Lumina 900, and Sony Xperia, which could result in minor share loss in the near term.
While I view Apple to deliver few surprises in the upcoming quarter, I am more positive on the company at end of the year with the release of iOS 6 and iPhone 5.
At the 2012 Worldwide Developer Conference, Apple effectively raised the bar in the mobile OS by integrating turn-by-turn navigation, upgraded voice control, business listing with Yelp and a digital wallet called Passbook. In addition, it made several modifications to the iOS 6 that directly caters to the Chinese market with Mandarin and Cantonese Siri, Baidu, Inc. (NASDAQ:BIDU) search, Sina Corporation (NASDAQ:SINA) Weibo integration, map and navigation by AutoNavi Holdings (NASDAQ:AMAP) and online video from Youku.com Inc. (NYSE:YOKU).
In 2Q12, China accounted for 20% of Apple's net revenue, and Apple will likely achieve stronger revenue growth in China by pursuing a localization strategy. For an analysis of the companies that will benefit from Apple's growth in China, please see my June 28 note titled "3 Companies That Can Benefit From Apple's Growth In China."
Disclosure: I have no positions in any stocks mentioned, and no plans to initiate any positions within the next 72 hours.