In March of last year, I wrote that Google (GOOG) was dominating Apple (AAPL) in the mobile phone OS sphere. The "Battle for Mobile OS Dominance" was swinging in Google's favor. I wrote a follow up on whether they were truly dominating the market. All signs pointed to iOS getting ousted for good as the leader of the mobile space. What does the market look like now?
51% Market Share for Android
A few days ago, Nielsen released the figures below, showing that Android had 51% of the smartphone market share.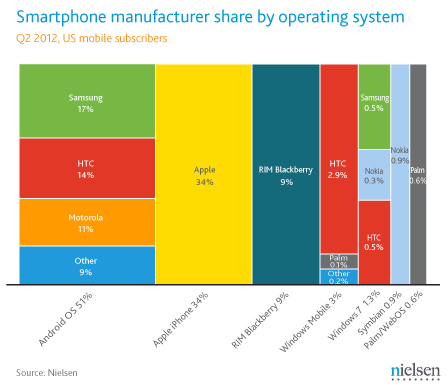 These numbers support comScore reports citing similar results. Most striking in these figures is the absolute fall from grace that has hit RIM (RIMM). This shouldn't surprise anyone, but it is worth noting. Furthermore, notice the strength in Apple's share; despite any growth from Google, Apple refuses to give up ground. The evidence is even more obvious in the 3 month new subscriber numbers below.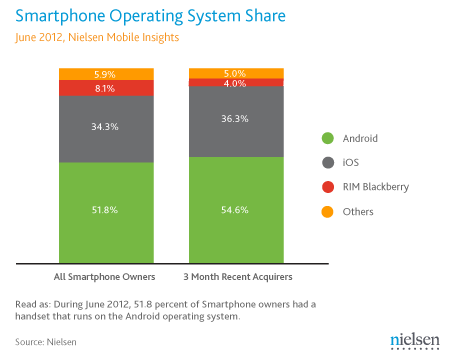 Of course, being "ousted" from number one doesn't necessarily mean that Apple is losing the battle. Their phones are still the most popular (by total share over fragmented Android shares), their tablets run amuk over competitors and their fan base is as rabid as ever. Their stock performance over the last five years paints a similar picture, while Google has left investors lukewarm. So, has Android been a success? Do investors agree with me? The following points will discuss why I believe it has been successful in meeting their goals, but less so in investor sentiment.
Google's Plan
Google has long been considered an innovator and creative powerhouse in the technological sphere. They've come up with creative ways to monetize search, advertising, email, document sharing and chat. They've created their own browser and gone head to head with heavyweights in their industry. So, given all of those credentials, why is Google letting companies use and abuse Android as they see fit? Why are they letting Amazon, one of their rivals, use Android to literally provide the foundation for their mobile existence? Why let the bloatware and innumerous versions of overlaid software inhibit updates and frustrate users?
There are two schools of thoughts on this. One is that Google has lost its way, and that they are falling for the same bag of tricks that they used to deploy on plodding, inflexible technology behemoths in years past. The second option is "other." I'll take the latter for the following reasons.
Speeding Up the Proliferation of Mobile
Google loves it when you browse the internet and use their search engine. Smartphones love to browse the internet. Most people will now browse the internet on their phone as much as they do on their computers. 52% of people will use their smartphones while they watch TV. You can see the marriage between user interaction and our mobile phones; we LIVE in them. Google has seen the dawn of this age coming for quite a while. So, instead of standing by and letting Apple entrench themselves as the only option for smart phones, Google decided to speed up the process by opening up smartphones to a wider population.
If you believe in this train of thought, Android was designed to give access to a quality, stable operating system for numerous hardware companies to build their phones around. This would increase the diversity of mobile phones with access to the web. It expands the users that can access the web by allowing phones less expensive than iPhones to use Android as a cheap, stable OS to run on. This is part of the reason that 54.9% of mobile subscribers own smart phones as of June 2012. If iPhones were the only option, this number would climb more slowly, and someone would have introduced a competitive mobile phone OS instead of Google. In terms of this measure, Android has been an overwhelming success.
More Smartphones, More Internet
Now that more than half the mobile population has smartphones, Google benefits from monetizing mobile search. So every time someone goes from a featured phone to a smart phone, Google gains a new source of revenue. We live inside our phones today, and the trend is only moving upwards. This is part of the reason Microsoft wants to design a counterpunch in Windows Mobile; the quicker they get in and out of their phones, the more likely users are to use a Windows device for their computational tasks that require heavier lifting. Google wants the opposite, as they benefit whether users search on a desktop, laptop, tablet or phone.
When Will Investors Agree with Me?
In the future we will see further commoditization of mobile phones, and a resulting decrease in R&D expenditures for mobile operating systems. This is where I believe Google realizes some return on investment from their Android OS.
Think of it like Windows on a cell phone, although there are many, many options right now, soon that will be down to several, and then perhaps down to three (Android, iOS and Windows Mobile). If that happens, there will be a power shift towards Android as Google increases their bargaining leverage. They will be one of two available on any piece of hardware (iOS will remain solely Apple) and will hopefully be viewed as the more "open" system. Their app store will be more evolved than Windows and users more familiar with their UI.
From here, Google will need to prove they're still Google by taking aggressive measures towards monetizing their Android investment and turning it into cash flow. How will they do this? It is difficult to say currently. The guys at the Labs might be trying to cook up something entirely new. If they're unable to capitalize on this shift, however, they will have provided the markets with a free piece of software that enables rivals like the Kindle Fire to compete with their own devices like the Nexus 7.
Conclusions
The next wave of mobile (iPhone 5, Galaxy III, Nexus 7…) will change the playing field. However, regardless of device, every new mobile internet browser gives Google another potential source of revenue. I would like to believe Google sees this picture, and has an end game in mind beyond simply letting everyone use their mobile OS to further their own gains. I believe anyone interested in Google should keep a long term perspective on their moves and realize the bigger picture when considering Android.
Disclaimer: The author holds no positions in stocks mentioned and does not plan to initiate positions within 120 hours of the posting of this article. This article is to be used for educational, research and informational purposes only and does not constitute investment advice. There are no guarantees, expressed or implied, of future positive returns in regards to the subject matter contained herein. Understand the risks inherent in investing before making the decision to invest or consult an investment professional for more information. Reasonable due diligence has been performed in regards to the information in this article. However, the author expressly disclaims any liability for accidental omissions of information or errors in fact.
Disclosure: I have no positions in any stocks mentioned, and no plans to initiate any positions within the next 72 hours.