by Michael A. Gayed CFA
Negative sentiment on China continues to drag other emerging markets down, and will likely keep on doing so until more concrete stimulus measures are announced. It's not all doom and gloom though, as Russia, India, and Mexico can attest.
We regularly compare the nations of China, Brazil, South Korea, Taiwan, South Africa, Russia, India, Mexico, Malaysia and Indonesia against the broader Vanguard Emerging Markets ETF (NYSEARCA:VWO) to see where momentum is picking up and where it lags. The following is an assessment of six country ETFs that are showing strong outperformance potential relative to broader emerging markets.
This is done by showing the trend in the country's price ratio relative to the broader Emerging Markets ETF. A rising price ratio means the numerator / country is outperforming (up more/down less) the denominator / VWO.
The Emerging Leaders Report is exclusive to Emerging Money. Observations:
Indonesia (NYSEARCA:IDX) continues to perform well, undoing some of the damage done from a little over a month ago.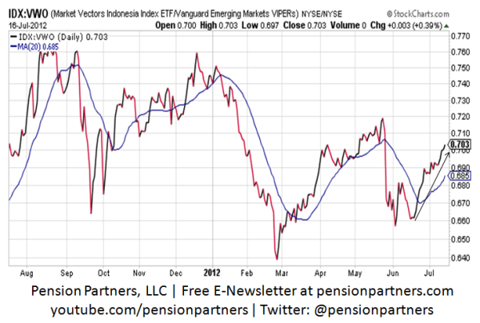 China (NYSEARCA:FXI) is heading back towards relative price ratio lows compared to other emerging markets, as concerns grow over weak growth. Further stimulus on both the fiscal and monetary side could reverse the trend, but for now China-- despite a few false starts-- is still showing broader underperformance.
Brazil (NYSEARCA:EWZ) continues to bottom as expectations grow for further monetary easing and stimulus to counter slowing growth.
Russia (NYSEARCA:RSX) strength remains among the most impressive of all the emerging markets now as stock exchange reform designed to attract foreign capital helps boost confidence alongside stabilizing oil prices.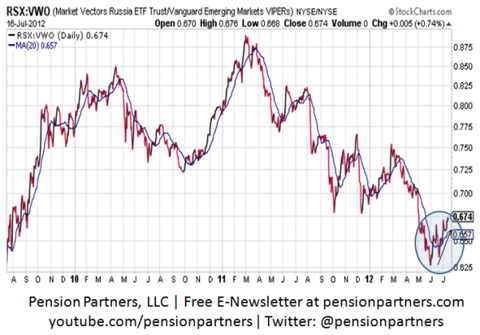 South Korea (NYSEARCA:EWY) continues to break down hard in a precipitous way as panic appears to be growing over the future. An unexpected interest rate cut and lowered growth estimates appear to have sent money fleeing in the very near-term.
Taiwan (NYSEARCA:EWT) appeared to be ready to lead again, but weakness came back suddenly and sharply in recent days.
India (NYSEARCA:INP) keeps pushing forward, but at a slower pace than Russia as investors await government reform.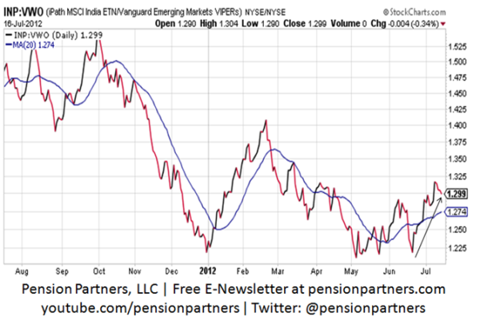 South Africa (NYSEARCA:EZA) continues its underperformance, undoing some of the strong relative gains made since February.
Mexico (NYSEARCA:EWW) has gone vertical on continued optimism over pro-market reform initiatives the PRI party has promised with new president-elect Enrique Peña Nieto now in power.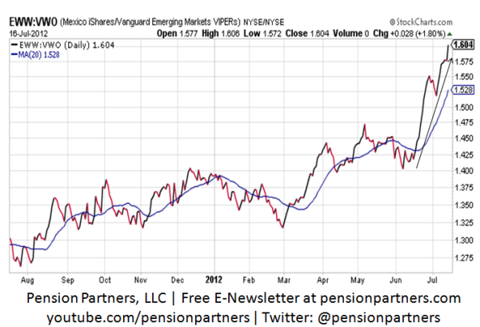 Malaysia (NYSEARCA:EWM) strengthened in recent days, but not in a way necessarily indicative of a new trend in strength. More time is needed to see if leadership will resume from these levels.
Conclusion: China continues to be a drag on emerging markets sentiment. Russia looks to be the most promising as a recovery play followed by India. Mexico can't stop surprising on the upside apparently, making it the most powerful of ongoing momentum trades right now.
Disclosure: No positions
Disclaimer: This writing is for informational purposes only and does not constitute an offer to sell, a solicitation to buy, or a recommendation regarding any securities transaction, or as an offer to provide advisory or other services by Pension Partners, LLC in any jurisdiction in which such offer, solicitation, purchase or sale would be unlawful under the securities laws of such jurisdiction. The information contained in this writing should not be construed as financial or investment advice on any subject matter. Pension Partners, LLC expressly disclaims all liability in respect to actions taken based on any or all of the information on this writing.