The UK is currently seen as a safe haven for wealthy Europeans to park their euros, as they are heavily investing in London real estate in an attempt to diversify away from a falling euro value. However this will be seen to be one of the worst investments possible, as both the British pound and London real estate are going to be at the very epicenter of the coming financial storm.
Yes, the euro will fall in value when Greece and other peripheral countries eventually exit the euro. However this fall will mainly be against the US dollar. The EUR/GBP exchange rate I believe will actually rise in value. This was indeed the case in the 2008 financial crisis- the pound fell much harder than the euro. Yes I do acknowledge that this time around the problems appear to more focused on Europe. However what people fail to realize is that when these weak euro member states leave the currency union, it will actually result in a relatively stronger monetary union, as the weak will have been purged from the eurozone. For example when Greece eventually exits, it will go back to the drachma, and it will be this currency that gets hammered, not the euro. Just to repeat, yes the euro will fall against the US dollar, but not against other currencies like the pound. Thus, wealthy Europeans currently parking much of their wealth in London real estate will undergo much pain.
In many ways, the UK is worse off than Europe (taken as a whole). It has far more debt per capita, far more total debt/GDP (Morgan Stanley estimated it to be around 950%, far more than any other major country, including Japan - see the below chart). It is the ticking debt bomb that no one is looking at, nor talking about. But rest assured that the last time a small country with an outsized financial sector and its own currency had this much debt, it blew up in spectacular fashion when financial markets turned south. The particular country I am referring to here is Iceland. The UK is actually Iceland on steroids, and indeed the British pound will have the same fate as the Icelandic Krona as default looms in the coming years.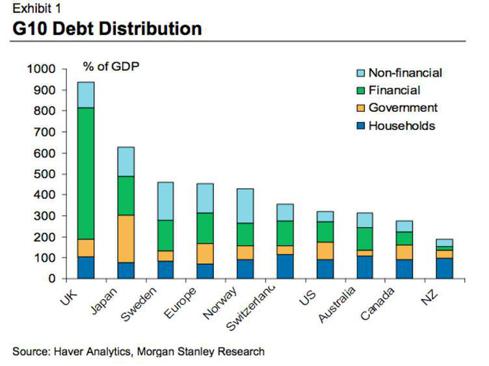 The UK has been in a state of decline for many years, thus laying the foundations for this imminent crisis. The reason it has managed to survive this long is that the world has been enjoying a booming financial sector for the past 30 years. This trend has clearly reversed, and is set to get worse. The UK has a massive financial sector, representing a huge proportion of GDP. And as the above chart shows, it is the financial sector which contributes a huge amount to the UK's overall indebtedness. The UK has also seen its once booming manufacturing sector decline in importance for decades. After all, the Industrial Revolution began in the UK, and that was when it rose to greatness. With the decline of this sector (and the subsequent shift to a consumer/financial economy), so has followed Britain's economic might.
Alongside these industry trends, the UK has been spending far too much on defence for far too long - a result of its imperial ambitions, rooted in history. And defence is one of the greatest wastes of a country's resources possible. It is literally dollars down the drain, as tax dollars earned from its own citizens are not spent on productive things like education, healthcare and infrastructure, but rather on weapons and wars fought in far off lands.
The only nation which spends more on defence is the US, and this issue is one that they refuse to address as well. How can either country justify having their economies melt down while not drastically cutting defence spending from such grossly inflated levels. The War on Terror is another bogey-man, just like the War on Communism - it plays on people's fears. In any case, the threat of a terrorist attack should pale into insignificance when compared to the real cost of an economic meltdown brought on by outlandish defence spending.
The UK also has a much more socialist/welfare like government too, in as far as it provides subsidised education and free healthcare for its citizens (the US does not bother with such extravagances!). Something must change in its tax spending model- either it must reduce defence spending or cut its spending on its own citizens welfare, as to pretend that both is possible with its small (and falling) tax revenues is absolutely naive.
Scotland has already voiced a desire for independence from the UK. This voice is only going to get louder as Britain lurches towards insolvency. In other words, the UK could well break apart in the coming years (after it defaults on its debt). In the meantime, longer term traders and investors would do well to short the GBP/USD, go long the EUR/GBP, and avoid London real estate.
Disclosure: I have no positions in any stocks mentioned, and no plans to initiate any positions within the next 72 hours.