Lululemon athletica inc. (NASDAQ:LULU) released its Q1 2012 earnings on Thursday, June 7th. It was a fantastic quarter. Revenue increased 53% YOY to $285.7m (beating analyst estimates of $270.85m) and EPS was reported at $0.32 per share (beating estimates of $0.30). The management stated that this strong performance was a result of 25% comparable store sales growth and 179% YOY growth in direct-to-consumer sales.
Why did the stock decline the next day after beating estimates on both the top and bottom lines? Well, as one analyst put it during the conference call: "I think your second-quarter guidance was a little below what the Street expected." Wall Street analysts should be used to receiving low guidance from lululemon's management by now because they follow the practice of under promise, over deliver. They have beaten their own quarterly earnings estimates for the last 13 quarters by an average of 30% (see graph below).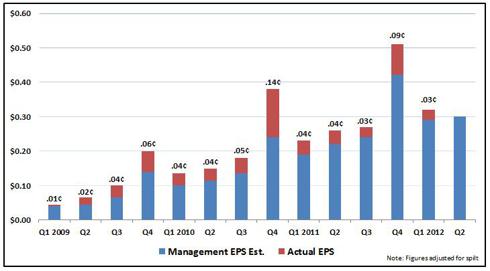 The company also tends to sandbag full-year estimates and slowly increase projections as the year progresses. lululemon's original EPS estimate for 2010 was $1.05, but the company came in well above its estimate at $1.69 that year-end. Similarly, in 2011, the original EPS estimate was $1.00, but lululemon finished the year with $1.27 in diluted earnings per share (figures adjusted for split). The company is continuing this trend in fiscal year 2012 by increasing its full-year EPS estimate during the most recent conference call from $1.57 to $1.60. I believe that the management will continue to increase their EPS estimate throughout the year, while still finishing well above their highest estimate (see table below, figures in gray are estimates).

On March 26, in the article Lululemon's Expensive Yoga Pants Make for a $100 Stock, I stated that I was expecting revenue of $1.4b and diluted earnings per share of $1.80 for 2012. This estimate was based on 3 assumptions: that the company will open 37 stores during 2012, that Internet sales will increase to 13% of total sales, and that the stock will trade at a P/E in the mid 50s.
The company opened six new locations during Q1: four new lululemon stores in the U.S. and two ivivva stores in Canada. This brings the total up to 180 stores worldwide and keeps the company on pace to open 37 new locations in fiscal year 2012.
Direct-to-consumer (or Internet sales) are growing faster than I predicted. They increased 179% YOY from $13.8m in Q1 2011 to $38.4m in Q1 2012. Direct-to-consumer sales represented 13.5% of total revenue for the quarter.
That brings us to my P/E ratio assumption. The company currently trades at a P/E of 41, significantly above the industry average of 19.5 (Morningstar.com). When I wrote my last article on March 26, lululemon traded in the upper 60s. Since then, markets have moved downward because of a weakened outlook for economies around the world.
If you have been waiting for the right time to buy shares of lululemon, now is the time. The stock has fallen more than 30% from its 52-week high of $81.09 due to general market depression. If I maintain my two previous assumptions; that the company will open 37 new stores during 2012 and direct-to-consumer sales will increase to 13% of total revenue, but make an adjustment to my P/E ratio assumption, lululemon stock is still a buy. With $1.4b in revenue and $1.80 in diluted EPS for 2012, I give the stock a nine-month price target in the range of $72-$80 per share. This estimate is based on a P/E ratio of between 40 and 45. That's a 30-45% increase from the price of $55 as of the time of this writing.
Disclosure: I am long LULU.