As a part of the global equity portfolio diversification, investors need to have at least 40-50% of their portfolio allocated to emerging markets. This article discusses the primary reasons for this conclusion and the markets where long-term equity exposure can be considered for robust returns.
To build a case for significant portfolio allocation to emerging markets, the most important point to consider is the gradual economic decoupling coupled with probability of a prolonged sluggish growth in developed markets. Of course, the impact of all this on equities also needs to be considered.
The evidence of a gradual economic decoupling and growing importance of emerging market equity exposure comes from the charts presented below.
The first chart gives the GDP growth contribution of emerging economies to the world.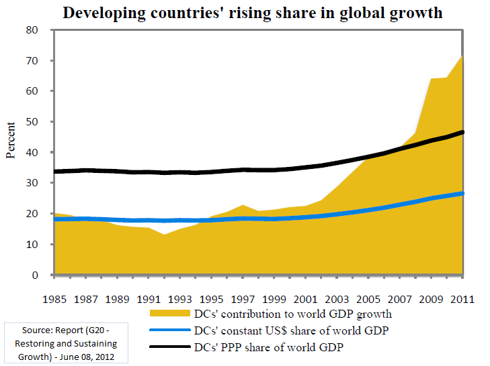 The GDP growth contribution of emerging markets to the World GDP has been rising and is over 70% as of 2011. This underscores the growing importance of emerging markets in helping global growth to sustain and hence the rising importance of emerging market equities.
The point on economic decoupling is clear when we look at the second chart of GDP growth in advance and emerging economies and the growth divergence.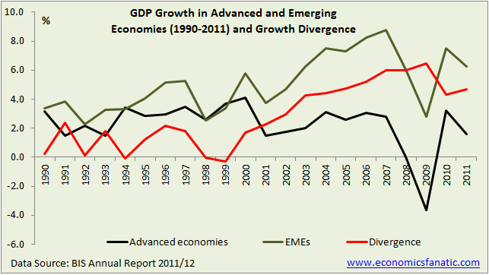 From the year 1990 to 2003, the average divergence in GDP growth was only 1.2%. From 2003 onwards, the growth divergence has been consistently above 4%.
I have to mention here that the emerging market economies are slowing down meaningfully and the growth divergences might narrow in the near-term. Over the long-term, emerging markets will continue to exhibit robust growth while developed markets will continue to exhibit sluggish. I will later discuss the primary reasons for expecting a sluggish growth scenario for developed markets.
The third chart gives me another compelling reason to believe that we are gradually headed towards a sustainable long-term economic decoupling.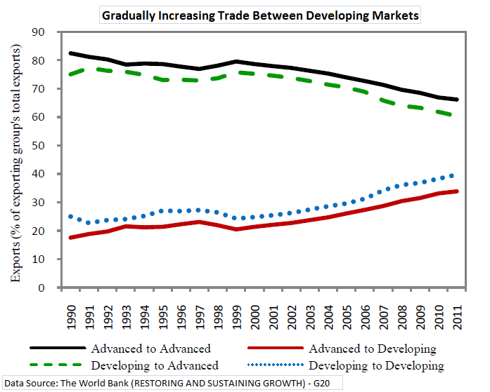 The most important thing to consider in the chart is that exports from developing countries to other developing countries rose from around 20% of total developing country exports in the early 1990s to 40% in 2011. This indicates of a meaningful growth in trade between developing countries and it is bound to rise over time with continued sluggish pattern of growth in the developed economies. Therefore, the dependence on developed markets as an end market for exports will reduce relatively.
For the developed economies, the deleveraging (especially the household and private sector) is still underway and can be prolonged with a weak economic and job market scenario. This is likely to impact growth as consumption remains at depressed levels. Further, governments are facing a stiff choice between austerity and spending and it is also bound to dampen economic growth.
I am not painting a doomsday scenario for the developed markets. All I am suggesting is that the growth in developed markets might stagnate or remain sluggish while growth in emerging markets will remain relatively robust over the long-term.
Coming to the impact on equities, I mentioned about economic decoupling at the beginning of the article. Therefore, it is important to mention that I find no real evidence of financial market decoupling. What follows is that negative events in the developed markets will continue to impact emerging market equities.
At the same time, I believe that the developed market equities might outperform emerging market equities in the near-term primarily due to a meaningful slowdown in China and India. The China slowdown will also impact growth in commodity producing emerging economies.
However, over the long-term, returns from emerging markets will be superior with huge impending growth in Asia and Africa.
Considering the factors discussed, I would look for long-term exposure to emerging market equities through the following ETFs -
1) Vanguard MSCI Emerging Markets ETF (VWO) for exposure to emerging market equities
2) iShares FTSE/Xinhua China 25 Index (FXI) for specific exposure to Chinese equities
3) iShares S&P India Nifty 50 Index Fund (INDY) for specific exposure to Indian equities
4) iShares MSCI South Africa Index Fund (EZA) for specific exposure to South African equities
5) iShares MSCI Brazil Index ETF (EWZ) for specific exposure to Brazilian equities
6) iShares MSCI Russia Capped Index Fund (ERUS) for specific exposure to Russian equities
Conclusion -
As mentioned above, I do expect emerging markets to underperform compared to developed markets in the next 6-12 months. Therefore, from an investment perspective, I would look to slowly accumulate emerging market ETFs on market correction. Also, I would be currently overweight on commodity consuming emerging market equities and relatively underweight on commodity producing emerging market equities.
Disclosure: I have no positions in any stocks mentioned, and no plans to initiate any positions within the next 72 hours.