This morning, the Mortgage Bankers Association released its weekly mortgage applications survey. Applications for mortgages rose 17% in the prior week. with the 30-Year Fixed Rate Mortgage hitting 3.56%, it has never been cheaper to have a mortgage.
"Refinance application volume increased last week to near peak levels for the year as mortgage rates dropped to a new low, driven down by growing concerns about the health of the U.S. economy," said MBA Vice President Mike Fratantoni.
In a recent report from the FHFA Administration, investors learn that 20% of all refinanced mortgages are coming from the revised HARP 2.0 program. So, increases in total refinances are also driving modified mortgages of underwater homes.
Building permits and housing starts were also released (pdf) this morning. Building permits were reported as 755,000 and housing starts as 760,000. For permits and starts, the year-over-year increases were 19.3 and 23.6% respectively. Analysts expected 765,000 building permits and 708,000 housing starts. Last month, 780,000 building permits were announced for June, soundly beating all expectations. These prior-period figures were revised up to 784,000.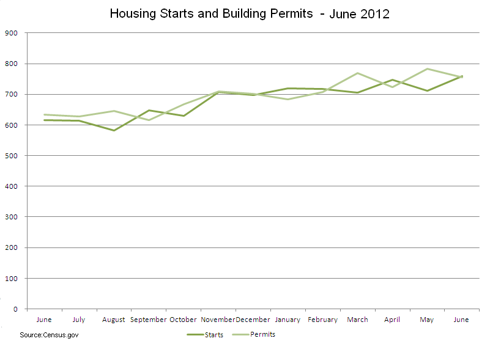 Continued strength in housing is providing some hope for a U.S. economy that is slowing. Yesterday, the Federal Reserve Bank provided little hope for a third round of quantitative easing. However, despite the lack of easing, it has committed to lowering long-term interest rates by twisting the yield curve through year-end. This should help to propel the housing market, as mortgage rates hit newer lows.
Some stocks should benefit from a bottom in the housing sector. Mortgage insurers like MGIC Investment Corp. (NYSE:MTG), Radian Group Inc. (NYSE:RDN), and Genworth Financial Inc. (NYSE:GNW) will be able to recognize lower loss reserves as prices bottom and will benefit from new policies written with the boom in refinances. This morning Bank of America (NYSE:BAC) reported a profit, partially due to lower loss reserves related to mortgages.
Disclosure: I have no positions in any stocks mentioned, and no plans to initiate any positions within the next 72 hours.