Our followers here at Seeking Alpha know that one of our favorite trade plays, and one that we have had great success with, is the "bottom bouncer." We like to scan for stocks that appear to have interesting fundamental and technical reasons to bounce higher from current bottom level prices.
The volume and trading activity at biofuel biotech Amyris, Inc. (NASDAQ:AMRS) have been on the rise and the stock showed up on one of our scans. It appears that speculators are looking towards the firm's July 31st earnings call as a possible trading catalyst that may continue to send shares bouncing hard off the 50-day moving average.
This is a $3 stock that used to be a $33 stock, but insiders and Wall Street hedge funds have been buying a record number of shares in the open market, even as retail buyers appear uncertain despite a recently revised business plan which formally moved Amyris into commercial production.
The consolidation which has shares currently bouncing around at the $3 level has attracted the attention of other Seeking Alpha contributors who also seem to think that those funds and insiders must know something that the rest of the market doesn't.
The company, which uses its industrial synthetic biology platform to modify microorganisms, primarily yeast, to convert plant-sourced sugars into a variety of hydrocarbon molecules is also involved in the sale of ethanol and ethanol blended gasoline to wholesale customers. Investors were excited to see an airline company make a successful demonstration flight using the advanced renewable jet fuel produced from Brazilian sugarcane by Amyris, but the entire bio fuels sector has been struggling to climb higher, despite recent endorsements from Rupert Murdoch who sees the advances in the sector as a reason to be bullish about the U.S. economy.
Like Solazyme (NASDAQ: SZYM), a similar company that makes various cosmetic, nutritional, chemical, and fuel oils by feeding plant-based sugars to patented microalgae, Amyris' technology also appears to hold enormous potential, especially for a country whose leadership seeks more energy independence. In fact, both firms have been given large contracts by U.S. government agencies, but Wall Street has not liked previous earnings reports, and thus, the bumpy rides for both equities despite their recent rallies.
Other biofuel competitors like KiOR (NASDAQ: KIOR) and Gevo (NASDAQ: GEVO) saw shares trade down after an analyst simply downgraded Solazyme because the stock passed the $14 price point he had set earlier. That curious reasoning for the downgrade still sent many stocks in the sector lower a couple of weeks ago, even as many were just starting to catch traction.
For now, the recent insider and smart money buying activity both speaks volumes and has volume in the stock picking up. As the saying goes: "Insiders might sell their shares for any number of reasons, but they buy them for only one: they think the price will rise." With an upcoming earnings catalyst in play, it will be interesting to see if those in the know, know best.
We would advise riding the wave which may be forming towards that earnings date catalyst, but we would urge that you take profits if you find the risk to be too much to handle.
From these levels, it appears the downside risk is only a few pennies, since the stock price appears to be holding well within a range and has heavy support along the bottom moving average. The upside, however, is far more attractive.
See our recently posted five minute video on AMRS below. It is filled with technical and research notes on the stock.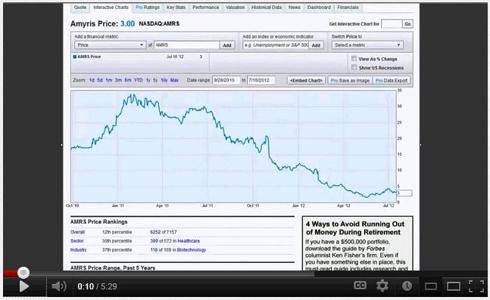 Disclosure: I have no positions in any stocks mentioned, and no plans to initiate any positions within the next 72 hours.