It's no secret that Big Pharma is struggling. Blockbuster drugs are going off patent. Sales are flat. Research and development is down. New drugs that companies spend millions on do not impress the FDA as anything unique enough to warrant high price tags. Industry watchers say there will be a $127 billion shortfall in spending on branded drugs by 2016. Some of the giants - Pfizer (PFE), Sanofi (SNY), AstraZeneca (AZN) and Eli Lilly (LLY) showed sluggish sales in their most recent quarters. Merck (MRK) is suffering the worst with both sideways revenue and a 25% dip in research spending. Clearly it's time for a new idea.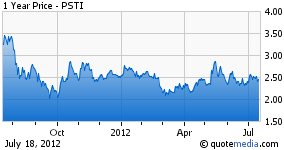 Ray Dirks Research along with my team of money managers and Analysts have long recognized the potential of Pluristem's (PSTI) one-of-a-kind PLX cell therapy to take the place of big-selling drugs on the market. Investors are just starting to see the Pluristem value proposition where costs are lower and recovery times are quicker. While Wall Street sleeps the hot summer away, Pluristem is racing ahead with its PLX cells for peripheral artery disease (PAD), a fast-growing, multi-billion dollar market dominated by one mediocre drug, Plavix, made by Bristol Myers Squibb (BMY) and Sanofi.
But someone is paying attention. My old colleague, Wall Street All-Star analyst Sharon di Stefano, has been a long-time champion of promising biotech stocks, calling one hit after another with uncanny timing and accuracy. She was the first on the Street to predict the buyout of Medarex by Bristol Myers at a huge premium a few years ago, and pounded the table on stocks such as Isis Pharmaceuticals (ISIS), Alkermes (ALKS), Spectrum Pharmaceuticals (SPPI), and Momenta Pharmaceuticals (MNTA), all of which were up over 100% after her recommendation with the exception of Spectrum, which gained 325%. Ms. di Stefano featured Pluristem in a recent article about the downside of Plavix -- especially pointing out how it has to be taken for life, which is not particularly pleasant and can cause life-threatening bleeding. Furthermore, it interferes with key drugs that some PAD patients need just to stay alive.
Pluristem has none of these problems. It is just the opposite, in fact. With simple muscle injections taken over a short time period, patients are able to resume their lifestyle. No bad side effects, no need to pop multiple pills every day, no worries that an accidental bloody nose or cut will require a transfusion. Pluristem is developing off the shelf, personalized medicine treatments. Based on a platform, it addresses multiple enormous indications in healthcare. With so many drugs going off patent, we believe Big Pharma may be eyeing Pluristem as a takeover target. Pluristem, through its new paradigm in disease treatment, may be able to breathe new life into Big Pharma's sluggish growth. If Pluristem is not open to take over offers, then it may emerge itself as the Big Pharma of the future.
Of course, there is always risk in any stock. Share price could linger or lose steam if the management team fails to execute their game plan and reach announced milestones in a timely manner. As with any biotech, regulatory risk is present. Still, these possible risks are minimal compared to the upside realities and we are not alone in our enthusiasm. Furthermore, we believe the cost-effectiveness of PSTI's products all point to significant future shares in multiple sizeable markets. The company is well-funded with approximately $42 million in cash and equivalents reported in their most recent filings, so it does not have the financing risk that we see in a lot of small biotech companies. We always urge investors to do their own due diligence.
Pluristem has a market capitalization of $112 million, a steal for what investors are getting. Not just the huge PAD market, but many other important disease targets that number in the billions of dollars. I stand by my belief that Pluristem is in for a move to $8 over the next few months and could increase in value by 5 to7 times within one year.
Disclosure: I have no positions in any stocks mentioned, and no plans to initiate any positions within the next 72 hours.