By: Brendan Gilmartin
Overview
Microsoft (MSFT) is scheduled to report 4Q 2012 earnings after the close of trading on Thursday, July 19. Results are typically reported between 4:05 p.m. and 4:15 p.m. EST with a conference call to follow at 5:30 p.m. While the underlying shares tend to get some play off earnings, the technology related ETFs (PowerShares (QQQ)/SPDR Technology ETF (XLK)) may also move off the Microsoft report, along with the index futures, provided the announcement precedes the CME scheduled maintenance shutdown at 4:15 p.m. EST.

Outliers & Strategy
EPS: The estimate is $0.62 (Source: Yahoo Finance), the mid-point of the range of $0.58 to $0.67.
*Note that Microsoft revealed a $6.2 bln charge on July 2 for impairment of goodwill (see Recent News).
Revenues are another critical measure for Microsoft. The figure is seen rising 4.3% Y/Y to $18.11 bln.
Microsoft has not provided earnings or revenue guidance since its 1Q 2009 earnings release.
Selerity recently added a new measure for Microsoft - Effective Tax Rate, used to gauge the quality of an earnings release. Therefore, if the company reports a strong EPS figure relative to consensus, but the tax rate has declined Q/Q, Microsoft shares may still sell-off on weak "earnings quality."
On July 11, IDC reported the worldwide PC market fell 0.1% in the 2Q from the year-ago period, pressuring Microsoft shares. The report cited the "environment of tech transition and soft economics." Gartner IT reported the same day a modest Y/Y quarterly decline in light of the weakness across various economies.
Recent News
07/16: According to the "Striking Price" in Barron's, Microsoft is poised to deliver disappointing results and options investors are buying bearish Put options. The risk is that Microsoft increases its dividend - potentially eroding the value of those positions.
07/12: According to a report on Barron's, the following firms reiterated positive ratings on Microsoft:
UBS: Buy rating; PT $37; Sees improvement in FY2013 and potential dividend increase.
Credit Suisse; Outperform rating; PT $38; firm is increasingly confident over Windows 8 and expansion of ultrabooks.
Pacific Crest; Sector Perform; Suggests the Street may have cut 4Q estimates too aggressively.
07/02: Microsoft plans to take a charge of $6.2 bln for the 4Q 2012 period for the impairment of goodwill in its Online Services Division segment, mostly related to its 2007 aQuantive, Inc., acquisition. The company noted the charge will not affect its ongoing business or financial performance.
Technical Review
Microsoft shares have been rallying over the past several sessions, pushing up against resistance near $30 in anticipation of the 4Q results. Should earnings surprise to the upside, there is room to run up toward the $31.00/$31.25 area, followed by the "Double-Top" near $32.75 earlier this year. Watch the 200-Day SMA near $28.82 for support in the event of a disappointing release, followed by the June nadir near $28.50. (Chart courtesy of StockCharts.com)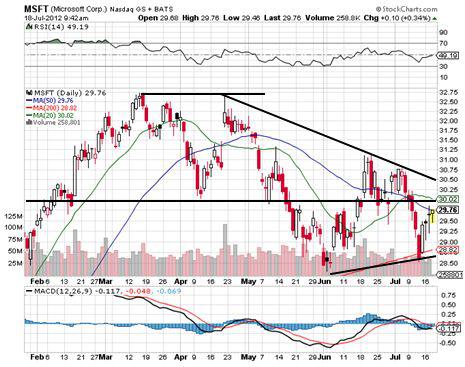 Summary
Microsoft shares are edging higher ahead of 4Q earnings, despite several cautious factors, including industry reports showing softer PC sales, a previously announced $6.2 bln impairment charge, bearish activity in the options market, and a soft macroeconomic backdrop. However, the sell-side is more upbeat, given the optimism over the pending product refresh cycle, including the release of Windows 8 later this year, a possible dividend increase, and belief a weak 4Q may be priced in.
Disclosure: I have no positions in any stocks mentioned, and no plans to initiate any positions within the next 72 hours.
Disclaimer: By using this report, you acknowledge that Selerity, Inc. is in no way liable for losses or gains arising out of commentary, analysis, and or data in this report. Your investment decisions and recommendations are made entirely at your discretion. Selerity does not own securities in companies that they write about, is not an investment adviser, and the content contained herein is not an endorsement to buy or sell any securities. No content published as part of this report constitutes a recommendation that any particular investment, security, portfolio of securities, transaction or investment strategy is suitable for any specific person.