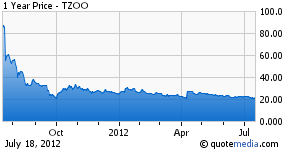 We have written articles in the past of the control discount hampering the performance of Travelzoo Inc. (TZOO). In January, Lanvin, the famous fashion house announced that Ralph Bartel, founder and majority shareholder of TZOO had increased his stake in the storied fashion house to 25%.
On July 11th, the Real Deal Real Estate site wrote that Bartel had purchased 144 Spring Street in New York City's famed SoHo district with the intention of housing Lanvin in this prestigious location. It is the last vacant lot available to build upon in SoHo.
Its also interest to note that Lanvin is run by Alber Elbaz, who was formerly at Gucci and has resurrected the Lanvin brand since his recruitment by Chinese media baroness and controlling Lanivn shareholder, Mrs. Shaw-Lan Wang. Wang was interviewed by the Financial Times in February 2012.
Given the Chinese activities of Travelzoo Asia Pacific and the common shareholding of Lanvin, we think there may be more to this unfolding relationship between Bartel and Wang.
Lets us suggest one possible outcome which may come from this burgeoning relationship. Bartel could use a Reverse Morris Trust to merge Travelzoo with Lanvin in a tax efficient transaction for TZOO shareholders. In addition, Wang could also fold in some of her media properties to beef up the enterprise and take advantage of the TZOO Internet expertise and extend both brands to their vast subscribers in Asia.
Bartel may even use the property in SoHo for a retail location for Travelzoo which may be a new marketing venue for the travel media business.
With earnings about to be released by TZOO on July 19th and the late summer surge local deals revenue in Q2 2012 reported by Benchmark analyst Kurnos, we believe there is still a possibility for Bartel to give his minority shareholders a positive surprise soon.
Disclosure: I am long TZOO.