Many of us trading the markets have our Evel Knievel moments, where we feel the urge to go for the long shot, the unknown technology prospect that's little more than a promise. Worse still, many decide that jumping these canyons of uncertainty is really the only way to go at it and concentrate mostly on trying for the impossible. Broken portfolios can easily result.
What traders are trying to do here is to behave like venture capitalists, investing in a portfolio of speculative technologies hoping to catch a few big winners amongst a sea of losers. Although this can sometimes work, more likely than not it won't. The reason is that the common investor will be too far from the companies to have a good chance at estimating their probability of turning out successful.
A valid alternative would be to invest in a venture capital fund, who would then invest in those early stage companies. This can work, but is usually only accessible to very few, wealthy, individuals.
Then, we have Harris & Harris Group (TINY). Harris & Harris has been in the venture capital market for years, and now mainly concentrates in the sexy nanotechnology sector. Although Harris & Harris has only been moderately successful (as its lack of large retained earnings shows), by now it's rather clear that it possesses the necessary skills to select and invest thoughtfully in this very specific sector. After all, it has already led several companies to their liquidity events, be it through acquisitions, such as the sale of BioVex to Amgen (NASDAQ:AMGN), or through IPOs, such as for Solazyme (SZYM), NeoPhotonics (NYSE:NPTN) and Champions Oncology (NASDAQ:CSBR).
Currently Harris & Harris represents an interesting way for anyone bent on speculating in nanotechnology to have access to a portfolio of early stage companies in that space, put together by a company with the plausible skill to do so. And it's possible to enter this portfolio at a discount to NAV (net asset value), since at the end of March TINY's NAV stood at $4.89, while the stock trades today at $4.14, a discount of close to 15% (though some of the discount might have been lost with the slight drop on Solazyme during the quarter, given that SZYM is the fund's largest position).
Portfolio
As per the latest 10-Q (pdf), TINY had interests in 28 different nanotechnology companies, spread across sectors and at different maturity stages. The chart below presents a summary: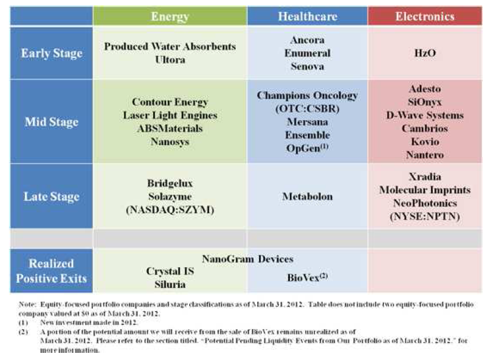 With several companies in an advanced stage, and many of them already generating significant revenue, the portfolio isn't entirely speculative. Indeed, many of the companies can be trusted to either experience liquidity events or generate business and earnings by themselves. As per the 10-Q, the portfolio companies had aggregate 2011 revenue of $424 million.
Conclusion
TINY seems like a decent way to introduce a speculative nanotech angle to a portfolio while taming the speculative nature of the investment with a venture capital approach. And it accomplishes this while trading at a discount to NAV and with it being likely that the portfolio will see one or more liquidity events before the end of the year, which at times can work as a catalyst for the stock to move higher.
Some thought must be given to SZYM's market behavior, for as it stands, it represents a little over 20% of the entire NAV, so its stock price can influence TINY's to an extent.
In short, to be a venture capitalist in the nanotechnology sector, one just has to buy some shares in TINY. It's as simple as it gets, and perhaps that will take care of the beast that wants to go around and find the nanotech next big thing.
Disclosure: I have no positions in any stocks mentioned, but may initiate a long position in TINY over the next 72 hours.