As natural gas prices have plunged in the U.S. from over $13/MMBtu in summer 2008 to well under $3 recently, global natural gas prices have diverged sharply. In Europe the cost is around $11-$12 and in Asia -- with Japan having shut down all 54 of its nuclear reactors -- the price varies from $15-$18 in the spot market. Much of this has come about as a result of American technology and unique property rights. In the U.S., unlike any other developed country, land owners hold both mineral rights and air rights, allowing individual landowners to benefit from mining. That has caused a boom in hydraulic fracturing (fracking) to access massive shale gas deposits. While experts such as Royal Dutch Shell's CEO Peter Voser expect U.S. prices to rise back to $4-$6 on increased demand due to gas' lower cost and cleaner burning properties, the arbitrage opportunities globally are obvious and enticing.
The problem, though, is how to move natural gas from the sources to the areas of demand, primarily Europe -- where they currently rely on declining North Sea production as well as Russia -- and Asia. The answer has been the development of processes to convert natural gas to a liquid through chilling, and then back again to a gas by a reverse process. At the same time, special huge natural gas liquids tanker ships called LNG (liquified natural gas) tankers have evolved to move gas around the world. These ships are very high tech, costly, and take a long time to build by such firms as Misubishi Heavy Industries.
Globally there are approximately 370 LNG tankers with 70 more on order. Teekay LNG Partners (NYSE:TGP), with 32 LNG tankers as well as 11 crude oil tankers, is the third largest owner/operator in the world and the largest independent LNG operator. Because of the burgeoning demand and limited supply of ships, LNG tankers typically operate under very long-term 10- to 15-year leases at $140,000-$150,000 per day. Therefore, the basic business model lends itself almost ideally to a limited partnership focused on growing cash distributions.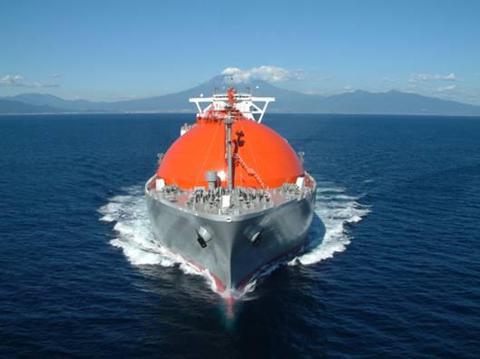 TGP was formed in 2004 in Bermuda by Teekay Corp. (NYSE:TK), a global shipping company with 144 ships that today owns 40.1% of Teekay LNG. I view this parent ownership as a negative; for example, according to the annual report for 2011 filed with the SEC, TGP bought five ships from TK in 2008 and 2010. For the most recent 12-month period (see the SEC 2011 annual report, form 20-F), TGP reported revenue from shipping operations of $380 million and EBITDA of $239 million, an extraordinary 63% EBITDA margin. TGP's total enterprise value (TEV) divided by EBITDA appears high at 18.7, but that's deceiving because of the special nature of accounting for ship costs and leases. In effect, TGP borrows the full amount of future lease obligations, then deposits that cash in escrow against the obligation, effectively balancing it out but distorting the normal TEV/EBITDA metric.
While TGP's EBITDA is strong, its cash flow from operations relative to its cash dividend is only barely acceptable. In 2011 it paid out $163 million in dividends at $2.52 per share, yet for the last three years it averaged just $156 million cash produced from operations. This means TGP needs reliable access to capital markets.
The dividend from TGP has substantial tax advantages as well as an attractive 6.8% yield (at $39.54 per unit). In 2011, as mentioned before, the dividend was $2.11. However, the net income allocable per unit was only $1.33, meaning $0.78 was a non-taxable distribution. For a unit holder in the 35% tax bracket, this made it the equivalent of an additional $0.41 in dividends -- or, said a different way, the equivalent of a fully taxable 7.8% yield. In April 2012 TGP raised the dividend from $2.52 to $2.70, a 7.1% increase. For perspective, five years ago the dividend was $0.46.
From the middle of 2010 the stock price has fluctuated between approximately $30 and $40 a share. The high was just under $42 early this year. The 50- and 200-day moving averages have been a reliable timing indicator over the last five years for this stock; it does well when the 50-day average is above the 200-day. Currently that's the case, but they're close together so I would be a buyer only on dips toward $37-$38. If the 50-day falls below the 200-day, I would wait to buy until the 50-day again surges up above the 200-day. The beta is 0.87, meaning it's somewhat less volatile than the overall market. The stock is owned by a number of well-known institutions including Neuberger Berman, Kayne Anderson, and Goldman Sachs.
Overall, Teekay LNG partners is an attractive income vehicle with a 6.8% dividend, well-positioned for the next several years in a aspect of the energy industry with excellent prospects. Its dividend is also tax-deferred in part. This business has a strong moat. However, it's suited only for aggressive investors and is not, in my opinion, a candidate for a "core holding" as a major position in a portfolio.
Disclosure: I am long TGP.